Rams Hire New Football Coach
After a dismal season in which the Ram's football team finished 1-10, the team has taken the first step in trying to right the ship by hiring former Rams quarterback Joe Moorhead, Fordham College at Rose Hill (FCRH) '96.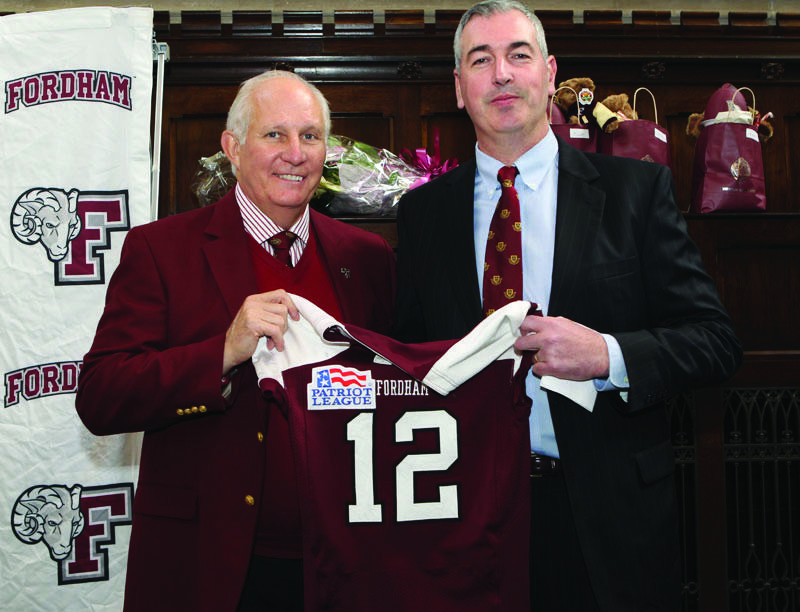 At the end of the season it was more than apparent that the team needs this kind of serious change to get back on the right track. The team did not win a game in the Patriot League, were shut out twice and winless since week two. A team that had known a prolific passing attack just two years earlier under quarterback John Skelton, FCRH '10, was now searching for a new identity.
"There's not many coaches who have an opportunity to be a head coach at the collegiate level, much less at their alma mater," Moorhead said. "To have the opportunity to come back to Fordham, to take on the challenge of bringing the program to new heights is something I very much look forward to."
When asked about his goals for the football team going forward, Moorhead made his number one objective clear saying, "Our top priority is to qualify for the playoffs and win a championship."
Coach Moorhead is fifth all-time in passing yardage in Fordham Rams history, but his credentials extend well beyond his years as a starting college quarterback. From 2004-2008, he was an assistant coach at Akron, taking on duties such as wide receivers coach, recruiting coordinator, quarterbacks coach and passing game coordinator during his tenure. He has spent the last three years as quarterbacks coach at UConn, serving as the offensive coordinator for the 2009 and 2010 seasons.
Of course, there is a great challenge to face when handed an offense that was known for futility for most of the season. "Right now, we're still in the process of evaluating personnel," Moorhead said. "We just started workouts, and are more in the phase of evaluating from an athletic standpoint. Once signing day comes and goes, we can begin formulating a plan."
This is not to say however, that the coach doesn't know what kind of team he wants. "We intend to continue to be a no-huddle team," Moorhead said. "We want to develop an explosive, up-tempo offense."
In addition to being "excited about the roster," Moorhead has said that, going forward, there will be "a clean slate," wherein "everyone has an opportunity to prove themselves." As for the quarterback position, Moorhead acknowledged those already on the roster with in-game experience and said, "We're going to give them an opportunity."
In the face of all these challenges, the new coach made it clear that this is not a rebuilding project. "I talked to the players about it being a one-year plan, not a five-year plan," Moorhead said. "We are going to strive to win games this season. There are so many things to take place before the first game. The kids are excited and upbeat, and we're going to come out and play it one game at a time."
As one of his first major moves as head coach, Moorhead has begun to make sure the team he takes into the coming season is a complete one by hiring his defensive coordinator. Tem Lukabu, formerly a coach at Rutgers, and himself a linebacker and captain of the 2003 National Runner-up Colgate team, should prove to be an asset on the other side of the ball. Talking about his defense, Moorhead said, "We aim to be aggressive and attack. We want to shut down the run and challenge receivers to get open."
Fordham football can breathe a sigh of relief with 2011 in the rearview mirror. The Rams will now be approaching 2012 with a plan, plenty of familiarity in the Patriot League, and a team looking to, above all else, attack.