About The Observer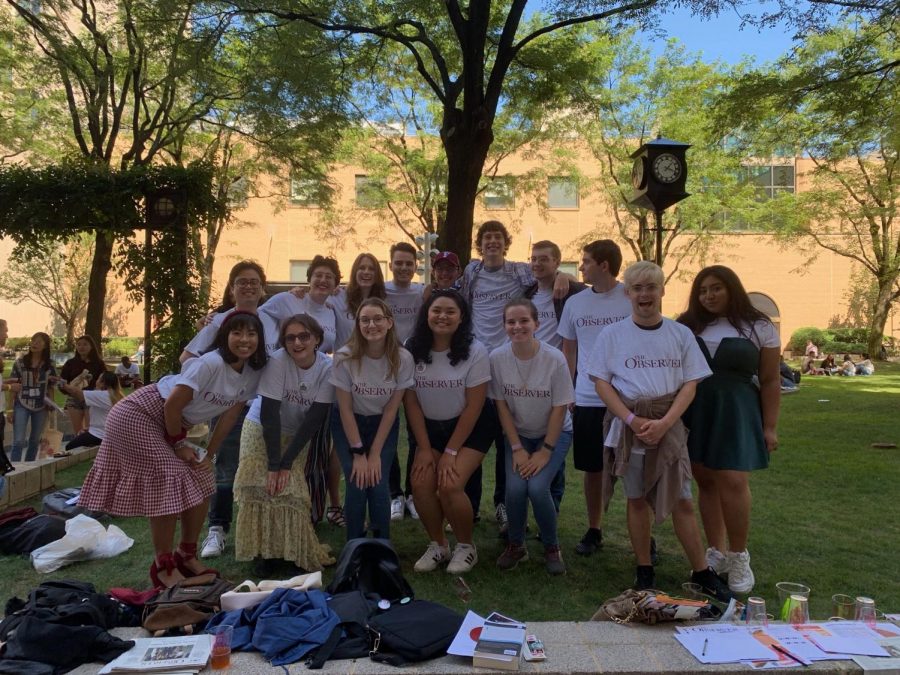 History of The Observer
Founded in 1981, The Observer is the award-winning student newspaper based at Fordham University's Lincoln Center campus in Manhattan. The Observer's circulation also reaches Fordham's Rose Hill campus in the Bronx, making its print editions available to all the students in the university's undergraduate colleges and most of its graduate schools.
It is Fordham Lincoln Center's third newspaper. The first was The Curved Horn, brought over from Fordham's Teachers College in lower Manhattan and renamed to The Review when the Lincoln Center campus was built in 1968. It was geared toward traditional day students, while a second newspaper, Evex, targeted students taking evening classes. By the fall of 1980, both publications had folded, giving way to The Observer. The first issue was published in November 1981.
The Observer was an exclusively print publication until 2000, when it launched online at fclcobserver.com, later changed to fordhamobserver.com in 2005. In recent years, The Observer has become a digital-first publication, uploading articles and digital-exclusive multimedia content to fordhamobserver.com and social media (@fordhamobserver on all platforms) almost daily while continuing to produce biweekly print issues. During the COVID-19 pandemic, The Observer shifted to fully remote production for the first time, publishing its "print" editions on Issuu and increasing its online output.
Though founded under the auspices of the Communication and Media Studies (CMS) department, The Observer split from CMS in 2016 and has run independently ever since.
In 2021, The Observer is celebrating its 40th anniversary. Since 1981, individual Observer staffers and the paper at large have together garnered more than 50 awards for their work. Observer staff have gone onto careers in journalism, law, finance, public relations, performing arts, education, consulting and more. They are represented at major companies including The Wall Street Journal, The New York Times, NBC News, ABC News, Twitter, Google, Condé Nast, Hearst Magazines, HBO, ESPN and more.
Submissions
Interested contributors may sign up for The Observer's general email list for information about meetings, production schedules and Observer events. You may also email [email protected] with general inquiries or refer to the masthead and contact any editors with section-specific questions.
The Observer meets every Monday during the academic year at 5:30 p.m. Pitching sessions, journalism skills workshops and talks by guest speakers all occur at meetings, but attendance is not required to join The Observer — editors also communicate regularly with contributors via email to share pitches and deadlines. The Observer allows all Fordham students, regardless of home campus, to contribute to any section and strongly encourages contributors to pitch their own story ideas.
A complete pitch includes a working title, word count (with 50 words of flexibility) and photo idea or photo submission. Deadlines for online-only or off-schedule content are determined by section editors after a pitch is received.
All submissions should be shared with the appropriate section editors as a Google Doc with full editing permissions. All submissions will be reviewed by the appropriate section editors, the editor-in-chief, managing editor, copy editors and online editors. The Observer reserves the right to edit for content, clarity and length. The Observer also has the right to withhold any submissions from publication for any reason, including but not limited to: failing to submit on deadline; failing to address edits; or submitting an article that contains threatening, prejudiced or libelous content.
The Observer does not accept submissions on-spec.
Opinions
Opinions articles, including those categorized under columns and The Rubberneck satire section, represent the view of their individual authors. All Fordham undergraduate and graduate students are invited to submit Opinions articles on topics they are passionate about, especially ones with relevance to student life at Fordham. Alumni and faculty may also contribute Opinions articles in certain circumstances; those interested should email the Opinions editors with a pitch. The Observer requires that Opinions articles be attributed to individuals and will not accept anonymous articles or articles submitted by an organization as a whole. Opinions articles do not reflect the views held by the editorial board of The Observer or by Fordham University.
The Editorial Board
The editorial board, or E-Board, is the managing body of The Observer, comprised of all section editors listed in the masthead. The editorial board is responsible for pitching, approving and editing all published content as applicable to each editor's respective section of oversight.
Editorial board members are elected each April by the sitting editorial board members following an interview and voting process. Elected members maintain their position for the entire forthcoming academic year. Additional elections take place each November, primarily for staff writers seeking assistant positions or sitting members who wish to advance. Anyone seeking to join the editorial board must be a staff writer or staff contributor, having produced three pieces of content for The Observer, in order to apply.
Staff Editorials
Staff editorials represent an opinion held by a majority of The Observer's editorial board. The purpose of the staff editorial is to highlight an issue relevant to the university and, as the student voice of Lincoln Center, affect change or a call to action in the interest of the student community. It often correlates with an article or topic already addressed in the newspaper by another piece, usually from the News section. All staff editorials appear with the byline "By THE OBSERVER EDITORIAL BOARD."
Each issue, Opinions editors identify topics and articles with the potential to become the basis for a staff editorial. They present these topics, along with potential angles, to the editorial board at weekly meetings, and one is selected following a discussion among the editorial board members. Opinions editors lead the researching and writing of each editorial, assisted by a small group of editorial board members who volunteer on an editorial-to-editorial basis. The rest of the editorial board is invited to contribute feedback at the next meeting prior to publication. Staff editorials do not reflect the views held by Fordham University.
Letters to the Editor
Anyone may submit a letter to the editor; no Fordham affiliation is required. Letters to the editor should be typed and emailed to [email protected] or sent to The Observer, Fordham University, 140 W. 62nd St., Rm. G32, New York, NY 10023. Length should not exceed 200 words unless given permission by the Opinions editors, who oversee letters to the editor as they would any other article. All letters must be signed and include contact information, official titles, and year of graduation (if applicable) for verification. If submitters fail to include this information, the Opinions editors will do so at their own discretion. Opinions editors reserve the right to make stylistic edits on any submission and withhold any submission from publication, and will not consider more than two letters from the same individual on one topic.
Corrections
The Observer is committed to accuracy in its reporting and strives to promptly correct any errors that are made. Should any article — news or opinion — include a factual error or misrepresent information, please email [email protected], and we will issue a correction if necessary.
Copyright
No part of The Observer may be reprinted or reproduced without the express written consent of The Observer's editorial board. Please contact [email protected] with any inquiries about the use of our content.