What Happened to Katy Perry's Career?
A look at one of pop music's most abrupt downfalls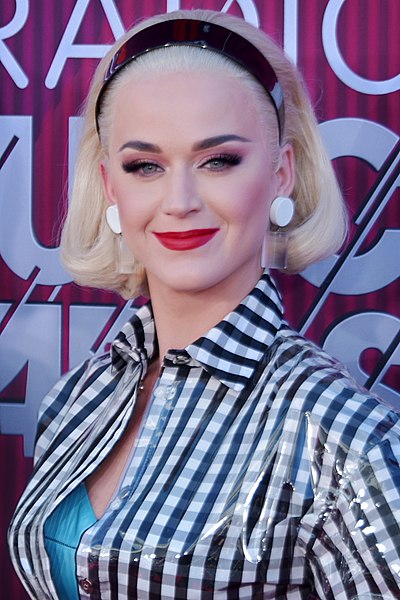 Katy Perry was one of the most successful and prolific pop stars from the late 2000s to the mid-2010s; her music was inescapable, her songs were almost always guaranteed to reach No. 1 on the charts and she had a large and dedicated fanbase. 
However, in 2020, the same cannot be said. Why did the general public turn on Perry, what could have been done to prevent this and how can her career be salvaged moving forward?
Off to a Great Start?
After a successful debut album in 2008 with "One of the Boys," which gave us hits like "I Kissed a Girl" and "Hot N Cold," Perry entered her most successful era yet. Her 2010 album "Teenage Dream" went on to make history by spawning five number one hits from a single album — an achievement that only Michael Jackson had accomplished with his album "Thriller" in 1982. 
Perry's next album, "Prism," was also massively successful, hitting No. 1 with hits like "Roar" and "Dark Horse." Perry continued her hot streak by headlining the most-watched Super Bowl halftime show of all time in 2015, which holds that record to this day.
It wasn't until 2016 that the cracks in Perry's career began to show. During the 2016 election, Perry was a strong advocate and supporter of presidential candidate Hillary Clinton. Several of Perry's industry peers, such as Taylor Swift, preferred to remain silent during that election, seemingly in fear of losing a large amount of their fanbase. Many fans believe that Perry likely lost quite a bit of her support from the general public and casual fans because of her political activism. Perry performed her single "Rise" at the Democratic National Convention, and it was one of her first singles to underperform.
"Purposeful" Pop
Perry's "purposeful pop" and "wokeness" felt like inauthentic virtue-signaling.
After Clinton lost the election, Perry announced her comeback single "Chained to the Rhythm" and said that her new album "Witness" would be politically charged "purposeful pop." "Chained to the Rhythm" performed decently, but Perry's behavior, a poorly received new haircut and other factors that were outside of her control would lead the general public to completely turn on Perry during the "Witness" era, and she has yet to gain back fans' support. What caused the "Witness" era to be a disaster for Perry's career can be narrowed down to several factors.
Perry's "purposeful pop" and "wokeness" felt like inauthentic virtue-signaling. The fact that none of the album's singles after "Chained to the Rhythm" touched on politics left listeners feeling like Perry had used political activism to promote her new music without actually following through with it. "Bon Appetit," a song about sex, was criticized by her gay fans for featuring the notoriously homophobic rap group Migos. "Swish Swish," the next single, was a diss track about Swift that many felt was anti-feminist. Fans were left puzzled, wondering when Perry would release something that actually felt "purposeful." 
Her new "woke" identity felt even less authentic when she made fun of Britney Spears' mental breakdown during the promotion of "Witness." This prompted a lot of criticism from Spears' fans and pop fans in general, and it contributed to the growing feeling that her new brand was just a façade.

Out of Style?
Perry was also hurt by her hiatus between "Prism" in 2013 and "Witness" in 2017. In 2013, Perry was still a relatively new artist, and taking four years to release another album was a mistake. The industry changed a lot from 2013 to 2017: Streaming became exponentially more popular, and pop music became less popular as hip hop began to dominate the charts. 
Perry's absence during those four years made the general public begin to forget about her, and when she finally came back, the musical landscape was so different that she seemed a bit behind on the times and out of touch with what was "cool." 
Producer Troubles
Additionally, Perry's career took a dive with the Dr. Luke scandal. Many people attribute the success and catchiness of Perry's biggest hits from her first three albums to the man who produced them, Dr. Luke. After Kesha accused him of rape, Perry decided to stop working with him, making "Witness" her first album without him. However, she remained neutral when asked about the accusations, stating, "I want to stay out of it because I know them both and I empathize with both of them and obviously it's a horrible situation for both of them. And the only two people that know what really went on are those two people." 
In my opinion, Dr. Luke had already begun to lose his touch as an amazing producer, and some of Perry's newer songs like "Never Really Over" are proof that she can make amazing pop music without him. However, his absence on "Witness" was noted by several critics and was often cited as a reason why the album lacked the catchiness of Perry's previous releases.
That SNL Performance
Lastly, Perry suffered from her "Saturday Night Live" performance of "Bon Appétit" and "Swish Swish." Perry's infamous and mocked 2017 "SNL" performance was the final nail in the coffin for the "Witness" era. The performance was shared widely across platforms like Twitter and YouTube as fans and media outlets criticized her dancing, outfit and the awkward participation of Migos. 
The messiness of the performance could have been attributed to the fact that Perry had to improvise after Migos allegedly refused to perform with the drag queens who were supposed to be a part of the performance, but the general public never found out about that and in their eyes, the awkwardness of the performance was Perry's fault. 
It's Not that She Doesn't Try
By the time the official rollout began for Perry's 2020 album "Smile," it was as though the general public had completely forgotten about Perry, an artist whose domination over the industry had at one point seemed unstoppable.
After Perry's image took a hit during the promotion of "Witness," it wasn't a surprise when the album failed to reach the commercial heights of her previous releases and was panned by critics. The album certainly was not bad, and one could even make the argument that it was better and more interesting than the bland soccer-mom pop of "Prism," but at that point, Perry's behavior made it difficult for most people to take this "woke" album seriously. 
After the negative reaction that critics and the public had to the "Witness" era, Perry fell into a depression, one that she now recognizes as being driven by an unhealthy obsession with the charts and the public's perception of her.
By the time the official rollout began for Perry's 2020 album "Smile," it was as though the general public had completely forgotten about Perry, an artist whose domination over the industry had at one point seemed unstoppable. She promoted the album the best she could, even while in the late stages of her pregnancy and during a pandemic, but at that point, it was already too late. People had lost interest. Her first album since "One of the Boys" to not hit number one, "Smile" debuted at No. 5 with 50,000 copies sold, which pales in comparison to 2020 albums by Swift and Lady Gaga. (Both artists, like Perry, debuted in 2008.) 
Can Perry's Career Be Saved?
Although Perry has had one of the greatest and quickest downfalls in modern music history, I don't believe it's too late to turn things around. She is still very famous, still quite young, and, as millennials and Gen Zers grow into adulthood, I'm sure there will begin to be a lot of nostalgia for the late 2000s and early 2010s. In my opinion, if Perry took the following steps, she could see success again. 
Perry needs to change record labels; she's still a superstar and needs to have a label that will promote her as such. Next, she should update her sound. Although "Smile" is a very enjoyable pop record, I have to admit it does sound a little dated. I think a timeless synth-pop sound, maybe '80s-inspired, would sound fresh and feel natural with her voice. Some of the songs on "Smile" touch on this, and I think she should go all the way with it. She needs to start making music that's a bit more mature, more cutting-edge and less campy. She has grown up, and so have her fans. Perry also tends to put her foot in her mouth, especially on Twitter, and is often criticized by fans for appearing tone deaf. Listening to her fans and her PR team, as well as being more careful with her words could do a lot for improving her reputation with the public.
Many artists have dealt with commercial failure and come back stronger than ever. Perry seems to be in a much better mental state than she was during the "Witness" era, and if she made some changes, she could win her old fans back and have a lot of people rooting for her. I know I would be.
The Observer is Fordham Lincoln Center's award-winning, 100% student-run newspaper. Donate to The Observer's GiveCampus campaign to support student journalism today!