Your Guide to NYC Lesbian Bars
A rundown of the pros and cons of all the lesbian bars left in the city
Editor's Note: We at The Observer are deeply saddened by the shooting that occurred at Club Q in Colorado Springs on Nov. 20 and stand with the LGBTQ community. This article was written and published prior to the tragic event.
Lesbian bars are a sacred place for queer women. Straight bars are … well, straight. They're stifling — you feel like you're being force-fed heteronormativity, even more so than everywhere else, and you certainly cannot kiss a girl without having at least a dozen creepy men stare at you.   
Although a very different experience, gay bars are dominated by gay men, making them also not completely safe for queer women. Even if they are not openly hostile to queer women, it almost feels like there's an unspoken rule that if you're looking for fellow sapphics, you will not find them at typical gay bars. Just take a walk through Hell's Kitchen, and you'll see dozens of pride flags and gay men hanging outside late-night establishments, but sadly, no she's and they's. 
After I turned 21, I began going to lesbian bars, and despite the fact that I'm not one for drinking, the atmosphere of these places is both exhilarating and healing at the same time. Nothing beats the feeling of finally being surrounded by queer women after searching for a sense of belonging for most of your life, especially considering how rare these spaces are.
As of 2021, there are only 21 lesbian bars remaining in the United States and only three in New York City. Well, The Woods is also a lesbian bar, but only on Wednesdays. So, I guess that technically makes it three and one-seventh lesbian bars, and I've been to all of them. If you're queer, over 21 and looking for a night out with fellow sapphics, read on for my reviews on all the remaining lesbian bars in New York.
Cubbyhole
Arguably the most well-known lesbian bar on this list, Cubbyhole was originally known as DT's Fat Cat and has been around since 1987, but got its current name in 1994. They call themselves the "friendly neighborhood bar," and while it's primarily a lesbian bar, they welcome non-lesbians, too. Located in the West Village, the space is small, quite literally like a cubbyhole. 
There is often a long line outside, partially due to its limited availability inside and partially, I hypothesize, due to the promotions of their hot bartenders on TikTok. On a busy night, the wait to get inside can be as long as 40 minutes. Depending on your motives for going, it may or may not be worth the wait.
Inside, the bar takes up most of the space, with a couple bar stools and a few two-person tables. Its most notable feature is the collection of rainbow paper decorations hanging from the ceiling, giving the space a fun and youthful vibe. This is contrasted by the jukebox, which brings an old school feel to the place.
The space is intimate, allowing for conversation. You don't have to pine for someone across the room, as they're probably just a few feet from you, and there's an understanding that people are there to mingle.
Cubbyhole is strictly a bar, with no dance floor. Their music is not what you go for, as it's often playing in the background and sometimes is barely audible. The first time I went, they were playing throwback rock songs I didn't recognize and couldn't vibe to. The second time, it was pop songs that didn't stand out and didn't inspire any dance moves.
This, however, is definitely the best place to meet someone. The space is intimate, allowing for conversation. You don't have to pine for someone across the room, as they're probably just a few feet from you, and there's an understanding that people are there to mingle. 
If you need some liquid courage before starting a conversation, the drinks are not too pricey. Also, there's no cover charge to get in.
Henrietta Hudson
About a 10-minute walk south from Cubbyhole is Henrietta Hudson, which is not only the oldest lesbian bar on this list but also the oldest in the entire country. They often host fun events, such as queer prom, drag comedy, "The L Word" trivia nights and karaoke nights. Most nights, though, it's just a giant dance party. Due to their proximity to each other and their totally different vibes, I know plenty of queer women go to both Cubbyhole and Henrietta's on a night out. One major con of Henrietta's is that it is the only bar on this list with a cover charge, costing $12 to get in. 
When you arrive, you may be greeted by a group of older lesbians who guide you through the line to get in. Simply seeing the sight of older lesbians overwhelms me with joy — their existence is a testament to their resilience and a beacon of hope that there is a future for us in a world where hate crimes against queer women are still committed at alarming rates. One time, I even witnessed one of the older lesbians assertively shoo away a group of straight people that were making a mockery of the place, a testament to their power.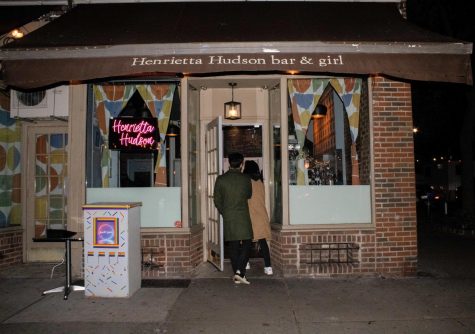 The space itself reminds me of someone's living room, with an exposed brick wall, cute nooks with cushioned window seats, colorful wallpaper and curtains in every window. The main room has a dancefloor, a bar and a DJ. Walk through the small hallway to the back room, and you'll find another bar and a couple places to sit. The rooms have multiple hooks on the wall where you can hang your coats. 
The music is a good mix of pop, Latin pop and throwbacks. Chances are you'll hear some Bad Bunny, Pitbull, Lady Gaga and Britney Spears. If none of those are your jam, you could also request something at the DJ booth (if you can squeeze your way through the crowd of bodies on the dance floor). 
If you want to start a conversation with a cute girl, this is not the place. But if you want to dance with your partner or wingman your friends, Henrietta's is your best option.  
Ginger's Bar
Ginger's Bar sits on a charming street in Park Slope, Brooklyn. On the newer side, Ginger's Bar was opened in 2000 by an Irish woman named Sheila Frayne. It shut down at the beginning of the pandemic, like many queer bars across the country, but thankfully survived. Like Henrietta's, Ginger's also hosts activities and events, including karaoke, gay trivia and pizza parties. 
You're less likely to find a line outside of Ginger's. Once you enter, you'll see a bar with a hallway leading to the back room with a well-decorated wall featuring queer art and a pool table in the center. Pool makes for a great bar activity, but unfortunately, the wait to play a game can be very long. When I went, there was a small blackboard on the wall with a list of 10 groups ahead of me. If you go on an emptier night, you might luck out with an empty table. Ginger's also has a small backyard with plenty of seating options for people to sit and chat under strings of mini pride flags.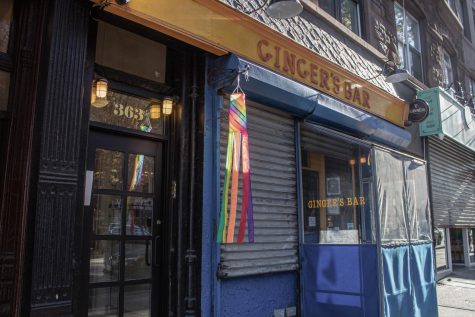 The atmosphere is very chill, with some music playing but no one dancing. Around the pool table, you'll see plenty of people sitting on benches making conversation with their friends. The demographic in Ginger's is slightly older: more millennials, fewer college students. I even saw a pair of married women hanging out with a group of friends. 
It seems like this is the best spot to go to if you already have a queer friend group, are at a more mature stage of life, or just want to have a simple, non-flirtatious conversation with other queer women. For those who are not a big fan of loud, crowded spaces but just want a chill queer space to hangout, Ginger's is the place to go.
The Woods
Technically, The Woods does not identify as a lesbian bar. Instead, The Woods is your closeted "straight" friend who experiments on the down low but never talks about it. Let me explain: Most nights of the week, The Woods is just a regular bar located in Williamsburg, Brooklyn. On Wednesdays, though, it's a lesbian bar.
If you do a quick Google search, you'd have a hard time finding any information about lesbian Wednesdays at The Woods. The only reason I know about it is that I have lesbian friends who dragged me there on a Wednesday night. A Wednesday! I have to admit though, The Woods was worth sacrificing my midweek slumber for.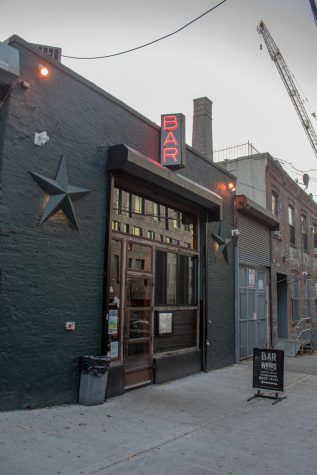 After some digging, I have found only one source to confirm this information: an article on all the lesbian bars and pop-up parties in New York City. Unlike pop-ups that don't have a permanent location, The Woods Wednesdays is a regular occurrence, which is why I decided it's worth including — that and the fact that it's super freaking dope.
First of all, the music is fantastic. The DJ doesn't take requests, and it's not hard to see why. No one could possibly request a better selection of songs than what was already playing. When I went, every song was a hit and extremely danceable, from the moment I stepped foot inside to the moment I left. 
In the room there is a spacious dance floor, with a friendly younger crowd that was quick to hype each other up whenever someone busted a good move. Looking around, the demographic of The Woods was the most racially diverse compared to other bars on this list. You'll also find pairs of queer women making out, so if you're looking for a midweek rendezvous, you might get lucky at The Woods.
Next to the dance floor is the bar. There are three water jugs with plastic cups next to them on the bar, making it easy to stay hydrated. 
The backyard space is huge. Queer women and nonbinary people gather on the long picnic tables to smoke and converse. The chatter is loud, and everyone is squeezed shoulder-to-shoulder despite it being a large space. Even if it's only for one night a week, The Woods is where I found myself surrounded by the largest groups of queer women I've ever seen. Behind the tables is an outdoor bar area where you can order food. If, like me, you get hungry easily, this is a huge perk. 
The fact that they only give lesbians Wednesdays is frustrating, but if your schedule allows, a trip to The Woods is worth it. Whether you want to chat, dance, kiss, or make friends, The Woods opens you up to plenty of possibilities. 
Cubbyhole, Henrietta Hudson, Ginger's Bar and The Woods all have unique vibes, so whatever it is you're looking for in a queer space, you have a good chance of finding it.
There may not be a lot of lesbian bars left in the country, but New York is very lucky to have three. And a half-ish. I'm grateful to be able to access them easily and fortunate to have had good experiences at all of them. Cubbyhole, Henrietta Hudson, Ginger's Bar and The Woods all have unique vibes, so whatever it is you're looking for in a queer space, you have a good chance of finding it. 
If and when you go, remember to tip well and treat these spaces with the respect they deserve. It's up to all of us to help preserve spaces for queer women.