Fall 2022 Orientation Program Welcomes the Class of 2026
The fall orientation program hosted a variety of excursions and speakers, with incoming first-years receiving the university's new president's first welcome address
Fordham University hosted its new student orientation for Lincoln Center and Rose Hill undergraduate students at their respective campuses during the weekend of Aug. 28-30. The 2022 fall orientation schedule included a series of events and speakers across the three days, with orientation coordinators, captains and leaders working together to welcome the Class of 2026 to Fordham Lincoln Center.  
The orientation program is mandatory and serves as a welcome to incoming Fordham students. The schedule ran from 7 a.m. to 10:30 p.m. for the first two days of the program, and it began at 7:30 a.m. and concluded at 3:30 p.m. on the final day, with a "Dessert on the Lawn" event for all residents on the Lowenstein Outdoor Plaza from 7 p.m. to 8 p.m. 
In collaboration with the New Student Orientation teams and the Office of Student Involvements at Rose Hill and Lincoln Center, the 2022 orientation programs received 2,720 students across the campuses, according to the Office of Undergraduate Admissions Class of 2026 enrollment profile. It also welcomed University President Tania Tetlow, J.D., who began her term as Fordham's 33rd president on July 1.  
"I loved the welcoming Mass, full of emotional parents realizing they were about to say goodbye," Tetlow said.
The president added that she was blown away by move-in day and impressed by the staff and student volunteers. Tetlow noted that she was even more amazed by the warmth of the welcome that was provided and was "all the more excited to be here." 
She also felt that Fordham does a remarkable job of making everyone feel like they belong. 
The Class of 2026 is the first incoming class to have Tetlow serve as their university president.
Rundown of the Program
The newest class of Rams attended a variety of events hosted across the campus as well as excursions across the five boroughs of New York City, according to Emily Ellis, Fordham College at Lincoln Center (FCLC) '23, an orientation coordinator (OC) for the 2022-23 academic year and an online editor at The Observer.
The first day of the program served as move-in day for first-year students residing on-campus. It also included a family liturgy, a "New York, New York"' reception for families, and opportunities for residents and commuters to meet within their orientation groups. The day ended with a "Night of Welcome" held on the outdoor Plaza from 8 p.m. to 10:30 p.m.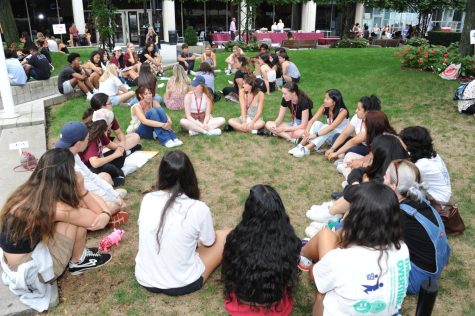 Student Life Day, which served as the second day of orientation, split the program into three tracks — the Maroon track, the Ram track and the Ignatius track — to accommodate the volume of first-years at Lincoln Center. Keynote speakers and presentations, including "Getting Involved," "Living the Mission" and "Surviving the Party," took up a majority of the day and were hosted in Pope Auditorium, Constantino Hall and the McNally Amphitheater.  
The day concluded with excursions from 8 p.m. to 10:30 p.m., which included a variety of activities such as roller skating at Rockefeller Center; walking along the Brooklyn Bridge; a visit to the Edge, One Summit Vanderbilt, or Roosevelt Island; a movie night on the Plaza; and more, according to Ellis.
New student orientation's final day consisted of an academic orientation for first-years and was divided into two sections based on college. The FCLC orientation included tours, an academic fair and a talk on advising, whereas the Gabelli School of Business at Lincoln Center (GSBLC) orientation included presentations on the academic program, faculty introductions and meetings with Gabelli mentors. All students also attended a third small group meeting, which invited orientation leaders and first-years to talk on the outdoor plaza for the last time.
First-Years Reflect on Their Orientation Experience
Grace Miller, FCLC '26, said that her favorite takeaway was the people she met in her orientation group, including her orientation leaders (OLs), and the speakers the orientation program provided. 
Miller noted that she wished people had more time to become friends with one another in their small groups and critiqued a sector of the program titled "Real Talk." According to Ellis, "Real Talk" discusses social injustices and opens the floor to students to share their own experiences.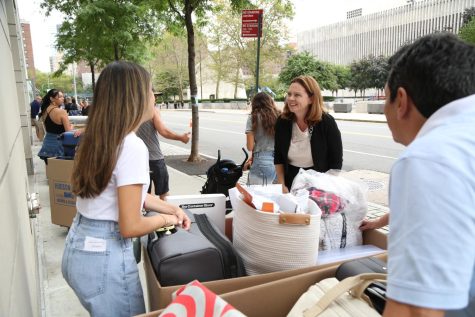 Miller said that thought Real Talk was "strange," as she felt that it forced students to "open up about stuff you don't want to to people you just met." 
Although she noted that the program prefaced no individual had to share anything they were uncomfortable with, Miller stated that, in her group, everyone had to share at least once.
Ellis noted that Real Talk is "a great way for students to open up to each other and talk about the real world challenges that students face in their time here at Fordham" and described it as a wonderful bonding and educational tool.
Overall, Miller said she enjoyed orientation and would consider returning as an OL because it was nice to watch the community that was present through the OLs this year. She noted that it would be even nicer to be a part of it.
"Looking at the orientation leaders from a freshman's perspective, they radiate a really nice form of community and friendship here" Grace Miller, FCLC '26
"Looking at the orientation leaders from a freshman's perspective, they radiate a really nice form of community and friendship here," she said. "Everyone was being very inclusive and cheering everyone on with so much enthusiasm.
Jada Pledger, FCLC '26, echoed this sentiment and shared that she thinks being an OL would be very fun, comparing the experience to being a camp counselor to a bunch of kids "except the kids are your age." She added that she enjoys meeting new people and felt that orientation was a fun experience. 
"I would appreciate and thoroughly enjoy bringing a group together just like my orientation leaders did, so it would be like passing the torch," she said. 
Pledger shared that orientation was a great experience for her and felt that it was a good opportunity to meet new people following the daunting and scary effects of being in a new city at a new college. She mentioned that the program "forces you to be social" and allows for opportunities to make connections with people in different class years.
"I honestly met the majority of the people I talk to now at orientation," she said. 
Miller and Pledger both suggested that, in the future, orientation groups should intermingle with one another to allow for opportunities to meet more people. They also felt that there should be a balance between activities and speakers. Miller shared that she felt the program included a lot of draining information with a little bit of fun, which Pledger echoed and suggested the inclusion of periods of rest to "break up the monotony of the speakers."
"Every single presentation was really engaging and informative but I think that they sort of lost their zest as the day progressed," Pledger said.
Orientation Staff Share Advice and Speak on the Program's Efforts 
The New Student Orientation team at Lincoln Center, which was led by Dan Patterson, associate director for first-year experience, consisted of four OCs, 14 orientation captains and 85 OLs, according to Ellis. 
"It was really rewarding to see all that we had worked on over the summer had actually come to life during actual orientation" Orientation Coordinator Melanie Sztulman, GSBLC '23
Melanie Sztulman, GSBLC '23 and an OC for the 2022-23 academic year shared that as an OC, she worked between 28 to 35 hours per week and helped plan multiple summer events, including two Summer Orientation Programs held on June 11 and July 13, as well as the commuter and transfer BBQ held on Aug. 8. 
She noted that her favorite memory from orientation was getting to know the OLs and the captains during their training a week before the Class of 2026 was welcomed. Sztulman added that there were five days dedicated to training the leaders for orientations and after hours where the OCs and captains worked closely together to wrap up all the material that needed to be prepared for orientation.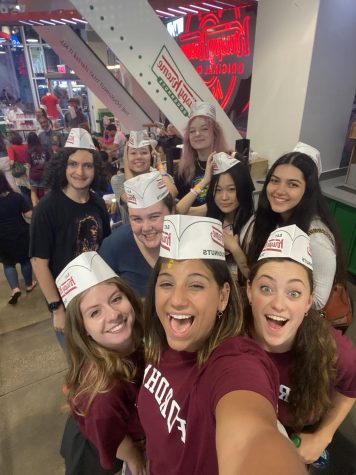 "It was really rewarding to see all that we had worked on over the summer had actually come to life during actual orientation," Sztulman said. 
Will Gualtiere, FCLC '25 and an OL for fall orientation, shared that his favorite memory from fall orientation was move-in day and seeing the sense of excitement everyone had, including the first-years, as they were moving into the residence halls. He described it as an "electric environment" and felt that move-in day was the time he bonded with the OLs and other staff members. 
He added another memory from orientation that he had was seeing Tetlow interact with the Class of 2026 and other community members. He believed that the first-year students and the entire orientation staff were overall impressed with Tetlow. 
"This is her first class that she's coming in with, and you can really see the passion and the connection she is trying to establish with each of the first-year students," he said. 
This year was Gualtiere's first year as an OL. He said that he decided to join the New Student Orientation team after seeing the community between the OLs when he was a first-year. He noted that the passion each of the OLs had for the position and watching that community form inspired him to join the team.
Sztulman and Gualtiere both encouraged first-years to get involved on campus and make it a priority to do so. Sztulman added that being involved allows you see the inner workings of the university, and the two hope first-years join the orientation staff next year. 
"Being involved is really the best way to become integrated in the community and get to know people," she said.
"Get involved with as much as you can as early on as you can" Will Gualtiere, FCLC '25
Alongside Sztulman's advice, Gualtiere encourages first-years to try things they might not want to try or continue pursuing passions they had in high school because "that is really where you'll find your closest friends and the love and passion Fordham has to offer." 
"Get involved with as much as you can as early on as you can," he said. "Don't overwhelm yourself, but make sure you get exposure to all the opportunities that Fordham has to offer and all the different communities that you can become a part of and grow within."