Fordham's New President Assumes Office
Tetlow shared the eagerness and anxiety surrounding her first day in a message to the university community
University President Tania Tetlow, J.D., assumed her role as Fordham's 33rd president today, July 1. She is the first woman and layperson president to take office since Fordham's founding in 1842, an accomplishment which she achieved previously at Loyola University New Orleans.
In Tetlow's first email sent on July 1 to extended members of the Fordham community as the university's president, she wrote her "Day One" message and shared her excitement and nervousness in beginning her term, which her 10 year-old daughter named "nex-cited."
"I have such big shoes to fill and I will be working very hard to earn your trust," Tetlow said. "We are going to do great things together."
With the beginning of Tetlow's term came the end of previous University President Rev. Joseph M. McShane, S.J.,'s 19-year-long presidency. McShane sent his final message as the university's president in an email on June 30 and mentioned his reflections on the university community's strength. He also added that this strength is fed by the community's commitment to the Jesuit mission of "forming graduates who are eager to rise to 'set the world on fire.'"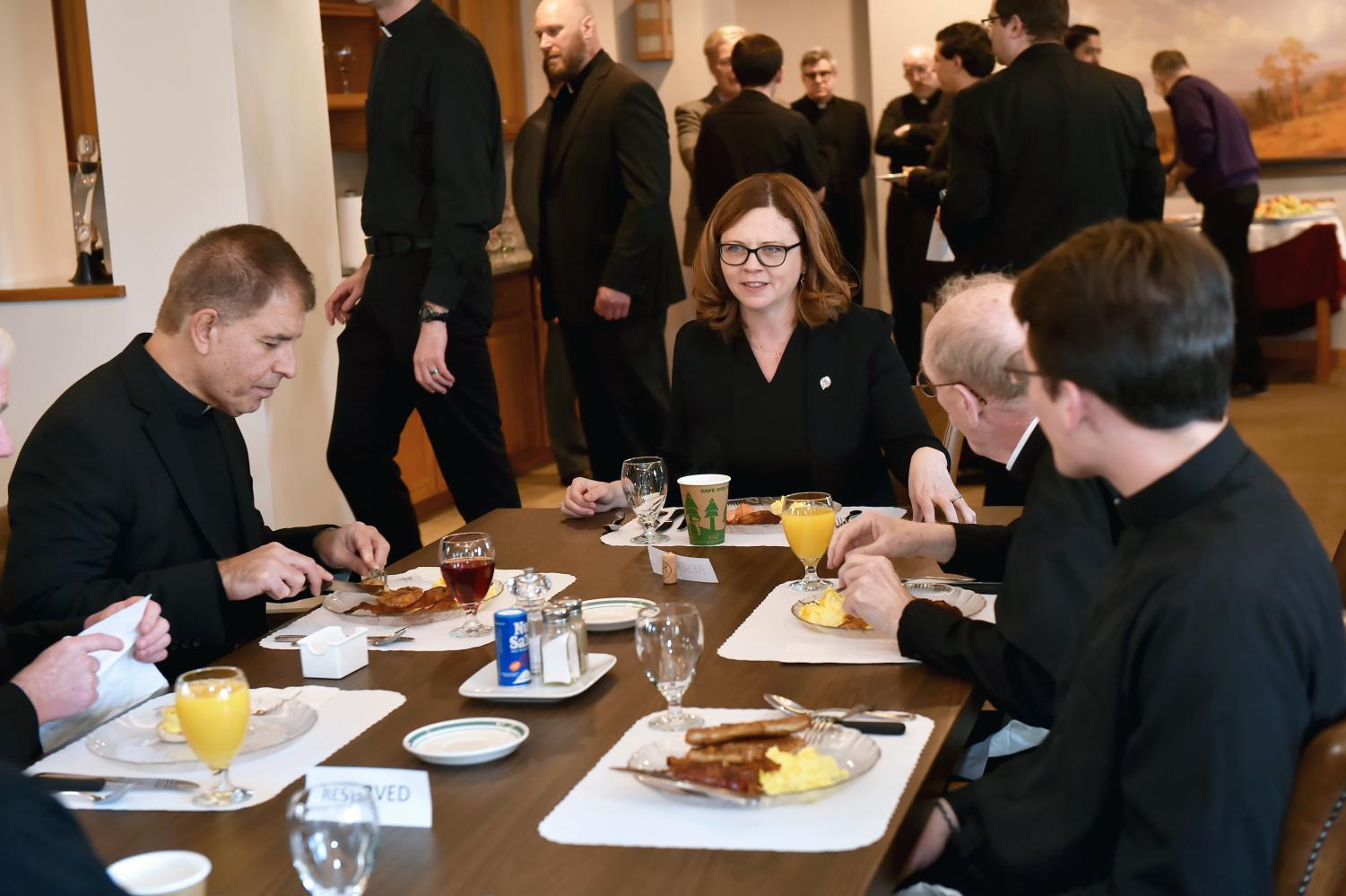 The Class of 2026 will be the first class Tetlow welcomes as the university's president. In a previous student press conference with both The Observer and The Ram, Fordham Rose Hill's undergraduate newspaper, held on Feb. 23, Tetlow mentioned her hopes for normalcy post-pandemic and wants to welcome students to a community that is respectful and is capable of civil discourse. 
"I hope to welcome them to a community that is diverse and inclusive, where students learn from each other's differences, where they are willing to reach out across those differences and be friends with people who come from very different backgrounds than they are," she said. 
Tetlow received her Juris Doctor from Harvard Law School, magna cum laude, in 1995, according to Fordham News. During the press conference, she also spoke on how her experience as a lawyer will influence her role as president. Tetlow highlighted her ability to absorb a lot of information and hone in on what is relevant due to the analytic training she received throughout her time as a practicing lawyer. 
During the student press conference, Ava Erickson, Fordham College at Rose Hill '23 and editor-in-chief of The Ram, mentioned the disconnect Fordham students feel from their surrounding Bronx community and asked Tetlow about her plans to remedy this issue. In her response, Tetlow outlined that it is critical to constantly do better in that regard and that it is an important obligation for the university as a whole to care about its surrounding communities. 
"There are things that our neighbors can teach us far more vividly and profoundly than things you can learn in a classroom," she said. 
Tetlow shared that she wants to speak with neighboring colleges and universities to initiate service projects that will focus on a specific area and create more of an impact by drilling down into one particular issue. She added that she believes this is a great learning tool that considers systems and strategies along with volunteerism and helps the university create more of an impact. 
"I feel drawn to the challenge of doing something unexpected, a new adventure," Fordham President Tania Tetlow, J.D.
When asked what her day-to-day interactions will look like at Fordham, Tetlow said that she hopes for a balance between formal and informal relationships with student leaders and faculty and added that students should not hesitate to invite her to events.
"It is having both the normal kind of leadership structures but also those more informal ways to build relationships, to get information that are less formal," she said. "Fordham is bigger, and it is divided into two plus additional campuses, so that will take time and energy, but it is absolutely critical to the job."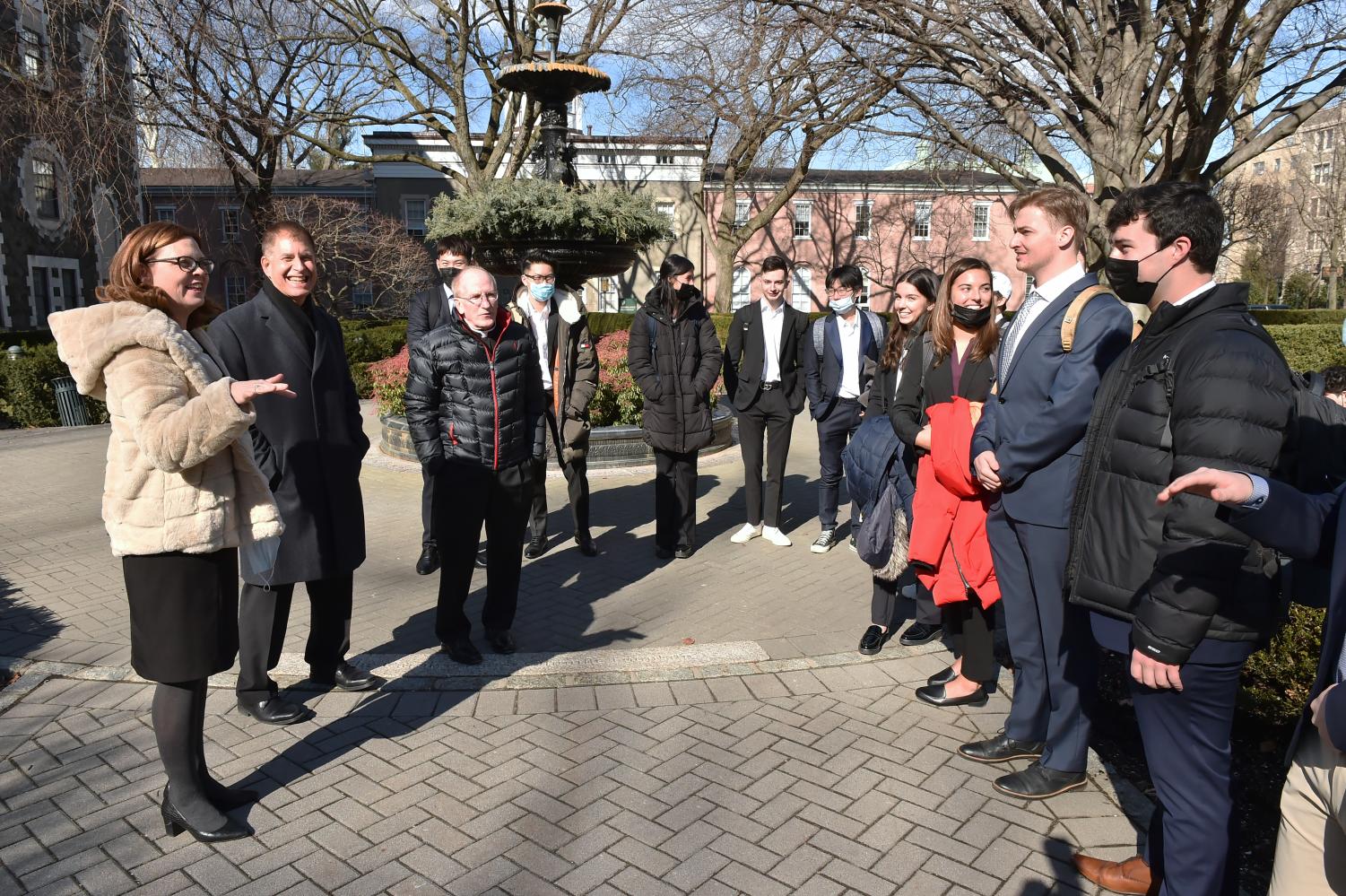 In an op-ed Tetlow wrote for The Maroon, Loyola New Orleans' student-run newspaper, on May 5, she shared her own farewell address with the Loyola community as she neared the end of her presidency. In her message, she wrote that she felt she was graduating alongside the Class of 2022 after having served as the university's president for four years and is excited for the future.   
"I surprised myself most of all, but I think it has something to do with turning 50 and having spent a lifetime carving out a career within a few square miles," she said. "I feel drawn to the challenge of doing something unexpected, a new adventure."
The university is hosting two welcome events at both the Lincoln Center and Rose Hill campuses and has invited all community members to greet Tetlow. The first event will be at Rose Hill's Cunniffee House porch on July 5 from 9 to 10 a.m. and the second will take place at Lincoln Center's Lowenstein Plaza from 9:30 to 10:30 a.m. on July 14. Members of the community must register online through this Google form.