From Orientation Leader to Broadway Producer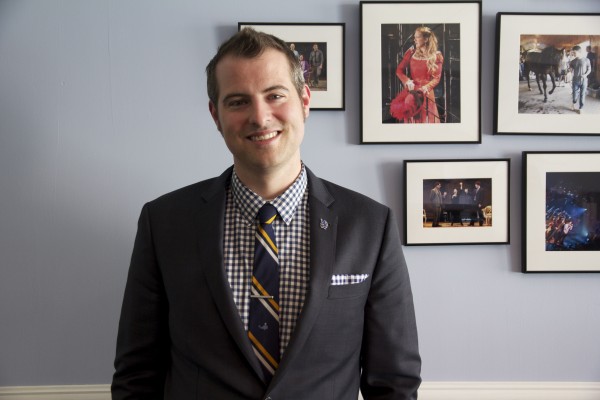 John Johnson, Fordham College at Lincoln Center (FCLC) '02, is one of the lucky ones; he's got his dream job. A theatre management major during his time at Fordham, today Johnson is a producer for Joey Parnes Productions, which recently produced "End of The Rainbow" and is currently working on Broadway's "Vanya and Sonia and Masha and Spike."
Since his freshman year, Johnson knew that he wanted to seek a career in production. Starting from his first year of college, he gained experiences in the field by working as an assistant for Eva Patton, a former FCLC faculty member and manager of the Theatre Program. Through his four years at Fordham, Johnson helped Patton organize several events such as open houses and audition tours for theatre students, as well as helping her organize the archives of Fordham productions and coordinate with the box office.
Through all these experiences, Johnson recognized that his leadership and organizational roles were those that were most formative for him. Working with Patton, Johnson said he realized "the big things were taking the lead on those audition days, and recruiting other theatre folks."
"I was also the orientation coordinator for a few years," he said and was tasked with, "recruiting orientation leaders and coordinating everything with University."
Something else that helped Johnson develop his theatre management skills was taking visual art classes and applying the skills he learned there to advertisements of the theatre department's shows. "Doing all the promotion, doing all the design work and applying them to the posters of the actual shows was another big thing for me," Johnson said.
Since his junior year, Johnson was involved with Joey Parnes Productions, which would become his full-time employer. He also started interning at the office of Fordham Law School graduate and theatre producer Elizabeth McCann. Johnson worked there for eight years until he graduated and became Parnes' assistant at his production company and hasn't left since.
"It is a matter of being at the right time and at the right place," Johnson said.
Since his graduation in 2002, he has been very involved with the alumni community and is still in  contact with several people still involved with the University, claiming that he is "still in contact with some of the professors of the theatre program."
"We actually just hired an intern from Fordham for this summer," Johnson said, elaborating that "we usually try to hire interns from Fordham in the office…some have gone on to work in other higher aspects of our office, others have gone to work on other aspects of the community in general."
Johnson is happy to be involved with Fordham; he recently came into fellow alumni Frank DiLella's "Theatre Journalism" class for a talk with the students.
"I love going back," Johnsons said. "I love to talk to students not only because I like doing it but especially because of what Fordham gave to me and because it got me here, where I am today."
Today, Johnson is still in contact with Patton, his former employer, and he has lectured for a theatre economy section as part of one of Patton's theatre classes at Ball State University in Indiana, where she is now a professor.
This teaching experience wasn't the only one for Johnson; for a couple of summers he also taught theatre business near Chicago at Northwestern University's high school pre-college program.
The advice that Johnson gives to Fordham students who seek a career in theatre is to get involved in most of the opportunities that one encounters.
"The more you put yourself out there, the better," Johnson said, "whether you are volunteering for benefit or for a theatre, if you have the time, you should constantly say yes to things and you will find something that you like and that will bring you to success."
"Vanya and Sonia and Masha and Spike," the show on which Johnson has been working for the past 6 months with Joey Parnes Productions, has received three nominations for the 79th Annual Drama League Awards (the only major theatre awards chosen by nationwide audience members), as well as six Tony nominations.
"Vanya and Sonia and Masha and Spike" is the story of two sisters who are left taking care of their parents on a farm when their famous sister visits them with her much younger boyfriend. The show, which Johnson helped transfer from Lincoln Center to Broadway at the John Golden Theatre for a four-month-engagement, runs until June 30.
Besides working on "Vanya and Sonia and Masha and Spike," Johnson is currently involved in several future productions that haven't been announced yet, but that he said "are coming up soon."