The Girl in the Printed Dress
Fashion model Isabella Salvucci, FCRH '24, explains why dressing up in the classroom helps her exude confidence
Isabella Salvucci, Fordham College at Rose Hill (FCRH) '24, wore a blue, sky-print, floor-length dress to her first Introduction to Fashion and Culture class in September, the sole pop of color in a room filled with dark sweatpants and hoodies. 
"I'm usually the only one in a dress," said Salvucci, a plus-size model who prefers to sit in the front row of her fashion course. "Portraying myself as feminine while being intelligent and confident makes me feel powerful."
Likewise, sweatpants never crossed her mind for our 11 a.m. interview. Salvucci strolled into H&M on the Upper East Side in a pink blouse, black jeans and a rose gold cross necklace passed down from her grandma. The store caters to curvy women, and Salvucci owns several of its ensembles. "It's difficult to walk into a store and find clothes I like as a plus-size woman," she said. "I often shop online or at stores that carry my size, like H&M, using the money I make as a model." 
"My mom and grandma were both very into fashion, and I would put together these hideous outfits that I thought were so cool." Isabella Salvucci, FCRH '24
Each shopping choice is clear and decisive: printed blouses over plain tees, Cinderella blue over neon yellow, and pearls over everything. "My style is dynamic and feminine," she explained. "I embrace the idea of looking different, and I enjoy when I'm more dressed up than others."
Salvucci has not always been this confident in her clothing. "I was a very shy and insecure child," she revealed. "It has taken me years to be comfortable with standing out due to my height and weight." 
Growing up in Pittsburgh, she loved playing with clothes like most children love dressing Barbies. "My mom and grandma were both very into fashion, and I would put together these hideous outfits that I thought were so cool." 
Salvucci struggled while shopping. Consignment and thrift stores had few options, and the companies that did have her size had few pieces in stock. Instead of getting upset, Salvucci would laugh it off. "It's silly," she said. "They say they have an extra large, but where is it? Brands need to start increasing their inventory."
Watching her tall, thin mother exude glamour was an added pressure. "From a young age, I wanted to be like her, but I didn't physically look like her," Salvucci said. "We have very different body types. I'm tall like her, but larger and curvier, so it was challenging to accept myself." 
She would attempt to mimic her fashion choices, borrowing her mother's stilettos — despite being 5' 11" — or copying her makeup. "I thought she was more beautiful than me, which was a mental challenge I had to overcome," she admitted.
Rita, Salvucci's mother, noticed her daughter's low self-esteem but felt helpless. "I saw her struggling, but no matter what I said to her, it didn't seem to help," she said. "She just had to go through that journey by herself, on her own time." 
"I know how much clothing can affect how a person feels, and I just want people to feel their best." Isabella Salvucci
It wasn't until 2018 that, fueled by her mother's encouragement, Salvucci began to embrace her unique beauty through modeling. She became the first curvy model signed to The Docherty Talent Agency in Pittsburgh. After a few years of modeling locally, she signed with STATE Management in New York City, an agency that "prioritize(s) diversity and inclusion," according to the firm's mission statement. 
"Going to castings and jobs with women of different sizes made me realize that beauty, glamour and femininity can come in every shape or size," she said. "It's determined more by your confidence and how you present yourself, not your biological makeup."
However, there are times when Salvucci still fears being judged for her appearance. On the first day of her fashion and culture class, she specifically chose a dramatic printed maxi dress to impress her peers. "I wanted to look fashionable to hopefully gain respect from the class," she said. "I wanted to show people that as a plus-size woman, I deserve to be taken seriously."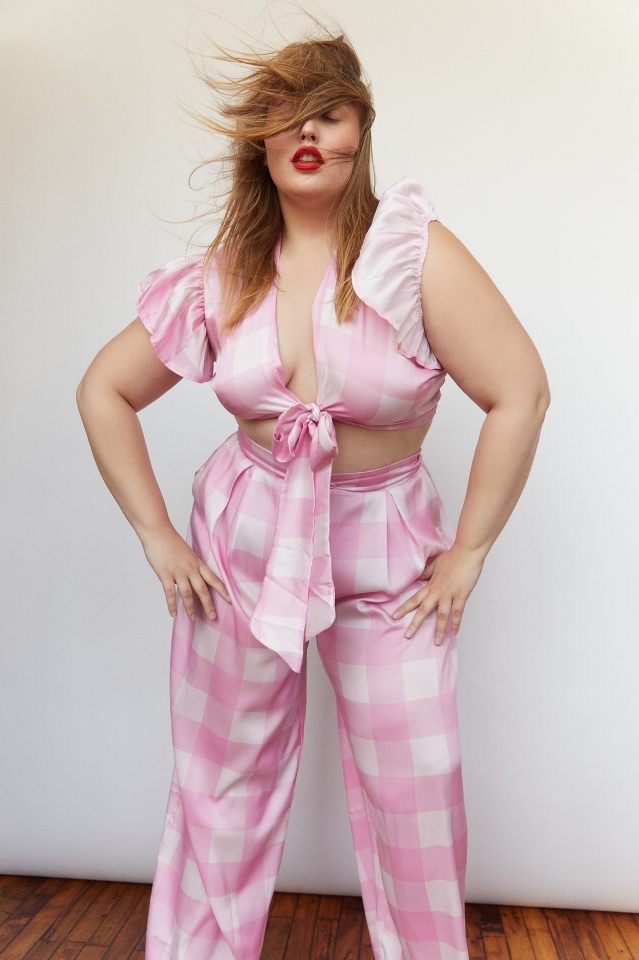 It didn't take long for fellow fashion student Sophie Skinner, FCRH '23, to spot Salvucci in their classroom. "It was refreshing to not just see your average jeans, leggings, sweatshirts and crop tops," she said. 
Caitlin Rogers, FCRH '22, admired Salvucci's ensembles as well. "The dresses she wears to class are very eye-catching. She definitely has a different style than a lot of people," she said.
Salvucci dreams of one day channeling her unique style into her own high-end fashion business, specializing in sustainably produced, size- and gender-inclusive clothing. "I want to help people learn to love themselves through fashion like I have," she said. "I know how much clothing can affect how a person feels, and I just want people to feel their best."
As we headed toward the H&M checkout line, Salvucci considered a last-minute purchase. She held up an oversized blue button-down against an off-white vest. "What do you think? Do these work together?" she asked. I glanced down at my black leggings and sweatshirt. I felt anything but stylish, and it felt wrong to be giving her my opinion. 
I asked her to style me, pointing out a fuzzy beige sweatshirt on a nearby rack. I could tell from the way she slowly inched toward the piece that it wasn't her taste. Still, she listened to how much I loved it and gave me the go-ahead. "Sure, it looks comfy," she said.
With newfound confidence, I bought the sweatshirt. It may not be studded with Salvucci's favorite pearls, but thanks to her, I am convinced it will make me feel unique and empowered — my very own "printed dress."