Fordham Faculty Releases Petition Against Controversial Speaker
Gabelli School of Business invitation to Maria Bartiromo receives backlash from faculty
Fordham's Gabelli School of Business (GSB) is slated to host a webinar with journalist Maria Bartiromo in a webinar about breaking glass ceilings on March 4. In response to the invitation,  members of Fordham faculty created a petition in opposition to the event due to Bartiromo's ties to former President Donald Trump and the insurrection at the Capitol on Jan. 6. 
After the election on Nov. 3, 2020, Bartiromo was one of the first journalists to interview Trump after officials declared that he lost the election. Throughout the interview, she agreed with Trump that the election had been rigged. The idea of a stolen or rigged election led to the storming of the Capitol on Jan. 6. After the insurrection, Bartiromo stated that the insurrection was done by left-wing activists rather than Trump supporters until Jan. 19, one day before Joe Biden was sworn in as president. 

"At one time in her career Maria Bartiromo may have been a trailblazer breaking through glass ceilings, but most recently the trail she has blazed has led to shattered windows at the United States Capitol in an effort to intimidate (or even kidnap) the Speaker of the House, Nancy Pelosi, and the Vice President of the United States, Mike Pence," the petition stated. 
The petition was published on Mar. 1 when the group heard that Bartiromo would be speaking at the webinar. It was created by a group of faculty members: Glenn Hendler, William Myers, Jeanne Flavin, Jeannine Hill Fletcher, Orlando Rodriguez and James Kim. 
"Unfortunately, every so often, the university loses sight of its academic and ethical mission." James Kim, Fordham faculty
According to Associate Professor of English and comparative literature James Kim, the group had worked together on previous issues, such as when Fordham awarded an honorary doctorate of humane letters to John Brennan. The group came together to petition because they view Brennan as a torture apologist due to his past as a CIA director. 
Brennan had previously stated that he thought the CIA had done "a lot of things right" in regards to the torture of 39 individuals between the years of 2002-2007, according to The Guardian. Fordham refused to revoke the honorary degree, stating that even though the university is against torture policies, Brennan did not make the policies. 
"Unfortunately, every so often, the university loses sight of its academic and ethical mission," Kim said. "When these transgressions take place, vigilant members of the Fordham community have to speak out."
William Myers, a professor of history and member of the faculty senate, explained that the group initially drafted a letter and sent it to the faculty senate and the Rev. Joseph M. McShane, S.J. After that, the senate created a resolution that questioned the invitation and suggested the need to investigate the way Fordham colleges and schools make invitations. 
However, the group felt that more action needed to be taken, so the petition was drafted. 
The group also stated that while they believe academic debate is important, Bartiromo would not encourage an honest debate. Fordham has previously canceled a guest speaker in 2012 when the College Republicans planned to have Ann Coulter speak. After Coulter's event was announced, Fordham and the College Republicans received criticism for inviting someone known for hate speech, leading the event to be canceled.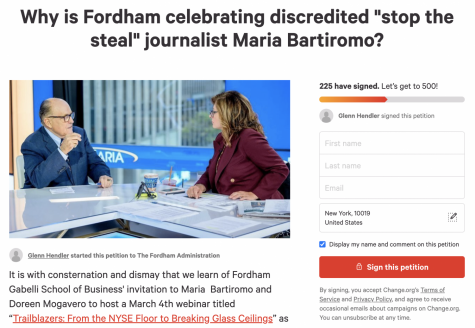 "While academics welcome and indeed promote healthy intellectual debate, we can have no tolerance for deliberate falsehoods, especially when those falsehoods incite violence, promote racist causes, and threaten our democracy," Kim said. "Maria Bartiromo has trafficked in precisely those kinds of willful falsehoods. She has directly obstructed the pursuit of truth, and she therefore has no place at any self-respecting academic institution."
Glenn Hendler, a professor of English and American studies, stated that part of his issue with the event is that it is a celebration. The GSB is hosting this webinar as part of its Centennial celebration events.
"They are–like, for instance, commencement speakers–brought to campus as part of a 'celebration.' There are different standards that should be applied to such speakers, and invitations in that context should be part of a more deliberative and transparent process," Hendler said. "Neither of those things happened here."
Faculty were not the only ones concerned about GSB's decision to host Bartiromo.

"While I respect the right of Fordham faculty and students to engage a variety of opinions and beliefs. It does not seem to keep within Fordham's mission statement to invite a speaker who repeatedly undermined American democracy and put the lives of our representatives and others in danger by supporting and amplifying false claims about the election," United Student Government Vice President, Robert Sundstrom said. "Maria Bartiromo has been an ardent supporter of the crusade against American democracy and her invitation to our campus is an insult to Fordham's reputation and the character of our students and alumni."
As of March 2, the petition has been signed by 196 people.