Words Aren't Enough: Fordham Needs More Anti-Racist Education
The year 2020 was a racial awakening for the United States. The murder of George Floyd at the hands of Minnesota police caused protests in all 50 states and many countries worldwide. These protests opened many Americans' eyes to their complicity in an anti-Black racist system and forced them to reckon with the idea of a racist society. 
Institutions, like individuals, were forced to do the same. Universities and colleges hold even more responsibility in our society, as they are responsible for molding and educating a younger generation. For many students, this molding and teaching will lead to habits and beliefs that they hold on to for the rest of their lives. 
For many students, Fordham may be the last chance for them to adapt and learn to be racially literate. I created a survey with the hopes of seeing whether or not Fordham alumni are anti-racist. With the data collected, we can compare it to Fordham's anti-racist action plan and see whether or not Fordham goes far enough with its proposals. 
We can see that some students are getting an anti-racist education; however, students must do it deliberately.
Fordham's action plan, found on the university's website, is divided into goals with subsequent actions. The goals include but are not limited to:
Fixing the curriculum,

Creating a more welcoming campus and

Building a lasting partnership with our neighbors.
While these goals are adequate, the university's plans do not go far enough to ensure that every Fordham student will leave the university anti-racist. We can directly see this in the curriculum.
Fordham's goal is to "Develop Curricular and Cocurricular Initiatives That Support the Imperative of Confronting Racism and Educating for Justice." The actions include providing grants for faculty to integrate anti-racist teachings into introductory courses and create library resources on race and anti-racism. 
While these are steps in the right direction, they do not go far enough. It was easy to see the inconsistency in the data collected, with some students taking a diverse set of core courses and others not. In response to the question of whether or not the core curriculum fosters growth in other cultures, students said, "you must go out of your way to choose (non-Eurocentric classes)" or "it all depends on the classes you take." We can see that some students are getting an anti-racist education; however, students must do it deliberately. 
Fordham needs to create courses that directly teach about the history of racism and the complex system of racism present in our society. Around 85% of responses stated that Fordham needs to do more to teach about the forms of everyday racism. Along with this, 80% of students said they would be interested in a course that teaches about racism in the United States, and 87% said they would be interested in a course that teaches about racism globally. Fordham needs to create these courses and either modify an existing core requirement or add a new core requirement for anti-racist teaching.

Another area where Fordham needs to change its approach is Fordham's relationship with the Bronx. Over 90% of responses said that Fordham needs to do more to engage with the Bronx community. Fordham plans to engage with the Bronx by being a host for the Bronx Book Festival, honoring local Bronx artists and hosting a Bronx youth summit. 
While these are well-intentioned steps, these actions will do nothing to change the dynamic of our relationship with the Bronx. A majority of students said they had created a relationship with residents in the Bronx through service projects. However, this is the sole means of interaction that students have with the Bronx.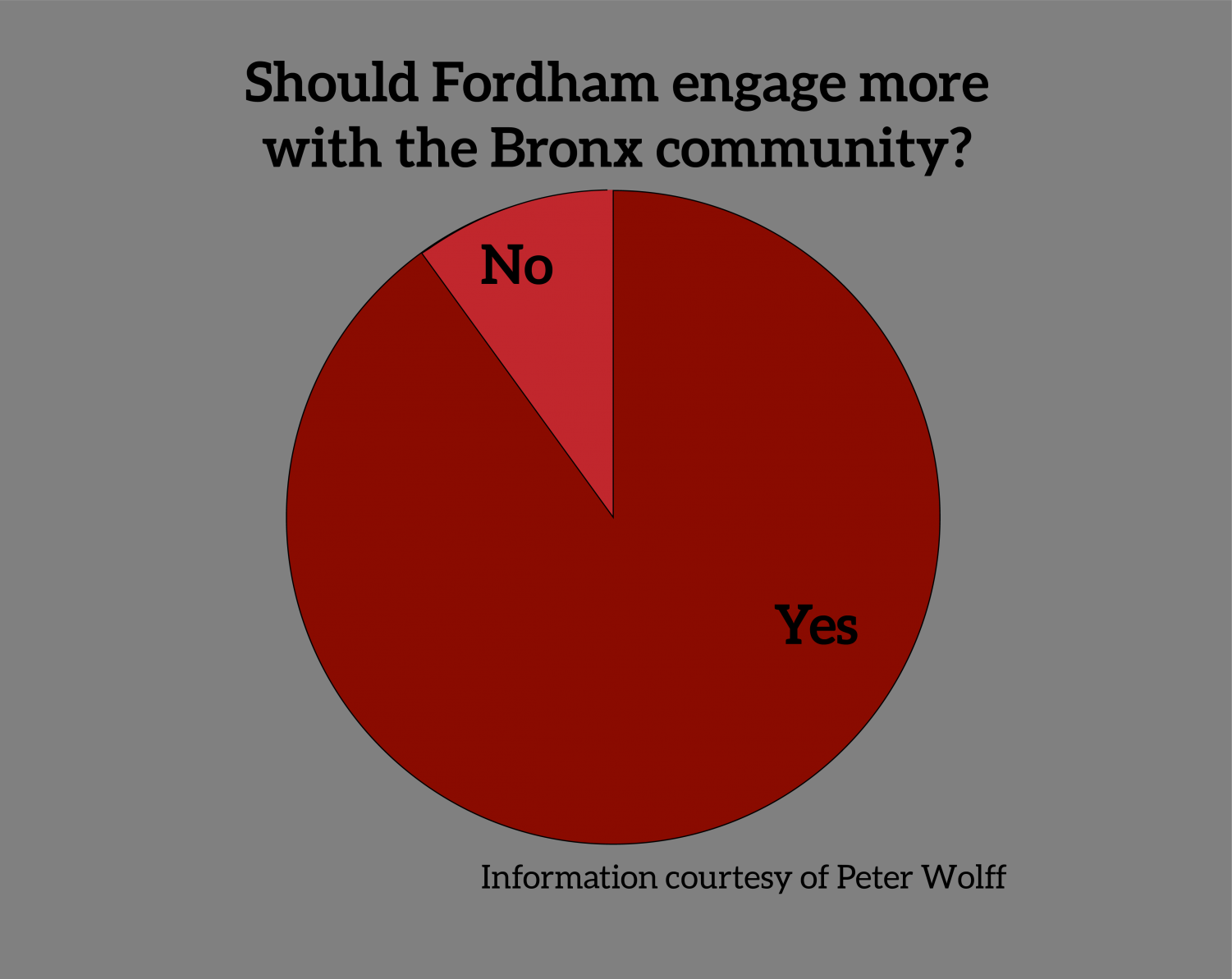 The one-sidedness of this relationship creates division. Instead, we need to create a partnership. If we held events for multicultural Bronx residents to come on campus or panels for Bronx residents to share their immigration stories, students could connect with the Bronx community and learn to be anti-racist. The Bronx is not a place for us to help and guide with a savior lens. It is a diverse community that is a resource for Fordham to teach students about different cultures. 
Fordham needs to make an effort to open up its campus to the Bronx. Bronx residents should be allowed on campus at designated times throughout the year. Right now, Fordham is a gated community, thus sending the message that Bronx residents are unwelcome and that we don't want anything to do with the Bronx. 
One of the most ignored areas in Fordham's response to racism is discrimination on Fordham's campus. Fordham has a goal to make the campus more welcoming for all its students. Actions like instituting mandatory anti-racist training for everyone on campus and building a new multicultural center are important; however, there are no systems in place to address discrimination present throughout Fordham's campus.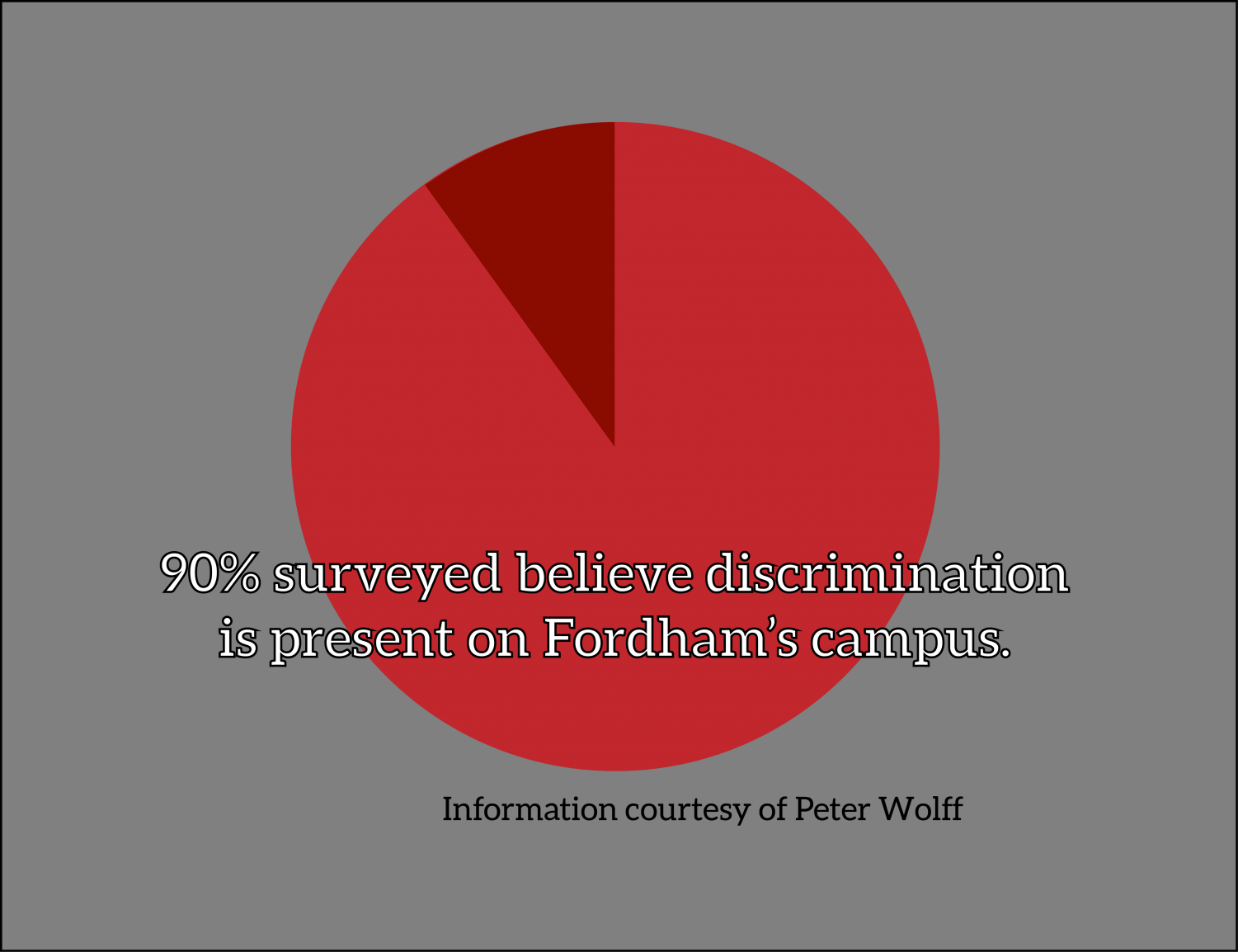 Some of the most staggering information from the data was the pattern of racism on Fordham's campus. Over 90% of respondents said that they believed discrimination was present on Fordham's campus, with over 50% witnessing it happen.
The most frustrating aspect of these incidents was how similar each was to the next. The perpetrators included professors, students and public safety. The majority of events were microaggressions, with the university taking no action at all, even if the situation was reported. 
Fordham needs to create a system to report and deal with discrimination incidents on campus, no matter how small the incident might seem. There needs to be a set process to deal with all cases to ensure that the victim understands that they have a voice on campus and that members of this community cannot spread hate on this campus. 
Fordham is not doing enough to ensure that all students feel welcome on campus and that every student here leaves being anti-racist. 
The fact is that Fordham University is a racist university. The only way this changes is through the implementation of concrete policy from the Fordham administration and faculty.