Fordham Anti-Racist Alumni Collective Survey Supports Testimonies of Racism
Over half of Black Fordham respondents experienced discrimination compared to white students
The Fordham Anti-Racist Alumni Collective (FAAC) conducted a survey affirming that a majority of Black students have experienced discrimination by faculty and Public Safety officials at Fordham. The findings support the testimonies of Black students who have petitioned for changes to Fordham's handling of race relations on campus.
The results of FAAC's survey also showed that 42% of Black respondents experienced discrimination from Fordham's Public Safety officers, compared to only 10% of white respondents. 
FAAC began collecting data in late June, and by the conclusion of the survey, there were over 2,000 responses. Danielle Rowe, Fordham College at Rose Hill '16 and one of the founders of FAAC, explained that the survey was aimed at alumni and that 6% of the respondents identified as Black, which is representative of Fordham's racial demographics. 
During the spring 2020 semester, about 4% of undergraduate students at Fordham identified as Black or African American, and about 55% identified as white. 
"The incredible silence and inaction from administration with regard to directly addressing ASILI's demands just proves to me that combating anti-black racism on campus isn't a priority right now." Danielle Rowe, FCRH '16 and co-founder of FAAC
Rowe, who was president of ASILI, the Black Student Alliance at Rose Hill, during her time at Fordham, co-founded FAAC alongside other Fordham alumni to help raise the issues that have been present since she was on campus. Rowe hopes to use the data collected from the survey to illuminate the disparities between Black and white students that have been ignored by the university so far.
"The incredible silence and inaction from administration with regard to directly addressing ASILI's demands just proves to me that combating anti-black racism on campus isn't a priority right now," she said.
With over 1,500 alumni on the mailing list, the FAAC is committed to fighting anti-Blackness at Fordham University by using its resources as graduates with skill sets and professional networks to aid current students.
"I think it's easier to dismiss current students because the university has a lot more tools to be able to keep students from actually vocalizing their discontent," Rowe said. 
"As alumni, we aren't beholden to rules and regulations imposed by the university, and so we feel a bit more empowered to take necessary action."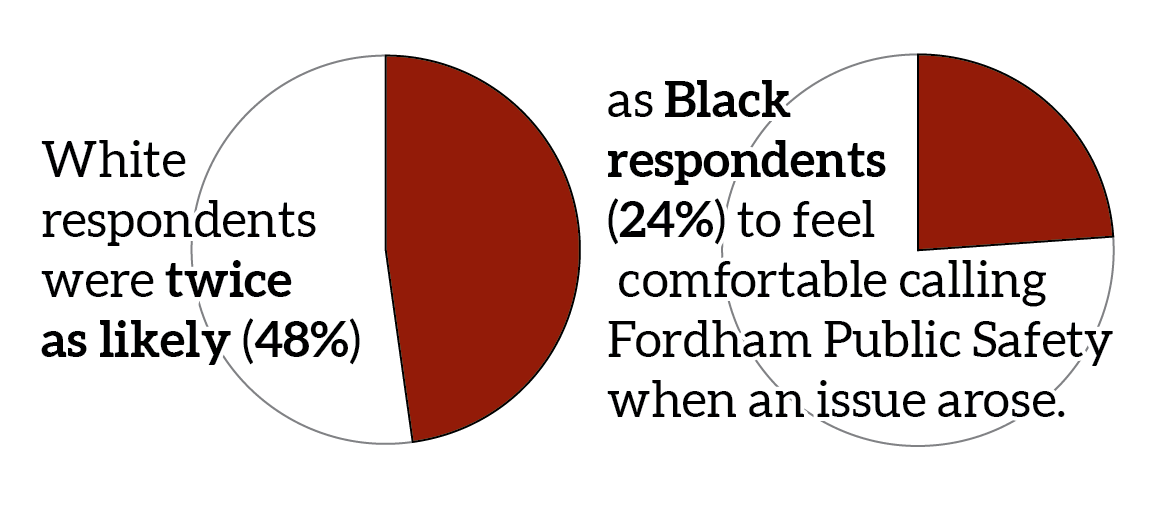 Fordham student organizations, such as ASILI, released 16 demands on Aug. 31, calling for the reform of public safety officers, appointment of more people of color to administrative positions, incorporation of implicit-bias education into the core curriculum and separation from Aramark — a company that has a history of prison abuse and racism.
In response to the first set of demands ASILI released at the start of the summer, Fordham administrators devised an action plan "for confronting racism and educating for justice." 
In the action plan, Fordham accepted three out of 16 of ASILI's demands: designating a physical safe space for students of color on campus, implementing an employee implicit-bias training program and making a written commitment to combat anti-Blackness on campus.
ASILI and FAAC acknowledged Fordham's efforts in accepting some demands but believe there is still more work to be done, particularly regarding the demand to provide racial-bias training to public safety officers.
"Acknowledge and unpack Public Safety's ties to police." ASILI list of demands
When asked whether students felt comfortable calling Fordham Public Safety when an issue arose, white respondents were twice as likely (48%) as Black respondents (24%) to feel comfortable.
This disparity in Black and white experiences supports ASILI's call to "acknowledge and unpack Public Safety's ties to police." 
Fordham's campus security has a close relationship with the NYPD, and many of the Public Safety officials are retired NYPD officers. These ties, as well as experiences of discrimination by Public Safety officials, are why Black students feel less safe with a Public Safety presence than white students.
Rowe spoke to her own experiences as a Black student leader at Fordham. During her senior year, one Black student at Rose Hill had the N-word scratched into his dorm room door. 
Public Safety released its report on the incident and called it a "bias incident" instead of condemning it as a hate crime. 
John Carroll, associate vice president of Public Safety, rationalized this phrasing, stating, "It's wrong to jump to conclusions before the investigation concludes. To start by saying this is a hate crime, while it may very well be a hate crime is wrong. The investigation will determine whether it is." 
The student responsible was never held accountable, Rowe said.
She described a few other incidents she was aware of that happened that year and the dissatisfaction Black students felt with campus security's response to these issues. 
"We certainly weren't treated as though we were victims, is the short way of putting it," she said.
The demands ASILI is currently calling for are not very different from the demands that ASILI during Rowe's time had voiced, she said. The action plan that the university sent out in June is the only public response to ASILI's demands so far. 
"At the very least, the university should be having serious conversations with ASILI — reviewing their demands, reviewing their data FAAC has collected, and determining what is feasible in the short term and the long term," Rowe said. "It's not simply enough to put forth an action plan that is vague, and which only addresses 3/16 of ASILI's demands; it has to be very intentional."

A previous version of this article misstated the organization's title. The article has been updated with the correct information.