Bethany, Benko and 'The Rehearsal' Process
For acting professor/Daytime Emmy winner Tina Benko and Fordham alumna Jaclyn Bethany, "student" and "teacher" are only subjective terms
Fordham College at Lincoln Center (FCLC) acting graduate Jaclyn Bethany has, in many respects, often found herself on the path of ambition, always looking towards new artistic ventures while still retaining the knowledge she learned from her past experiences. 
After graduating from FCLC in 2011, it was that ambition that led her to the prestigious AFI Conservatory film school in Los Angeles, where she earned her M.F.A. in directing. 
With multiple indie short films already listed in her filmography, such as "The Delta Girl" (her AFI thesis film) and "The Last Birthday," her latest endeavor "The Rehearsal," at first glance, seems like a natural continuation of her career. But for this 45-minute, micro-budget digital series, one that showcases her talent both in front and behind the camera, she received a little help from her former acting professor to make it happen.
The series follows a young actress, Anne (portrayed by Bethany), who is cast in the lead role of a popular off-Broadway play. However, as she begins to immerse herself in the role and in the rehearsal process, her personal life gradually begins to become affected by her intensive dedication. 
Set against the backdrop of the "NY Theatre World" (as Bethany likes to call it), "The Rehearsal" is her own dramatic interpretation of the off-Broadway scene, taking a peek behind the curtain at the drama that transpires when the audience isn't there to watch. 
"I don't consider myself in that world, but I am definitely intrigued by it," Bethany said. "Professionally, I have only been in one Off-Broadway show and then moved to LA to pursue filmmaking. So in a way, I became an outsider to it. Interestingly, that's when I started developing ("The Rehearsal"). Because I miss theatre so much and I think it is where I ultimately belong."
Bethany began to truly develop an eye for both acting and directing as early as her days on the Lincoln Center campus, observing the people around her and looking for anything that captured her attention. One of those people was Fordham acting professor Tina Benko, who became involved with the project after Bethany decided to reach out to her about it.
I definitely admired her, and as I entered my adult career, I admired her even more. She really pushes boundaries as an actor. Jaclyn Bethany, FCLC '11
"Yes, I was her student," Bethany said. "At that point, when I was 20 or whatever, I honestly had no idea I would ever become a director or work with her in that context. I was too busy figuring myself out! But I definitely admired her, and as I entered my adult career, I admired her even more. She really pushes boundaries as an actor. 
"And I suppose I'm good at observing people. It's why I became an actor and eventually a director. I was probably observing her during that class. So nine or ten years later, when I was writing The Rehearsal, I immediately thought of her and sent her the script."
Benko's character, Helen, doesn't necessarily have much screen time on the show; most of her relevance to the plot comes from other characters referencing her existence. Still, Bethany considers her to be a crucial component of the show's central conflict: She's a character who can't always be seen, but whose presence can always be felt. 
Helen "only has one scene, but she is mentioned frequently," Bethany said. "She sort of ties the conflict together in the piece. She is a powerful theatre producer, probably Artistic Director of a theatre like the Public or The Signature. She's made a lot of sacrifices both professionally and personally so she feels extremely betrayed when her husband – who is also a playwright and her artistic partner – leaves her for another woman, my character, Anne. Helen is a woman who I think very much holds it together in public, but barely loses it. That's why her scene was so impactful. It's just honest."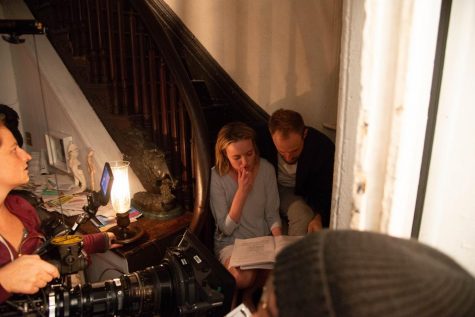 That "one scene" was enough to convince Bethany that she made the right choice in casting Benko, and that she even had the potential to be considered as an "awards-worthy" contender. 
However, it wouldn't be until a (virtual) awards ceremony broadcasted on July 19 that Bethany learned she wasn't the only one who thought that, as Benko took home a Daytime Emmy award for her performance. Bethany's initial reaction to Benko's win was one of shock and surprise, while at the same time, still acknowledging that the award was more than deserved. 
"I was shocked. But I also hoped she would win," Bethany said. "I joked on set that she was so good in this one scene that she could win an Emmy. And then she did! She's so deserving of this honor and has such a plethora of amazing work. To be able to say that The Rehearsal is an Emmy winning series is nuts! But more importantly, Tina won for playing such a strong female character that originally came from my brain. I'm still processing all that." 
Seldom does a Fordham alumna manage to both direct and star in an Emmy-winning series, let alone do so with someone they've looked up to for the longest time. 
Yet, one simple connection between an acting professor and their respective student seemingly paved the way for a future collaboration years later. If anything, Bethany and Benko's professional relationship can attest to the importance of the college professor as not just an educator, but as a mentor for aspiring young artists.