Playmaking in a Pandemic: Zoom Theater Competition
Cathleen Freedman wrote, cast and virtually performed a play for the Here We Go Theatre Company's 24-hour competition
A social media unfollowing ceremony, a reality dating show and a family birthday party-turned-tragedy — these aren't your average Zoom call topics. During Here We Go's 24 Hour Zoom Festival, playwrights were challenged to write a play in 12 hours for Zoom. In these plays, the average is the unordinary and the plots embraced the new normal of the COVID-19 quarantine. On July 12, the Zoom Festival featured three plays, one of which was written by rising junior Cathleen Freedman, Fordham College at Lincoln Center '22. In just 12 hours, Freedman devised, wrote, cast and presented her short play titled "Unfollowed But Not Forgotten" to the Here We Go Facebook audience, available to watch here.
Freedman, double majoring in film and television and political science, is not new to dramatic writing. She studied creative writing at the High School for the Performing and Visual Arts in Houston, Texas. Her short plays have been produced at the Kennedy Center in Washington D.C. and Off-Broadway in New York City, and workshopped at the Williamstown Theatre Festival.
"I've done festivals before, but I've never done a 24-hour festival," she said. Even more, Freedman had never taken part in a Zoom festival. Due to the increased accessibility of the Zoom platform, Here We Go's July Zoom Festival featured participants from five different countries. "It really makes for such an interesting group of artists involved in this project," she said. "I met these people that I didn't know before and we worked together and made something really cool without ever being in the same city."
Here We Go is well-known within the New York theater world for its accessible, site-specific performance pieces that are written and developed by up-and-coming artists. According to its website, the nonprofit organization aims to "present authentic, multidisciplinary and original content, as well as build a networking platform for emerging artists." Freedman also mentioned that the organization often uses its platform to support imperative causes; its July festival donated 20% of raised funds to Black Trans Femmes in the Arts.
"It's such a cool organization and I think what they're doing is fantastic," Freedman said. "I knew about it because there are some theater people I know that have talked about Here We Go."
Usually known for its biannual site-specific festival, Here We Go developed a special quarantine-edition Zoom festival open to all playwrights; the virtual event challenged writers with a time restraint of 12 hours to create a short play that is site-specific to the Zoom platform.
Freedman said, "You have this opportunity to write a short play for a Zoom festival, so I didn't want to write something that I could write for any other time."
However, Freedman couldn't do much additional story preparation since the playwrights weren't told their cast size or demographics until the festival began. "It really was collaborative and so of-the-moment because you didn't know who you were writing for," she said.
"What essentially happens is they normally have three to five playwrights, the same amount of directors, and then a ton of actors," Freedman said. "There's an initial Zoom meeting where the heads of the program meet the playwrights, directors and actors. They go over the rules of the festival and then we're randomly paired with our actors and directors."
At the top of the 24-hour time period, Freedman was assigned four actresses to write for and cast. They held a meeting to introduce themselves and discuss their thoughts about their work.
"You get a sense of what kind of work they like, a sense of who they are, which is really helpful," said Freedman. "I remember being so glad when I met all of them and they all said they preferred comedies; I thought, 'Oh, thank goodness!' Going into this, I knew that out of all the genres you could do, the best premise would probably be a comedy for a Zoom setting play. That's just the one that would make the most sense to me, especially given that you only have a couple of hours to write something."
Following the meeting, Freedman spent the next few hours writing her short play. "Having to cast the actresses that I only met for a couple of minutes and write characters specifically for them was really fun and interesting," she said.
Freedman's piece follows two girls who are attending an online quarantine birthday party for an old friend. The Zoom call takes a surprising turn when the girls learn that they're actually attending a social media "Unfollowing Ceremony."
After emailing her completed draft to the group, Freedman remembered, "I kept refreshing the page. I was just so convinced that somebody was going to reply back 'What is that?'" On the contrary, the director and actresses replied via emails brimming with excitement, as well as questions and suggestions regarding lines, props and Zoom-specific actions.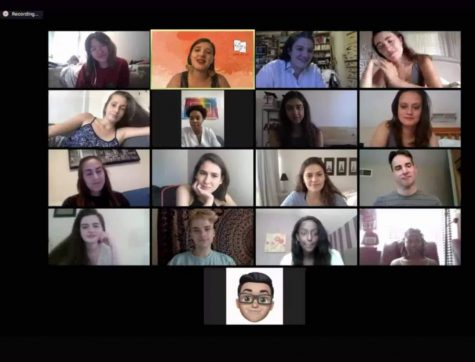 "What's really cool about playwriting is that it can be such an interactive process between the director, the playwright and the actors," Freedman said. "In lieu of that, for this it was me sending them emails and them replying back and forth." Despite the strange circumstances, Freedman felt that she was able to collaborate smoothly with her team, saying, "Everybody's job wasn't necessarily impacted negatively because of the platform we were on."
The next morning, Freedman met with the actresses and director on Zoom for a two-hour rehearsal. "It was just so fun," she said. "I turned my camera off because I wanted to let the director and the actors feel like I wasn't ready to be like, 'That's not how it's supposed to go!'" She added, "I was so impressed by the director; he had such fantastic notes."
After hours of rehearsal, Freedman joined the large group of festival participants in presenting their virtual creations on Here We Go's Facebook page for public viewing. Over the next hour, three plays created in 24 hours were livestreamed, followed by a Q&A session with the creative teams.
"It was really cool to see what the other playwrights did because the only thing our plays had in common was that they took place over Zoom. The amount of characters (was) different, the genres were different," Freedman said.
"I'm really impressed by theater specifically for doing this," Freedman said. As a student with hopes to continue dramatic writing in the future, she greatly values the art form. "This current situation definitely has changed the way people think about theater. I'm really impressed how they've pivoted and can still do what they love to do and take advantage of the current situation. I think it'll make us appreciate this media even more."
A previous version of this article misstated the number of actresses in Freedman's play and the locations where her plays have been produced. It has been updated to reflect the correct information.