COVID-19 Impacts Student and Aramark Employees
Fordham's decision to complete the spring semester online due to the outbreak of COVID-19 has prompted concerns about university employees' incomes, as precautions taken by the state, city and university to limit exposure to the virus prevent student workers from completing their work-study hours and have led to dining staff layoffs.
In a previous email sent to the Fordham community, University President Rev. Joseph M. McShane, S.J. encouraged residential students to "return home immediately." On Mar. 20, Governor Andrew Cuomo signed the New York State on PAUSE order, mandating the closure of non-essential businesses, including Fordham University, effective March 22. 
Higher Education Opportunity Program (HEOP) students began organizing through social media, drafting email scripts for both student workers and allies to send to the Office of Student Employment, encouraging continued payment.
"Many student workers rely on federal work-study aid. It helps working-class and low-income students live comfortably on campus and monetarily supports our families," said the collective body of HEOP students who helped organize the statements. 
"The impact of not paying student workers means that marginalized students will no longer have a stable source of income, which many of us currently struggle with during this pandemic," they continued. 
In a statement sent in response to email petitioners, the Office of Student Employment said the university will continue to pay students who were working at the time the university ceased face-to-face instruction until the end of the spring term. Pay will be disbursed on its regular schedule and the office said once all of the details are finalized, an official communication will be sent to both students and supervisors.  
"We are glad and appreciative that Fordham has made the decision to pay us student workers on our regularly allotted schedule," the HEOP students said. 
After the work-study victory, HEOP and first-generation low-income (FGLI) students continued to organize online, releasing statements for Fordham students on Mar. 20 to send to the Lincoln Center and Rose Hill deans and McShane.
In the Google document script — with options available for both allies and HEOP/FGLI students — the organizers ask for a partial room, board, and tuition reimbursement, utilizing their voice as "the working-class, minority, and FGLI class at Fordham."
"The average household income of a Fordham student is upwards of $150,000—indicating a student body that is skewed and biased towards the more affluent sectors of society. It is ultimately not financially representative of the full Fordham community," reads the document. 
"We, as members of the Fordham community, demand that the Fordham administration support their financially insecure students and provide us with the necessary monetary support to keep us afloat during this crisis."
Fordham's Black Student Alliance (BSA) and Socialist Students Coalition (SAGES) both said they stand in solidarity with Fordham's HEOP and FGLI students over Instagram.
While student employees can expect checks to continue to be mailed to their home addresses, according to Fordham University Dining Contract Liaison Deming Yaun, out of the 300 union employees working in Fordham Campus Dining, "a fairly large number have been laid off."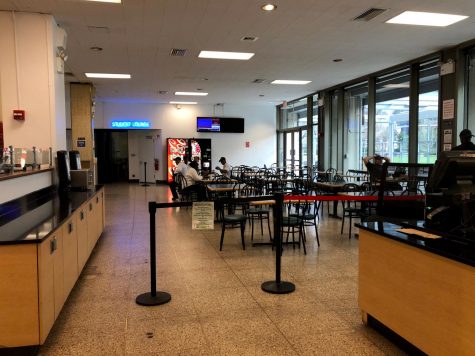 According to Yaun, this is a standard course of business for these types of jobs, as post-graduation operations require less staff. Although the altercations due to COVID-19 have led to operations becoming "quieter" earlier than normal, Yaun said that Aramark has "excellent solutions for staff and union issues."
Yaun also said that Fordham has a robust conference business in the summer, meaning that "almost every employee that wants summer work can have it."
Non-union staff receive benefits through June, union employees receive benefits year-round and management staff is kept on salary, according to Yaun. "Management is kept on salary because the assumption is that business is going to return to normalcy for the summer session. There is some belief that graduation will take place as planned."
Management is also kept on salary since Rose Hill's Marketplace and Lincoln Center's Ram Cafe are still open on an altered schedule. "The staff is highly regarded as part of the community and they are very much appreciated," Yaun said.