Students Present Open Letter in Support of Faculty Union
The petitions submitted at both Rose Hill and Lincoln Center hope to advance FFU's current negotiations
CORRECTION: A previous version of this article misidentified Dawn Silvestri as Dorothy Marinucci. As of Oct. 12, the article has been updated to correct the mistake.
An open letter of support for Fordham Faculty United (FFU) was presented by students at both Rose Hill and Lincoln Center on Sept. 29 amid the union's current negotiations with the university's administration. The letter, which has garnered over 280 signatures, asked that Fordham reach a collective bargaining agreement with FFU that will provide pay consistent with rises in living costs, meaningful health benefits and pay parity among schools.
At Rose Hill, Kate West, Graduate School of Arts and Sciences '23, and Caroline Doyle, Fordham College at Rose Hill '23, submitted a copy of the letter to the office of University President Tania Tetlow, J.D., at Cunniffe Hall. While they had not expected to speak with the president directly, West and Doyle said they had at least expected to express their concerns to someone at the office.
Despite their hopes, the door was not fully opened before Administrative Assistant to the President Dawn Silvestri took the letter and turned to leave the students outside. 
"We expected to get into the building and not just be welcomed by a crack in the door," West said. 
Peeking her head out the doorway, Silvestri listened to Doyle outline a few of the letters' demands for less than a minute prior to closing the door. West and Doyle expressed their feelings of disrespect and commented on the inaccessibility of students to upper administration at Fordham. 
"She seemed taken aback by the fact that we even wanted to speak with her," Doyle said. "I'm kind of disappointed in the hospitality of the president's office but glad that we got to deliver the letter." 
West and Doyle hope the open letter influences the administration's stance on the union's propositions. 
Students chose to present the letters on Sept. 29 in advance of what was intended to be the final negotiations meeting at 11:30 a.m. During this meeting, FFU and the administration agreed to extend the current contract, which was ratified in 2018, for an additional month to provide time for further negotiations.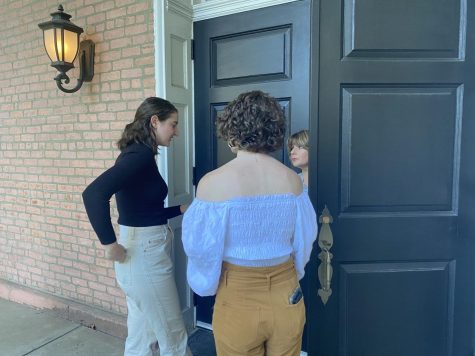 Extending the contract was important to both parties, as its expiration would make a strike legal. According to Cornelius Collins, an FFU steward at the Rose Hill campus, the union has "been bargaining in good faith, that is, with the expectation we'll come to an agreement."
At Lincoln Center, Alan Eiland, Fordham School of Law '24, presented the petition to Vice President for Lincoln Center Frank Simio. The two spoke briefly outside Simio's office in the Lowenstein Center as Simio accepted the petition. For Eiland, the open letter is fundamentally about addressing the increasing costs of living. 
"What we're really asking is for the school to add a little bit more to what their proposal is so that the faculty will be recognized as a critical part of our education," Eiland said. 
The open letter points to the small percentage that payroll costs the university relative to their overall budget. Eiland believes it to be critical that student contributions are adequately distributed to payroll costs. 
"We would like for them to have compensation that is commensurable with their contribution to our education," Eiland said. "And considering the extent to which tuition is a part, the major part, of Fordham's budget and ability to spend money, we feel that if we are going to be paying this tuition that it should preferably go to the people who are making that education worthwhile." 
Michael Kroll, Fordham College at Lincoln Center '25 and a student who signed the open letter, noted that some of the most dedicated and involved professors he's had at Fordham have been non-tenured faculty members. 
"It's always crucial, but especially now given the economic conditions, to ensure those who make Fordham University what it is, are taken care of," Kroll said. "At present, the administration is neglecting that responsibility and action needs to be taken."
Alyssa Daughdrill and Ana Kevorkian contributed additional reporting to this story.