Ti West's 'X': A Good Dirty Movie
Ti West's latest horror film is a fresh take on a well-worn genre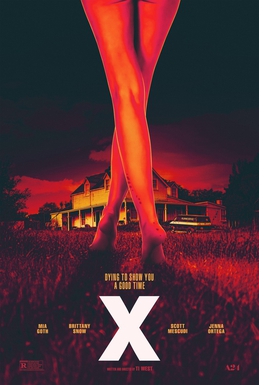 What do you think when you think of a slasher film? If you're like me, you probably think of a story that, while exciting, couldn't stand on its own without all of the blood that is typically associated with the subgenre. 
The genre's popularity peaked in the late 20th century, with films like "The Texas Chain Saw Massacre" (1974) and "Scream" (1996) becoming cultural phenomenons that persist to this day. The newest entry into the genre adapts everything that fans loved about those films while incorporating a nuanced and complex character study to appeal to modern audiences.
Ti West's vaguely titled new film "X" was released by A24 on Friday, March 18, after an overwhelmingly well-received premiere at the South by Southwest film festival on March 13.
Starring Mia Goth, Jenna Ortega, Martin Henderson, Scott Mescudi (more commonly known by his stage name, Kid Cudi) and Brittany Snow as a group of adult filmmakers, the film has been hotly anticipated by critics and horror fans alike since its announcement in November 2020. 
At its core, "X" is about an adult film shoot gone horribly wrong. The production crew arrives at a rural farm overseen by a caretaker named Howard (Stephen Ure) and his wife Pearl (portrayed by Goth, in heavy prosthetics), whom he describes as "unwell." 
As day turns to night, the main characters gradually feel the homeowners' watchful eyes. With this premise and the film's association with such a highly regarded distributor as A24, it should come as no surprise that "X" has been so eagerly awaited.
However, the film also poses deeper questions: What does it mean to be young, to be beautiful, to desire and to be desired?
If you're looking for a film that checks all of the typical slasher film boxes, you won't be disappointed with "X." Featuring gory kills, shaky camera movements, a rural location and a strong "final girl" moment, the film fits well into a genre that many — including myself — adore. However, the film also poses deeper questions: What does it mean to be young, to be beautiful, to desire and to be desired?
Early on, Pearl develops a fascination with Maxine, an up-and-coming film star. By casting Goth in both roles, West clearly highlights the connection between these two characters. 
In one of the first scenes at the farm, Pearl eerily tells Maxine that she "was young once too," and that "there wasn't anything (her husband) wouldn't do for (her) back then … that's the power of beauty."
It's clear that Maxine reminds Pearl of what she once had and, in her mind, has now lost: beauty. The contrast is further heightened by the depictions of sex in the film. Whereas the younger characters freely talk about and engage in sexual activities, Howard rejects Pearl's advances, saying that his "heart can't take it." Pearl chastises the younger characters for what she perceives as flaunting what she doesn't have — namely youth, beauty and sex. In the young visitors, she seeks the desire her husband no longer provides for her. 
While these larger themes are certainly interesting and provide a compelling element to this genre beyond just stabbing, West is a bit heavy-handed at times in imparting them to the audience. 
About halfway through the film, as night begins to fall, Jackson (Mescudi) picks up a guitar and begins to play Fleetwood Mac's "Landslide" — a song all about the "changes and challenges in life" — as Bobby-Lynne (Snow) sings along.
Just in case you didn't make the connection between the song and the film on your own, West features a split-screen of Jackson and Bobby-Lynne singing with Pearl looking at herself in the mirror. While the remaining half of the film remains tense simply by nature of the violence, it likely would've been more compelling if Pearl's motivations hadn't been so bluntly laid out. 
"X" fulfills everything you could want out of a good slasher — and so much more. It doesn't simply rely on the shock value of brutal murders to grip the audience. In fact, the first kill doesn't happen until over an hour into the film, which is significant given its brief, 106-minute runtime. 
From the first scenes, even before the crew arrives at the farm, audiences are encouraged to think about relationships, youth and even cinema itself, with one character proudly proclaiming that "it is possible to make a good dirty movie." If nothing else, this film proves that statement's truth.