Where Dreams Are Made Of: Clothing and Couture in the Concrete Jungle
With NYFW in full swing, Fordham students talk about the relationship between style and the city that doesn't sleep
If both city locals and non-natives were to agree on one thing, it would be that New York and fashion are inextricably linked. 
It's not a particularly difficult observation to make — not if the museums, magazine headquarters and ateliers of all sizes that dot its map are any indication of this connection. 
Stores stretch on for blocks, their mannequins beckoning passers-by inside with the promise of stepping out a better-dressed version of themselves, if only at the expense of a lighter wallet. Even the biting cold does little to stop citizens from braving snow-covered streets looking like they've just emerged from department store clothing catalogs.
Culture is happening wherever you look. And from Feb. 11 to Feb. 16, New York City's status as the "Top Global Fashion Capital of the Decade" is only further cemented as New York Fashion Week commences in full swing. For a week, every road is a runway and every corner a catwalk; influencers flock the streets sporting brand-name bags; and celebrity sightings span Manhattan neighborhoods, from SoHo to the Upper West Side. 
The looks birthed during the shows dictate the trends of the year to come — featured in the glossy pages of magazines and the blinding lights of billboards before they trickle down into thrift stores and sale aisles. 
"New York is a cultural capital first and foremost." Allison Pfingst, Fordham fashion studies department adviser and administrator
It wouldn't be an exaggeration to say that the city holds the fashion industry in its palm. But just as Rome wasn't built in a day, New York did not earn its reputation overnight. It only formally emerged onto the global style scene in the 1940s, taking the place of Paris as the fashion capital of the world during World War II. The innovation and ease of designs — that quintessential American casualness — defined American fashion and allowed New Yorkers to cling to this title decades later.
"New York is a cultural capital first and foremost," Allison Pfingst, Fordham fashion studies department adviser and administrator, said. "The culture around New York is part of what draws people to it, especially from all over the world. The mixing pot that makes New York, New York, also makes New York fashion."
The city's reputation is owed in no small part to modern media, which has consistently worked to cultivate and construct New York's image as a style utopia. Fashion-focused movies and TV shows including "The Devil Wears Prada," "Sex and the City" and its current revival "And Just Like That … " have not only given audiences a repertoire of iconic looks tied to New York, but also have contributed to the rose-tinted haze in which we see the city.
New York's reputation as something of a designer dreamland would be the stuff of legend if not for the history to back it up and the publicity to bolster its name — but can the city's mythologized spirit of style be felt by Fordham students?
Through Rose-Tinted Glasses
For Pritha Lamichhane, Fordham College at Lincoln Center (FCLC) '24, fashion is a world of its own — one she desperately wants to be a part of. Although she cites fashion as her first love, the Nepal-born and Texas-raised Lamichhane considers herself an outsider.
"My main goal and the reason that I came to New York is to become an insider in fashion," she said. "I'd love to be part of the industry. My real passion is fashion and, hopefully, it will be my main career someday."
Lamichhane works toward this dream in increments, her journey manifesting itself with each post on her Instagram page. Behind every picture set in that familiar three-row grid is a process of offering to model clothes for small businesses, reaching out to partner with local photographers, and scouting different places in the city to hold test shoots. She describes it as her creative outlet, and she is in love with the ritual of it all.
While she admits to being guilty of romanticizing the city, she doesn't necessarily think it's a bad thing either.
At the end of the day, her Instagram page is a lovingly curated collection of what brings her joy. Interspersed between pictures of herself and the style she continues to evolve are snapshots of the city she holds so close to her heart.
"New York is the center of the world. Where else would I go?" Lamichhane said. "I think people are very interesting here, in a very good way. Whether you want to do politics or whether you want to do fashion or whatever you want to do — I feel like New York has the best opportunities for everyone."
The sentiment is a distinctly rose-tinted view of New York, but Lamichhane believes there to be some truth to back the claim. And while she admits to being guilty of romanticizing the city, she doesn't necessarily think it's a bad thing either.
"In a way, it's good to romanticize New York," she said. "It makes you feel powerful. It makes you feel like you're going somewhere with your life and you're doing something."
There's Something About It
For Will Rupff, FCLC '25, home is in Connecticut, only an hour away from the city, but he can sense a tangible difference in spirit when he crosses state lines.
"I always used to go to New York with my dad every year when I was younger," he said. "And just immediately, when I would get off the train at Grand Central Station, there was this vibrant energy, and there was just something about it."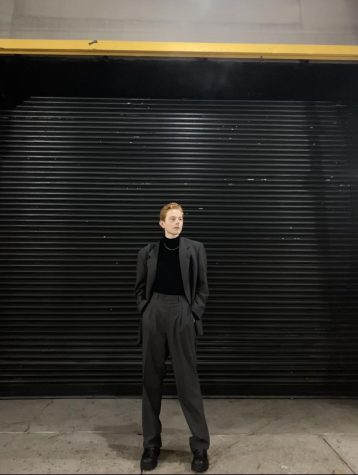 To Rupff, fashion in New York offers more freedom and space for exploration. In his first year at Fordham, he traded out button-downs and cricket sweaters for blazers and wide-legged pants — the experimental environment of the big city a far cry from the collegiate, Ivy League appearance associated with New England. 
He found that the lure of New York would never truly leave him, accompanying him throughout his high school years to the point where attending college out of state felt like the most natural course of action; it was in the city that the kid who used to watch Chanel and Yves Saint Laurent runway shows under his covers felt most at home.
"I feel like New York is the center of the world in a sense. It just always felt right. I always clicked," he said. "There's a diversity of people, a diversity of fashion, but there's also a diversity of thought. There are different perspectives that converge, and that's where you truly get to meet new people and new experiences."
Much like the city itself, Rupff describes his style as ever-evolving: different when compared to two months past and different in the next two months to come. His more liberated style of dress, for example, is representative of the newest chapter of his life — one where he is afforded more freedom to choose the direction he wants to head in.
"Fashion is really just an honest pursuit of joy and inspiration. You can always partake in the fashion industry, whether it's for comfort, or for style, or for pleasure," he said. "It really is meant for everyone. The sense of inclusivity when you put on a garment makes you feel like you're part of something bigger, deeper and more impactful.
A City of Contrasts
Self-identifying punk Madison "Rat" DeStefano, FCLC '25, establishes themself as staunchly anti-fashion. To her, the short-lived cycle of trends and the vices of environmental waste and exploitation that often accompany it run counter to what she stands for. 
"Even if my clothes don't technically look good, they have so much character, and that means a lot to me. I love looking into my closet and feeling like I'm looking in a mirror," DeStefano said. "Even if I'm wearing the same clothes, I feel really fulfilled, and I feel like a lot of people miss that in the fashion industry. It's more fleeting and that excitement will go away."
In the true spirit of punk culture, the clothes they wear are either thrifted or made by hand. Last summer, DeStefano established her business, Junkyard, with the aim of combating fast fashion by extending her skills of revamping old and unused clothes to buyers.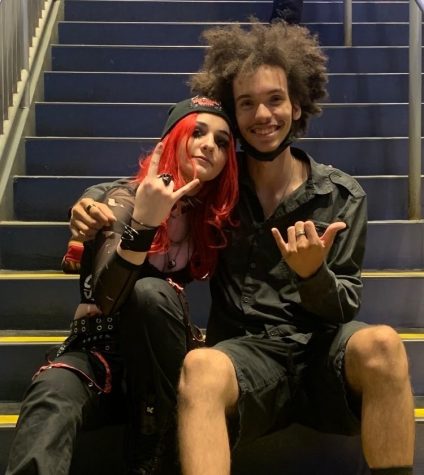 Although DeStefano can't see themself in any place other than New York, they didn't need the spirit of the big city to feel affirmed in their choice of clothes, since she has aligned herself with punk culture since sixth grade. Rather, they regard New York as a dichotomy able to both breed creativity and smother individuality. 
"I feel like the city is alive. There are different types of people and lifestyles here, and it's really interesting to see the whole world culminated in one place," she said. "But the fashion industry also prevents this. We keep buying all the new clothes that companies are producing in bulk for these constantly changing styles. I think that's dangerous for mental health and individuality itself. The more we morph into this one thing, the smaller our world becomes."
To DeStefano, the spirit of New York isn't reflected in the shiny store windows on Fifth Avenue, but rather in the basements where the punk shows she frequents are held.
"They're typically pretty rundown, but to me, it's a physical representation of the city. It's got a lot of garbage, but it has a lot of character and a lot of art everywhere," they said. "We try to make our society very tidy and clean-cut, and I like that that's not what it is."
New York City isn't all the glitz and grandeur it's depicted as on screen, but it is exactly for this reason that DeStefano calls it "the closest place to home" that she knows.