Labor Organizers Shine During May Day Protests
Protests held throughout the city on May 1 are part of a long tradition of organized labor that is becoming increasingly intersectional
It didn't feel like a spring morning on May 1 with the cold air and high winds gripping New York City. However, a thawing passion was swelling among New Yorkers, as a group of protesters trickled out into the stone plaza beneath One World Trade Center. Surrounded by the vibrant graffiti of the Mural Project and watched by a group of blasé police officers, the protesters held signs reading "Fair Pay Now" and "You Can't Eat Prestige." They stood inside of a small circle of steel barricades, and at one point a pair of officers walked through the crowd not speaking to anyone, just observing. 
The protesters were workers from The New Yorker, protesting outside the headquarters of the magazine's parent company, Condé Nast. Employees of the publication recently unionized and have been fighting against what they call bad-faith negotiation tactics, including ignoring workers' calls for reform and refusing to increase pay while maintaining high executive salaries. Union members were also infuriated about the firing of two pregnant women who refused to work overtime. The union plans to go on strike if executives don't meet its demands.
May 1 is May Day, also known as International Workers' Day, and demonstrators like those from the New Yorker turned out across the city in support of the labor movement. Some gatherings were more celebratory while others invoked a more serious tone. Nonetheless, their message was the same: The rights of workers are more important than the greed of the corporations they work for. 
Teamsters Local 804 Vice President Chris Williamson spoke in solidarity with the New Yorker Union about the importance of worker power. He said now that The New Yorker staff could collectively bargain, they should reject the status quo they had far too long accepted.
At Union Square more rallies were held, one in support of marijuana legalization and another against the corporate greed of Amazon and its founder and CEO, Jeff Bezos.
"When I come to the table I'm not begging no more," Williamson said. "I'm coming with a knife and a fork and I want to eat too." He urged those from The New Yorker to have that same hunger. 
At Union Square more rallies were held, one in support of marijuana legalization and another against the corporate greed of Amazon and its founder and CEO, Jeff Bezos. Organizers spoke to a red and green sea of Marxist banners and pro-marijuana signs. The notorious inflatable labor rat, Scabby also made an appearance. Protesters later marched to Bezos' penthouse on Madison Avenue to voice their opposition to the company's recent "union-busting" techniques and low wages, especially for people of color. 
Workers at Amazon's JFK8 facility in Staten Island are currently organizing to form a union. The effort is led in part by Chris Smalls, who organizes daily protests at the location. Smalls was fired last March after leading a walkout due to concerns about the lack of COVID-19 precautions at the facility. Smalls said Saturday's protest was "to let him (Bezos) know the workers still have voices and still have power."
This is the second high-profile unionization movement at Amazon this year, following an unsuccessful effort in Alabama where workers voted against forming a union. The failure, Smalls said, was the result of Amazon's $23 million union-busting operation. The company posted memos in facilities and went so far as to text workers to vote against the resolution to join the union.
While Amazon won the fight in Alabama, Smalls said the outcome in New York would be different because Alabama "sparked a fuse that went across the world." 
"The chief union buster Jeff Bezos ain't gonna beat us," Smalls said. As he spoke, someone shouted, "This is a union town!" and the crowd erupted in cheers.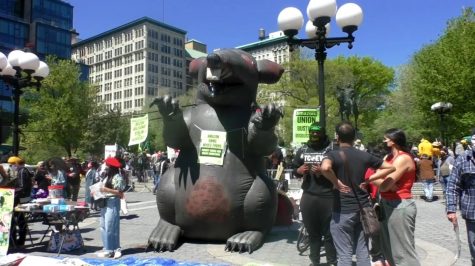 The adjacent pro-marijuana rally came just over a month after New York state legalized recreational use of the plant. While speakers celebrated the legalization bill, they were sure to note it contains a clause to let municipalities opt out of legalization. These efforts have gained traction among conservative local and county governments.
One speaker from the Shinnecock Nation on Long Island, whose name translated to Butterfly Woman, announced that the tribe would be entering the legal marijuana industry in force and using the profits to fund its nation and provide resources to its people. The Shinnecock will be able to sell marijuana regardless of the legal status of the plant in the surrounding Suffolk County because it is recognized as a sovereign nation. 
She spoke about the sacred importance of marijuana and herbal medicine to Indigenous communities, calling cannabis "an ancient sister plant." She also called on activists to recognize Indigenous people as people of color and to include them in discussions on racial justice. 
This year's May Day events took place with more than half of American adults having received at least one dose of the COVID-19 vaccine, but the end of the pandemic is nowhere near certain. Officials are now speculating that new variants and vaccine hesitancy could mean the coronavirus is here to stay. As such, Saturday's speakers made an effort to note that the social and economic fissures exposed and worsened by the pandemic will remain without strong labor unions. 
Coalition of Black Trade Unionists President Charles Jenkins stressed the importance of low-wage workers in the economy and said their work should not be taken for granted after the pandemic. "They now want to call us essential, but we've been telling them for years that we was essential because nothing in this city or this country moves without workers," he said.
The annual May Day, which started in the United States and spread globally, has a rich tradition as a day of Marxist and pro-labor activism. The celebrations trace back to the infamous Haymarket Riots which took place on May 4, 1886. Afterward, the first of May was chosen by socialist and communist groups as an international call to collective action and a day of remembrance.
That original call has not been forgotten in the 135 years since. Speaking to her fellow union members, New Yorker Poetry Coordinator Hannah Aizenman summed up the day's sentiment in a threat to Condé Nast: "If they cannot be persuaded of our labor's value we will make them feel it."