Clashes and Celebrations Unfold on NYC Streets
Protests and Parties: New York Produces Mixed Reactions to Election Results
Prior to the presidential election on Nov. 3, there were a multitude of possible scenarios. Many Democrats anticipated a landslide victory for President-elect Joe Biden. Simultaneously, the New York Police Department (NYPD) increased its presence and stores boarded up their windows due to the possibility of civil unrest.
When many of the states' projected results were predicted by news outlets early on the morning of Nov. 4, the "red mirage" of in-person votes favoring President Donald Trump showed him leading in many swing states.
Trump's premature declaration of victory led to turbulent showdowns between protesters and the NYPD later in the week. 
Several organizers led protests in the West Village and Union Square on Nov. 4, leading to a collective 60 arrests made by hundreds of armored riot NYPD officers.
On Nov. 5, a group called the Stonewall Protests led its 21st march for Black transgender lives in Greenwich Village with the message that Biden and Kamala Harris will not usher in an age of freedom.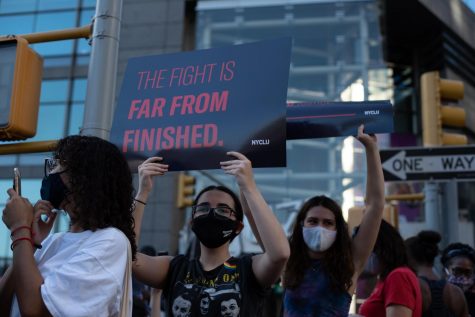 Leah Toledano, Fordham College at Lincoln Center '21, began attending the Stonewall Protests in August. They said that last Thursday's gathering was "undoubtedly one of the largest police presences" they have ever seen for the group.
Toledano said that the police were fully armored: "The cops were dressed up in 'cockroach gear,' but I think the reason why their presence increases every week is that more and more folks are showing up," Toledano said. "And specifically, they are showing up unafraid and undaunted, ready to resist. It is apparent that the cops find this alarming and intimidating, their anxieties grow the more and more this community demands validation and liberation."
Demonstrators were met by hundreds of NYPD officers in armor and mounted on bicycles. The officers kettled the protesters, a tactic used by police to entrap groups into a confined space to make arrests or disperse crowds, which led to 19 arrests.
New York Mayor Bill de Blasio did not acknowledge cases of police brutality, stating that the arrests were justified by protester wrongdoing. De Blasio also said he condemns police kettling tactics.
"The presence of the police was very clearly aggressive and oppressive from the outset," Lila Holley, FCLC '23, said. "It was clear they were waiting for the perfect moment to surround us and make violent arrests. even as we split apart to follow their rules, they came up the streets around us to keep a barrier around us."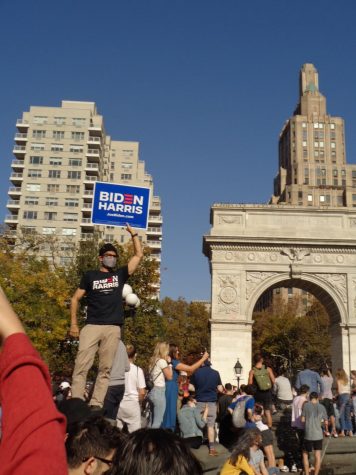 Holley said that there were more officers than protesters present. "I thought it was unnecessary and that their fear tactics are fundamentally opposing the idea of free assembly and free speech."
The climate of New York City quickly changed on Saturday morning, Nov. 7, when the Associated Press declared Biden the winner of the election at 11:25 a.m. EST. The city transformed into a celebration. Car horns and shouts filled the streets, parks quickly played host to celebrations with champagne, and people gathered outside Trump Tower to dance and chant.
Maddie Hilf, FCLC '22, was with her roommates in McMahon Hall when she found out that Biden was projected to win. "We opened the window and heard cheering, banging pots and car horns honking," she said. "At that moment, I felt really lucky and proud to be in New York. It felt like a collective sigh of relief." 
She went to Trump International Hotel and Tower at Columbus Circle, where she said there was a sense of community, solidarity and joy. "It felt special and historic."
"When I went outside to the front of the Trump Towers, I saw people of all ages and races celebrating the removal of a racist, facist president," Adah Unachukwu, FCLC '23, said.
Unachukwu also went to Washington Square Park to join a march, but she couldn't locate the organizers because of how many people were swarming the park in celebration. "There were people playing in the fountain, drinking champagne and
dancing. For the marches I have seen and/or participated in, I have never seen that kind of turnout."
The scenes of celebration from Saturday contrasted what the city looked like only days before. Union Square Park, where mass arrests took place on Wednesday, became a hub of celebration and singing.
The West Village, where trash cans were ablaze earlier in the week, buzzed with people celebrating Biden's victory over brunch and massive gatherings of Biden's supporters.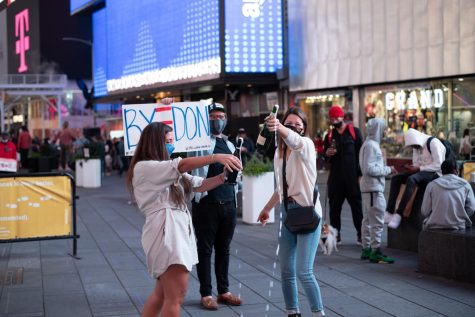 "If we had a fraction of that energy and enthusiasm at our weekly protests, I think the cops would be forced to take a step back," Toledano said. "If white liberals channeled that energy towards abolition and the liberation of Black and Brown queer and trans folks, where could we be?" 
Hilf said she hopes people don't get complacent after Biden's win: "I am glad the city took a day to celebrate the end to the long nightmare that was Trump, as it was a long time coming and much deserved, and the unity felt quite significant, but Biden is not the end all be all and Trump was not random, so we can't get comfortable."
Following the citywide celebrations that went well into the night, hot spots like Washington Square Park were left littered with trash, though groups collaborated the following morning for a clean-up action.
"They treated Biden winning as an end result and not the first step to completely changing how America functions," Unachukwu said. "I am happy that people were able to celebrate, but I wish that they understood that this isn't the end."