Parks With Possibilities
Discovering outdoor escapes during COVID-19 in the midst of a concrete jungle
The halls of McMahon and McKeon at Fordham Lincoln Center are unusually quiet and empty these days. Students are cooped up in the dorms taking online classes and looking for safe ways to connect with friends and unplug from the virtual world for a few hours.
College life looks a lot different this semester, and outdoor spaces are more important than ever. Fortunately, there are many parks both by the Fordham Lincoln Center campus and in other boroughs of the city that are full of activities and places to hang out.
Central Park is popular among many students, professors and tourists alike for its easy accessibility, expansiveness and picturesque locations. The statues hidden throughout the park, water fountains and numerous trees and aspects of wildlife that change with the seasons are just some of the attractions.

Central Park is iconic for its cherry blossom trees in the spring and its range of colorful foliage on trees in the fall. People may also go to the park to revisit scenes of their favorite movies like "When Harry Met Sally," "Ghostbusters" and "Elf." 
Students and families come to Central Park for picnics in Sheep Meadow, a wide expanse of open lawn; outdoor exercise classes like yoga and Tai Chi offered by different gyms; and scenic walks that can lead to museums like the Metropolitan Museum of Art. All these activities can be done easily following proper social distancing guidelines with friends.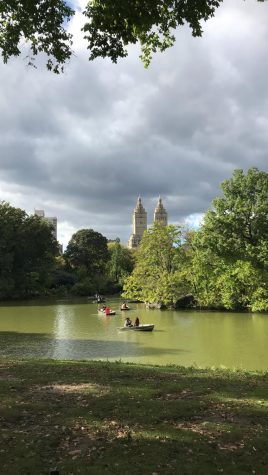 Monica Rivera-Mindt, professor of psychology at Fordham University, has lived at the northwestern end of Central Park since 2002. She loves Central Park and, in her role as the board president of her home building, makes an annual donation to the Central Park Conservancy.
She loves to jog, bike and birdwatch in the park with her family. She described the park as her children's backyard while growing up.
"I have kind of purposely built my life around Central Park," she said. "We also have a pool in the summer and a skating rink in the winter and we have the Harlem Meer."
The Harlem Meer is a man-made lake surrounded by trees and nearby playgrounds and Laser Rink and Pool. People come to the Harlem Meer for fishing as well.
For those who, like Rivera-Mindt, live in condos, the parks serve as a backyard and playground for families.
Central Park has always been meaningful for Rivera-Mindt, but it became even more special to her and her family this past spring when her whole family was sick with COVID-19. When the family became sick, they were not able to leave the house for at least a month. The day that Rivera-Mindt could finally go out on a walk in the park was a memorable one.
"When I was able to go into the park and connect with nature, it was very moving," Rivera-Mindt said. "And I just felt so grateful that we have Central Park Conservancy and that we have these beautiful parks that can really help us get through such a terrible time."
Rivera-Mindt also mentioned that her family likes to spend time at Riverside Park, Van Cortlandt Park and Mosholu Parkway.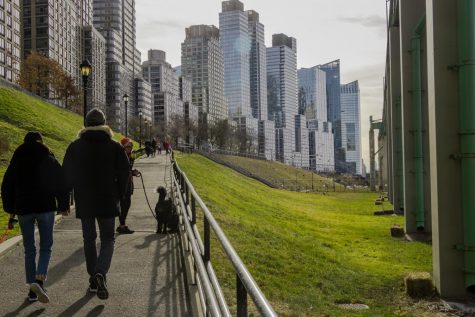 Riverside Park is on the Upper West Side, starting about 12 blocks north of Fordham Lincoln Center. The park runs along the Hudson River and has both biking and walking paths. There are many seating and picnic areas there as well, for students interested in finding more hanging-out spots. Like Central Park, Riverside Park also has many sections of gardens, courts and fields to play sports. If you are interested in going on a picnic, be sure to bring a blanket or towel to avoid sitting in goose poop or on wet grass.
Another park with a view of the Hudson River is Battery Park, which is located in lower Manhattan. It boasts areas for picnics, paths by the water and monuments and gardens to look at. Though Ellis and Liberty Island are not open for normal hours right now due to COVID-19 regulations, it is at Battery Park where people gather to take the ferry to these popular tourist attractions.
Van Cortlandt Park, located in the Bronx, is NYC's third-largest park. This park has a golf course, ball courts, fields, horseback riding trails, hiking trails, running tracks, playgrounds and nature centers. Rivera-Mindt's oldest child used to run cross-country on the trails here. Again, there is plenty to do here and much of it is COVID-19 guideline-friendly.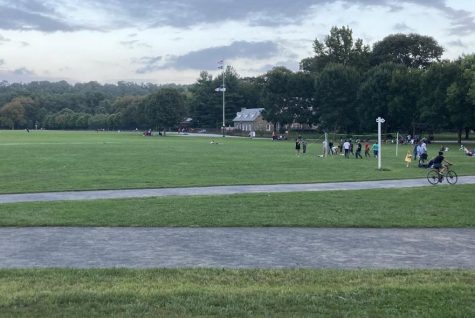 Rivera-Mindt recommends Mosholu Parkway for those interested in golfing. This landscaped highway connects the Bronx Park to Van Cortlandt Park and features golf courses, playgrounds, baseball fields and basketball courts.
Rivera-Mindt says she also gives the Bronx a lot of credit for "having the most green space of any part of the city."
For students who are heading to Brooklyn, Prospect Park is its flagship park. This park has many picnic areas, spaces for sports, places for birdwatching, boating areas, trails for running, biking and walking, and places to let dogs roam free.
If you are not in the mood to take a walk through a traditional park, the High Line might be the best option for you. Located in the Chelsea neighborhood of Manhattan, the High Line is a 1.45-mile-long elevated platform park featuring many trees, flowers and spectacular views of NYC. 
During these difficult times, it can be very healing to be able to connect with nature and those around us. If you find yourself feeling bored, lonely or stressed, take a safe and social distanced walk outside, wherever you may be, and notice how much it means to be able to breathe in fresh air and feel the ground beneath you.
Correction, Sept. 16: A previous version of this article misstated Rivera-Mindt's position related to the Central Park Conservancy. It has been updated to reflect the correct information.