Cakes, Takeout and Bakes: Grab Your Next Meal From a Black-Owned Restaurant
Reflections on being a Black business during COVID-19 and the Black Lives Matter movement
"I feel like we couldn't control the coronavirus, but we can control how to treat another human being," Aliyyah Baylor, owner of Make My Cake, said. Make My Cake, a bakery open for takeout and delivery at 775 Columbus Ave. guaranteed to fulfill your post-class sweet tooth, is one of many Black-owned restaurants on the Upper West Side, Fordham Lincoln Center's neighborhood. 
Following the death of multiple unarmed Black Americans at the hands of police officers in numerous cities, protests erupted across the nation and donations began to flood into organizations that are actively combating racial inequities. 
Inside Fordham's community, students are advocating for more concrete action to be taken to address anti-Blackness on campus. Outside Fordham's doors, there are a vast number of local Black-owned businesses that students can look to support, too. 
Staying Sweetly Resilient
Josephine Smith, affectionately called "Ma Smith," cooked up the idea for Make My Cake inside her home kitchen over 22 years ago. According to the shop's website, "her recipes combined the southern baking traditions of Mississippi and Alabama with Harlem soul." Now the small business bakery has evolved into a local New York City staple with two locations. Make My Cake is now run by their "family team," which includes Baylor. 
Baylor spoke with ilovetheupperwestside.com about the troubles of keeping the business operating during the pandemic. Make My Cake is the only small business located on a block with corporate chains like Michaels and HomeGoods, so the loss of foot traffic during the pandemic proved to be a large struggle. They had to modify their menu and cut back on staff and hours, but Baylor says they made it work in order to service their community.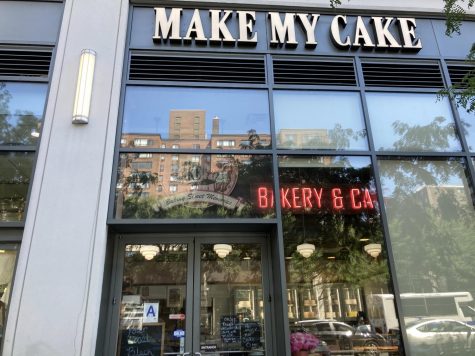 In the midst of the coronavirus pandemic, most local New York City businesses, especially restaurants, have been struggling to make ends meet. Restaurants were prohibited from dine-in seating in mid-March, offering only take-out options until June 22 when New York entered Phase 2.
All restaurants in NYC are currently allowed to offer outdoor dining, but Mayor Bill de Blasio confirmed on July 6 that indoor dining has been postponed indefinitely in the interest of keeping New Yorkers safe.
Baylor revealed that during the Black Lives Matter protests in NYC she noticed that the big businesses around her were boarding up their windows, and she wondered if she should do the same, but instead she just put up a sign that the store was Black- and woman-owned. 
"The way I've always looked at our situation is that it's important to focus on being part of the community," Baylor said. "We have to remain resilient, and have to remain open minded and considerate. We also have to be able to receive. And when I say receive, I mean receive information. Receive understanding, receive emotions, because everyone has a story." 
A Bodega Reinvented
I was drowning slowly — the Upper West Side has changed so much. I have to stay with the times … I was born and raised on this block. David Arias, owner of Bodega 88, formerly New Day Market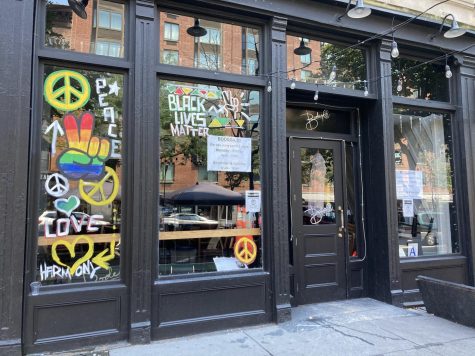 At 573 Columbus Ave., there used to be another small business similar to Baylor's, a bodega called New Day Market. Owner David Arias decided to close it down and reinvent the space into a tapas bar in 2016 after gentrification threatened his business. 
The drugstores "were swallowing us up," Arias told the New York Post. "I was drowning slowly — the Upper West Side has changed so much. I have to stay with the times … I was born and raised on this block."
Today, Bodega 88 — named for the cross street it's located on — stands in place of the market. Though it may no longer stock the same goods as in the past, it is still inspired by Arias's Dominican heritage. In June, Bodega 88 and its partner Calle Ocho posted on Instagram, pledging to donate $1 for every order of the month to Children's Aid NYC as a way to "support the calls for justice and reform and stand with those doing this work to dismantle systemic racism." 
They also noted, "to our Black and Afro-latinx staff, friends, guests, family, and neighbors, your lives matter and we are with you." They are currently operating on takeout and outdoor seating. 
Community Comfort Food Served by a Renaissance Woman
While we have been closed, we decided to make good use of our time. We are feeding the poor, the hungry, and the people who are out of work. Norma Jean Darden, co-founder of Miss Mamie's Spoonbread Too
Just a few blocks north is Miss Mamie's Spoonbread Too, located at 366 W. 110th St., where you can find the home-cooked comfort food missing from a college campus. 
Founded in 1997, they serve comfort food based on family recipes. The dining room is modeled after owner Norma Jean Darden's mother's kitchen in Alabama. 
Darden, a former Wilhelmina model, began her cooking career after illness halted her modeling career. She did so alongside her sister, Carole, after making a quiche for a Black fashion designer she was working for. 
The two founded Spoonbread Catering together and used their recipes to create the cookbook "Spoonbread and Strawberry Wine: Recipes and Reminiscences of a Black Family" in 1978. 
Darden went on to write a one-woman off-Broadway play, "Spoonbread and Strawberry Wine," in the late 1990s. She told stories of her family history as she prepared food, which the audience later ate. At intermission she would invite the audience to get up and tell their own stories. 
Miss Mamie's Spoonbread Too is currently offering takeout and delivery services. When they shuttered their doors due to the pandemic, they never stopped providing the comfort people needed. 
In an interview with ilovetheupperwestside.com, Darden stated that she had a small staff putting out between 200-300 meals each night. "While we have been closed, we decided to make good use of our time. We are feeding the poor, the hungry, and the people who are out of work." Darden also revealed that the people she is feeding are getting "the best food imaginable because we put our whole hearts into it, they're not getting any come down food, they're getting the real deal."
A Family-Owned Staple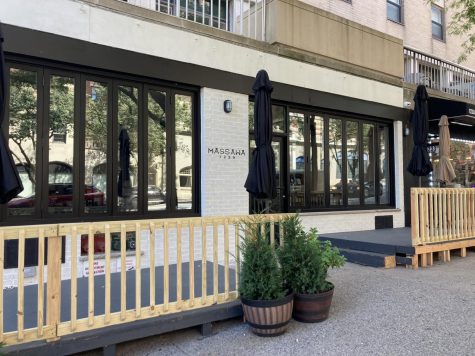 Another family-run and -oriented restaurant is the city's oldest African restaurant, Massawa, which can be found at 1239 Amsterdam Ave. The restaurant serves vegan-friendly Eritrean and Ethiopian food. Manager Yohanes Tekeste said the restaurant was founded by his parents, Almaz Ghebrezgabher and Amanuel Tekeste, in 1988. His mother, an Eritrean immigrant, was working as a cab driver and drove past an empty restaurant for rent, and the two turned it into the restaurant named after Eritrea's historic coastal city Massawa.  
Tekeste's family made the difficult decision to close Massawa for two months after the onset of the pandemic; however, now they're currently operating with takeout, delivery and outdoor dining options available. "We've been around for over 30 years … I think it's amazing to build the relationship with the community and New York City," Teskeste said. 
Find Your Next Favorite Spot
It provides a database of Black-owned restaurants and even connects you to your favorite delivery app if the option is available. Thrillist.com on the EatOkra app
Aside from the above Black-owned restaurants, there are dozens of other Black-owned restaurants in the Fordham neighborhood ready to satisfy any craving you have. Blossom on Columbus and Ashford and Simpson's Sugar Bar are open for outdoor dining, takeout and delivery. Awash, Patisserie Des Ambassades, Uptown Poke and Freda's Caribbean & Soul Cuisine are open for delivery and takeout.
Even though there is an undeniable convenience in restaurants in close proximity to campus, it is inevitable that you will wander to another area of the city one day. When this happens, the EatOkra app, founded by Anthony Edwards Jr., School of Professional and Continuing Studies '14, is a great resource to have. 
"It provides a database of Black-owned restaurants and even connects you to your favorite delivery app if the option is available," according to thrillist.com. To connect with more Black-owned businesses, visit Shoppe Black, a platform that highlights Black-owned businesses around the world, and Black-Owned Brooklyn, which the organizers describe as "a community-rooted publication documenting Black Brooklyn's people, places and products."
Hear more about these businesses on Retrospect: