Hungry for Business: UWS Restaurants Still Troubled by COVID-19 Measures
When students return to campus in the fall, the provisions outlined in the Fordham Forward plan won't be the only changes to their New York experience. Many of the familiar places around Fordham's Lincoln Center campus will be operating differently than before the coronavirus pandemic, if at all. 
Since New York City shut down in March due to the COVID-19 pandemic, restaurants' road to reopening hasn't been easy. From March to late June, restaurants that had the means to remain were only able to offer take-out services.
When New York entered Phase 2 of reopening on June 22, restaurants were permitted to offer outdoor seating in addition to deliveries. Even though the city technically moved into Phase 3 on July 6, which would allow restaurants to offer indoor seating, the government has indefinitely postponed indoor dining due to concerns about ensuring customers' safety, especially as cases rise across the U.S. Though New York state moved into Phase 4 on July 20, many restrictions on indoor activities, including dining and gym operation, continue to remain in place in NYC. 
After restaurants shuttered their doors, weathered lay-offs and furloughs, and attempted to make ends meet through deliveries and shortened hours, many are still struggling to attract customers and fear they won't be able to open their doors again. 
Justin Alioni, the owner of Justino's Pizzeria on 57th Street, opened up about the struggles his business — and many businesses like his — have been experiencing since the onset of the pandemic.
"I don't know what's going to happen to us. I hope we can hang in there, but landlords are not being nice to tenants; the government needs to do something for the landlords so that the landlords can give relief to the tenants," Alioni explained. "Everybody has left the city — no one is around anymore."
Many businesses have found it difficult to keep up with paying rent due to slow business and restrictions on the type of services they can provide, including more severe regulations on selling or serving alcohol.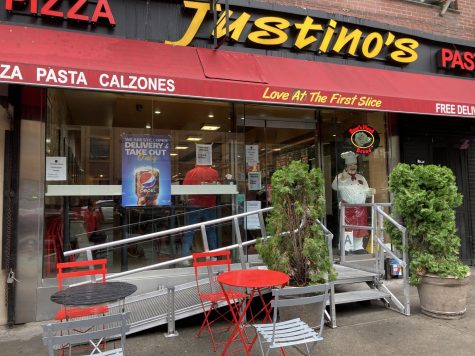 Navigating monthly rent payments has been tricky for many restaurant owners, with some making informal deals with landlords to pay a portion of the rent or, in rare cases, securing rent forgiveness, but these deals are anything but certain. Though the New York City government is currently protecting citizens against eviction through a moratorium on evictions until October, some landlords' policies still induce anxiety in many businesses. 
With fewer people living in or visiting the city and more people opting to stay behind closed doors, lighter foot traffic has made it difficult to maintain sales. 
"Not knowing when it's going to be back to normal, or back open … not knowing, that's the biggest problem. We don't know what to do: Surrender or hang in there," Alioni said. When asked about how people can help, he said to "Show face. We need more people to start coming out."
Several common dining spots of Fordham students, like Burrito Box, Empanada Mama and the Olympic Flame Diner, are open and offering takeout and delivery options only, according to their websites and Google.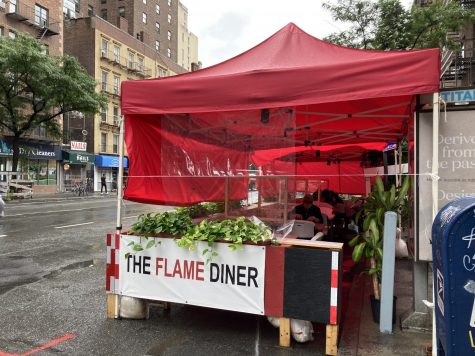 However, many other student favorites are currently closed, and some will not be reopening their doors. Levain Bakery on 74th Street and Amsterdam Avenue has temporarily closed until further notice. A staple of the Upper West Side and many Fordham students' diets, Fluffy's Cafe & Pizzeria on the corner of 58th Street and Ninth Avenue is permanently closed after 45 years, according to their website. 
Bruno Palomares, Fordham College at Lincoln Center (FCLC) '23, reflected on Fluffy's closure: "Maybe on the whole it's not that big a deal that NYC is now short one more pizza place, but Fluffy's was a great addition to the student experience. For us, it's definitely a loss."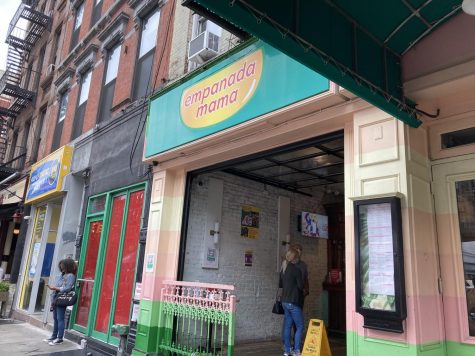 While Fluffy's may be missing from the Fordham food scene as students trickle back to campus, many places, like The Flame Diner, The Jin and Pick-A-Bagel, took advantage of the less-dense city to take over the streets and set up outdoor dining spaces where customers can eat-in while also respecting social distancing practices. The Department of Transportation also created a detailed, interactive map of restaurants approved to offer outdoor seating in New York City.
Though precautions taken to prevent the spread of the coronavirus may be slowing restaurants' abilities to operate as they have in the past, the food scene around the Fordham Lincoln Center campus will remain a vital part of students' palates and practices.
"Being at Fordham means being in New York City, a melting pot of different ideals and cultures," Emme Weisenfeld, FCLC '23, said. "With such a great amount of opportunities to expand my palate, finding new places to eat on the Upper West Side has become one of my favorite pastimes over the past year.
"Restaurants and dining on the Upper West Side has become such a crucial aspect of my college experience, and I am so grateful to have such wonderful food just a few blocks from campus."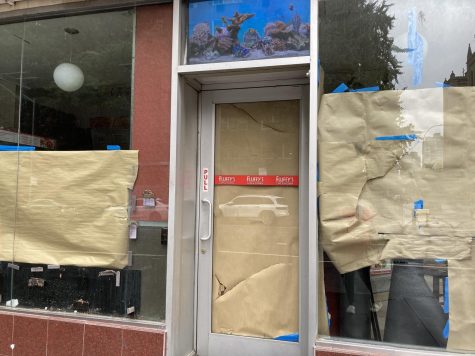 Hear more about the state of local businesses on Retrospect: