Winning Windsor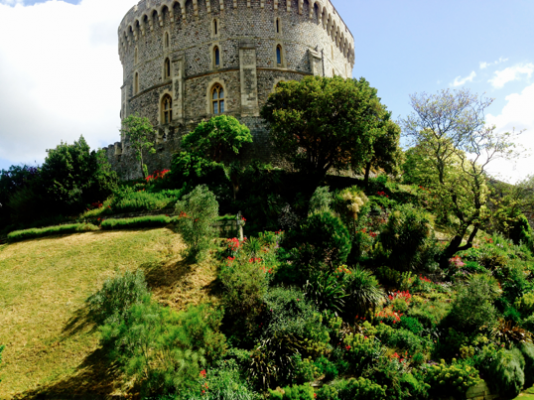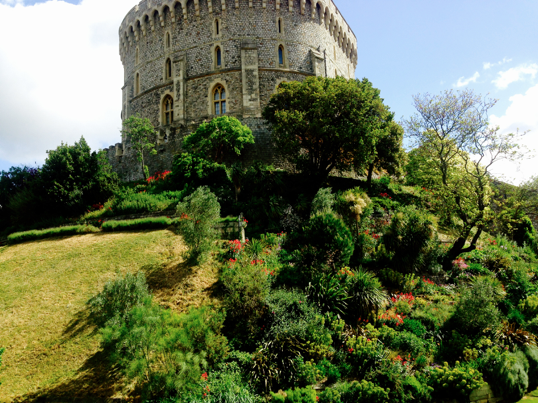 If you are having trouble finding Queen Elizabeth II at Buckingham Palace, you might find her escaping London's bustling scene to Windsor Castle in the English county of Berkshire, which is one of Her Majesty's favorite weekend getaways. This was true for our visit, as we were alerted of the Queen's presence by the sight of the royal standard flying high above the castle. Originally constructed in the 11th century, the castle and its surrounding area offer a number of beautiful sites you will not want to miss.
Queen Mary's Dolls' House:
The first room we entered on our castle tour was Queen Mary's magnificent Dolls' House. Built between 1921 and 1924, this "toy" is the largest doll house in the world and even includes running water. Notably, the house also features several beautifully detailed pieces of art, most at the scale of 1:12. Since photography is not permitted within any room in Windsor Castle, you should definitely plan on seeing this for yourself.
The State Apartments:
Few things will make you feel more like you are walking in the footsteps of royalty than touring these luxurious apartments. With the rooms' remarkable paintings and meticulously detailed ceilings, it was difficult to know where to look first. We struggled to resist sitting on the ornate chairs, while our friend Mary joked, "one room is worth more than my entire life." While these state apartments are currently used to house several of the Royal Family's events, they are not the ones in which they sleep. Of course, this made us wonder what those apartments look like, as well as what the Royal Family might watch on Netflix. Furthermore, the apartments' windows look over the castle grounds' picturesque gardens and incredible surroundings.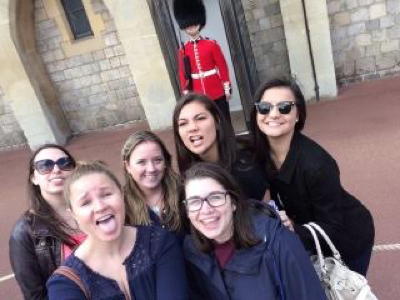 Beyond the Castle:
To Marlessa's dismay, St. George's Chapel (which houses King Henry VIII's tomb) was not open to us due to a wedding, but we were still able to enjoy the building's exterior Gothic architecture. Of course, we also could not resist taking a 'selfie' in front of the palace guard (we could have sworn we made him smile).
After exiting the Windsor Castle grounds, we just had to stop into two of the very touristy shops that sold fake bearskin hats, much like those worn by the palace guards, and picked up some souvenirs. We also visited a cute café that had absolutely delicious Snickers cake, before we made our way back to the bus, excited about our adventure in Windsor and looking forward to what awaited us next!