McKeon Exclusive to Class of 2018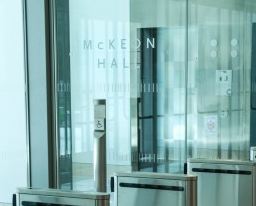 McKeon Hall, the new residence hall at Fordham College at Lincoln Center (FCLC) with amenities such as a game lounge, movie theater, a dance studio, and a full kitchen, is finally open and to the dismay of the upperclassmen who are only allowed access after being signed in by someone who lives in the building, is exclusively for first year students.
Laura Paone, FCLC '16, said, "It's weird to be a junior and living here for so long and then all of a sudden have to sign in to go somewhere."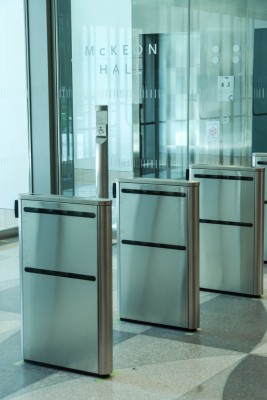 Dean of Students at Lincoln Center Keith Eldredge said, "we are trying to figure out ways to make the new building accessible but the priority is for the students that are living there. It was built for first year students to build a sense of community." 
According to the Fordham website, "McKeon Hall will house approximately 400 students in either double or triple rooms on twelve floors".  The double or triple room rate is $5,772 per semester which is less than the double room rate at McMahon of $7,315 per semester. 
All non-McKeon residents must be signed into the residence hall with the exception of freshmen commuter students. According to Eldredge, visitation policies in McKeon will remain the same as visitation policies during previous years in McMahon where freshmen can sign up to get a sticker put on their ID allowing them access into McKeon between the hours of 10 a.m and 6 p.m.  Without a Commuter Affiliate Sticker, commuter freshmen would have to be escorted by a resident in order to gain entry to McKeon during the hours of 10 am to 6 p.m, according to Director of Residential Life Jenifer Campbell.
This policy follows those in place at Fordham College at Rose Hill (FCRH) where resident students who are visiting others living in another residence halls have to sign in and out according to the Office of Residential Life Handbook. 
According to Campbell, Resident Freshmen Mentors (RFM's) and Resident Advisors (RA's) will be allowed to enter McKeon as officials while on duty and in facilitating programs and educational initiatives. "If they are visiting, they will have to sign in like any other student," Campbell said.  
Eldredge anticipates "there will be growing pains–for a lack of a better word. We recognize there are some amenities in the new building that are attractive and that don't exist in exactly the same ways as anything else on campus," he explained. 
The new building includes the integrated learning community lounges, a reflection room, a movie theater, a dance studio, a game room, a full kitchen and a mini kitchen which all can only be accessed by non-residents through the sign-in process. The fitness center which is a place of public access in McMahon can be accessed by any current members of the Fordham community.
"We don't just want to throw open the gates and say okay anyone come in and use it. Then the students that are paying to live there are going to be pushed out," Eldredge said.
Eldredge continued, "we encourage club leaders who are interested in using the new building  to contact Res Life and the Student leadership office." 
"You have to be a registered club and work through the office of student leadership and community development (OSLCD) to book a room and work with our office to see if there is availability to use the room," Campbell said.  
"I'm curious to see when [McKeon residents] move [to McMahon] how they're going to adjust to not having access to those facilities," Molly Hellauer, FCLC' 16, said.