Softball Seeks to Improve on Last Season's Success
After winning their first Atlantic 10 (A-10) Championship ever last season, the women's softball team has set their sights on another title and another shot at the NCAA tournament.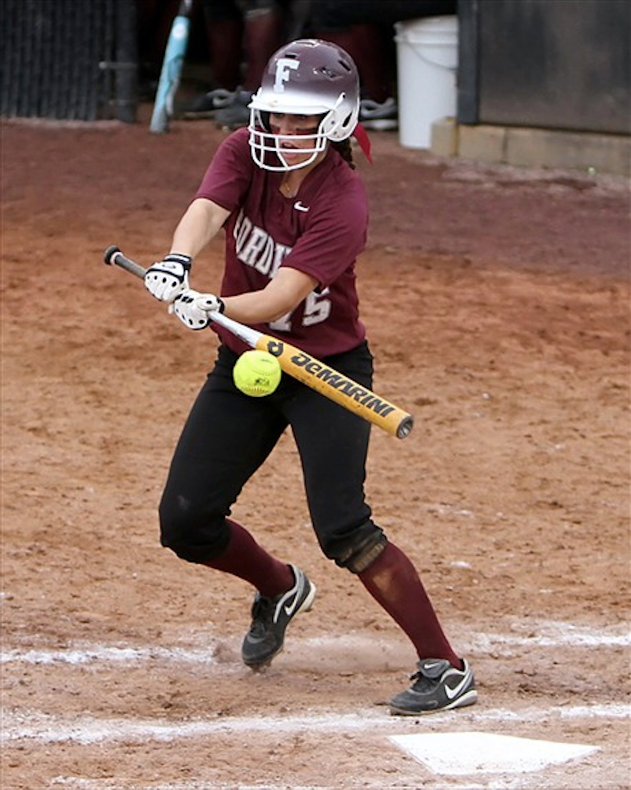 The team's success in recent years can be attributed to their overpowering offense, their lights-out pitching staff, and the passion of Head Coach Bridget Orchard.  Before Orchard joined the team for the 2002 season, the softball program had never had a winning season.  Since then, winning has become a familiar feeling for the lady Rams as they have enjoyed back-to-back 40-win seasons, which led to two NCAA Regional appearances and their first A-10 Championship. "It's probably something that will never be topped in my Fordham career," Jen Mineau, Fordham College at Rose Hill (FCRH) '12, said. "It's been our goal since I've been here and to see it accomplished was pure ecstasy."
The marks of a championship team are a strong pitching staff and a well-balanced offense, and Fordham certainly has those elements. From a pitching standpoint, the Rams appear to be set. Last season, the pitching took center stage, as 22 of their 42 wins last season were shutouts. Of course, the Rams also have a powerful ace in Jen Mineau. During her time at Fordham, Mineau has dominated hitters from all over the country amassing a record seven no-hitters, four of which were perfect games. This season she will be tasked with guiding the Rams to a repeat while also mentoring the two new pitchers on the staff. "Right now, the freshmen are getting rid of their jitters, but they work hard and they'll only get better as the season continues," Mineau said.
In addition to their powerful pitching staff, Fordham also brings a crafty, yet intimidating offense to the plate. Having lost many power-hitting seniors to graduation, the team will have to manufacture runs the old-fashioned way— hitting for a high average and scoring runs with speed on the basepaths. The Rams will look to Nicole Callahan, FCRH '12, to duplicate her 2011 campaign. Last season Callahan had a breakout season, leading the team with a .358 batting average.
However, in order to score runs, a team usually needs a base stealer or two. Luckily the team found theirs in Lindsey Kay Bright, FCRH '12. Bright has been the catalyst on the bases, leading the team in steals in two of her three seasons, including setting the new single season stolen base record (29) in 2009. Fordham's ability to manufacture runs, along with their formidable pitching helped them steamroll over other teams. In fact, 12 of their 42 wins were wins via softball's mercy rule, a rule invoked if one team is ahead by at least eight runs after five innings. "After last year, we aren't as heavy hitting as a team, but we're definitely a scrappier one," Mineau said. "We'll score runs with line drives and doubles, but once the younger players get a little stronger, the home runs will return."
This season, the Rams will attempt to repeat as A-10 champions for the first time in the school's history, however it may not be an easy road. Although they were projected to finish first in an A-10 pre-season poll, the team must face some tough ranked opponents throughout the season, including Alabama (#3), California (#4), and Arizona (#8). It is crucial that Fordham performs well against these nationally-ranked teams for multiple reasons, for one, every win is important, but beating ranked opponents would undoubtedly raise the program's already strong reputation and it may even help the team secure a ranking of their own.  Fordham is close to being ranked in the top 25 teams, as they received votes in the two pre-season polls.
The expectations are high for the softball team this season, and rightly so. Although almost half of team is comprised of freshmen, they will be guided by a strong senior presence on the mound and in the batter's box.  They, along with  Orchard will serve as mentors to them as the softball team continues to grow into one of the most successful programs in the NCAA.