Looking "Fashion Forward" To Fall Fashion Week 2012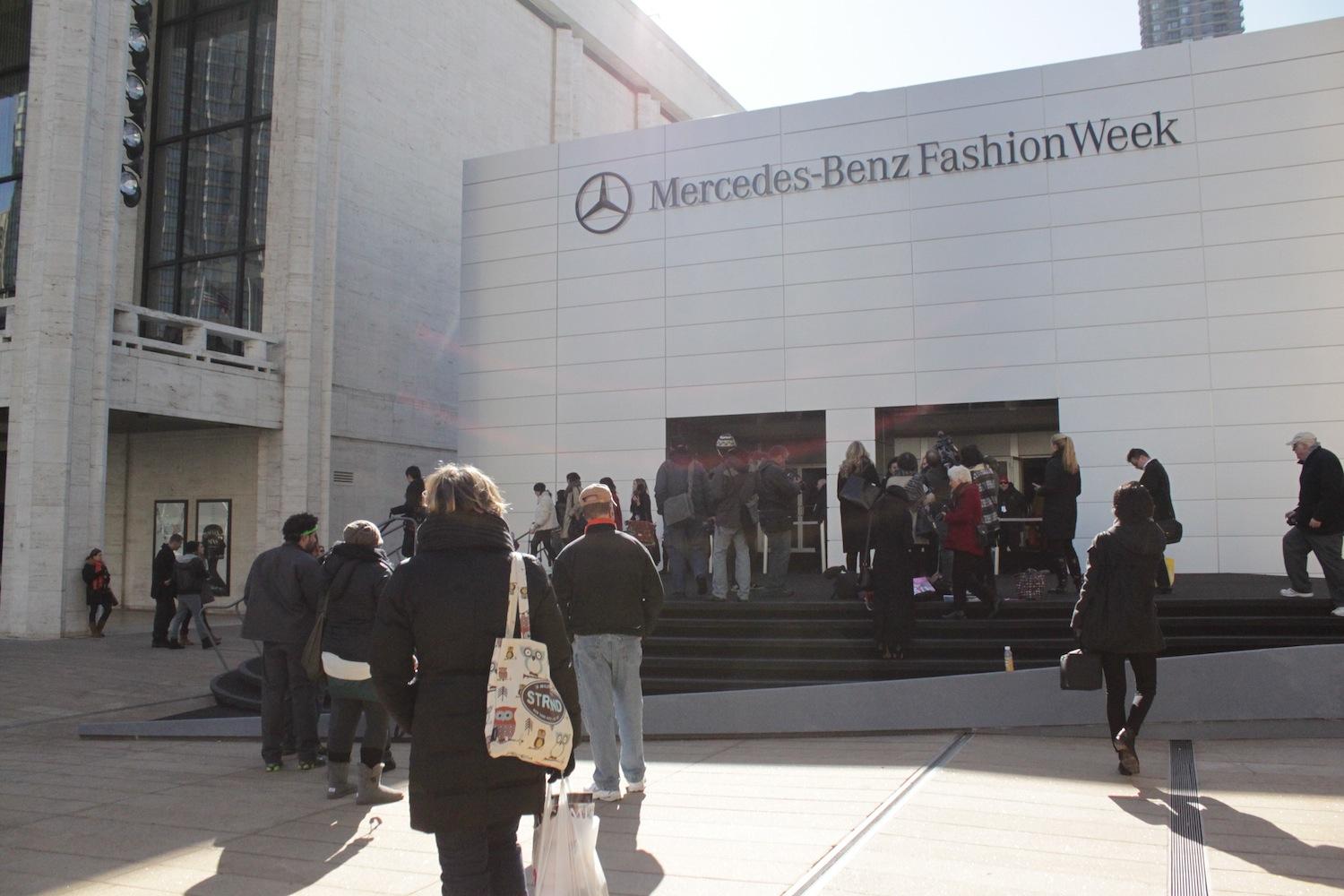 The tents are up, the runways are ready and the fashionistas are out for eight days dedicated to star-studded parties, trend-spotting, and a look into fall fashion.  It is Mercedes-Benz Fall Fashion Week 2012 at Lincoln Center, kicking off Thursday, Feb. 9.
Fashion Week happens twice a year in New York City and this week is the first of 2012.  From Feb. 9-16, the fashion world's finest designers will take over Manhattan to host events where they will showcase their collections for the fall season.  Fashion Week always brings a vibrant and exciting energy to the usually quiet Lincoln Center neighborhood and often offers opportunities for Fordham College at Lincoln Center students to get involved.
Here's a list of what to look forward to for New York Fall Fashion Week 2012:
1. A-List Designers
Among the hundreds of designers showing their collections this week are some of the fashion industry's most famous: Alexander Wang, Badgley Mischka, Betsey Johnson, Calvin Klein, Carmen Marc Valvo, Carolina Herrera, Charlotte Ronson, Diane Von Furstenberg, Donna Karan, Jill Stuart, Marc Jacobs, Michael Kors, Ralph Lauren, Rodarte, Tommy Hilfiger, Vera Wang and Zac Posen (just to name a few).
Most shows are invitation-only, but this year, select runway shows, including Rebecca Minkoff, Reem Acra and Anna Sui will be broadcast live on the official Mercedes-Benz "Live From The Runway" YouTube Channel.
2. Star Sightings
Along with the dozens of legendary designers scheduled to showcase their collections throughout the city, there are sure to be hundreds of recognizable editors, models, actors, singers, stylists and socialites crowding the Lincoln Center steps all week long.  Michael Kors, Anna Wintour, Alicia Keys, Kelly Osbourne, Molly Sims and Rachel Zoe are only a few of the celebrities spotted during New York's Spring Fashion Week this past September.
Check the schedule and travel over to Lincoln Center an hour before show time to try to spot your favorite designer, as well as celebrities donning the newest designs.
3. There's an app for that
There's one for everything else, and now there's finally one for Fashion Week.  "MADE Fashion Week" is a free app, compatible with your iPhone, iPad and iPod touch.  Designed as "a tool for designers, editors, buyers and consumers alike", the app allows users to access designers' biographies and contact information, put together look-books, check certain show schedules, and even view live images of the collections as they go down the runway.
4. Photo Opps
New Yorkers are already notorious for having fearless, trend-setting style so it is no surprise that fashion folks hit the city looking their best during Fashion Week.  The streets surrounding Lincoln Center are sure to look something like the runways, as the industry's most fashionable patrons roam in this season's latest designer looks.
By wandering over to the tents with your camera, you will undoubtedly be able to capture some striking street style for your blog, photography class project or simply to keep for future fashion inspiration.
5. Opportunities for Students
This is the week that has all of the fashion interns across New York City shaking in their vintage designer boots.  The week when the coffee runs, treks to the Garment District and 20 unpaid hours every week finally feel like they're paying off.
Show day is spent squeezing tiny models into even tinier skirts, shirts and shoes and making sure the designer doesn't drop dead from a sleepless, stress-filled few days.  But being backstage during the show is truly the best seat in the tent and the experience of working with a designer to plan and execute a show at one of NYC's most important fashion events of the year is one that most fashion interns never forget.  It is exciting, overwhelming and rewarding all at once.  Lucky ones (who do a good job, of course) are often invited to the after party and even luckier ones are offered free clothes and sometimes full-time paid jobs.