The Feast of San Gennaro is an annual 11-day festival held on Mulberry Street in New York City's Little Italy. The iconic Feast celebrated its 97th anniversary and spanned 11 blocks, with carnival games, souvenir stands, a small ferris wheel and, of course, an abundance of Italian food. What started out as a small block party held by Neopolitan immigrants in the 1920s has now become widely beloved and anticipated across generations. 
As Italian immigrants settled in the lower east side of Manhattan at the turn of the 20th century, the Feast became a tradition stemming from a block party for the patron saint and protector of Naples, Saint Januarius. Although the feast originally started as a one-day religious celebration aimed to serve and feed the poor and needy Italian immigrants of Lower Manhattan, the modern-day event holds little to no resemblance to the original, traditional celebration. 
It has now turned into a major tourist attraction and one of New York City's biggest annual food festivals, welcoming thousands of native New Yorkers and visitors from all over the country and world. But despite all of the changes, the festival continues to stand as a cultural institution for Italian-Americans that celebrates their traditional heritage and cuisine contributions over generations.
This year's festival in Little Italy took place from Sept 14-24. As I ventured downtown to explore the Feast of San Gennaro, my goal was simple: to retrieve a greasy bag of zeppoles, the ultimate Italian street food. Once I arrived on Mulberry Street, however, I was quickly distracted by the festival's multitude of food choices, particularly a gelato stand. 
Many vendors provided attendees with perfect, traditional snacks to satisfy New York's continued and persisting love for Italian culture and cuisine.
After a quick scoop of pistachio gelato, I continued down the street, encountering vendor after vendor promoting their fresh zeppoles. I was nearly overwhelmed, but I believe that most festival zeppoles taste the same; it was important to find the most zeppoles sold for the right price. 
Lucy's Sausage sold the Italian pastry at the perfect price, six for $5, and they were exactly what I was looking for — soft, sweet and just slightly greasy. The stand perfectly resembled and reignited the nostalgia of zeppoles from the memories of my youth. Soon after I finished them, I burned through my cash at multiple other vendors purchasing pasta, rice balls and fried rainbow cookies. Many vendors provided attendees with perfect, traditional snacks to satisfy New York's continued and persisting love for Italian culture and cuisine.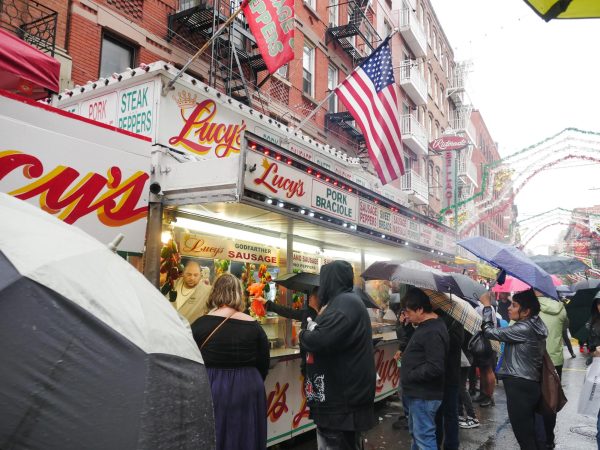 Even with these purchases, nothing compared to the combined sweetness of powdered sugar and sentimentality that the zeppoles provided. 
Although the Feast of San Gennaro ended on Sunday,  it is an annual event. If you plan on visiting the festival in 2024, it is important to bring cash, as that is the most popular form of payment that most vendors accept. Be prepared to spend more of that cash than you may expect. 
The feast is a classic New York event with traditional New York prices. You may get suckered into paying more than you should for T-shirts, carnival games or jewelry or even the cigar stand, but that's a part of the fun of the festivities. Most importantly, arrive with an empty stomach — it is a feast after all. 
From smoking hot sausages and peppers grilled before your eyes to hand tossed pizzas fresh out of a brick oven, there are countless staples of Italian cuisine being cooked by vendors packed side by side down the crowded streets of Little Italy. I would not call myself a foodie, but I was tempted to try most things there. If you do make it, do yourself a favor and have a zeppole.