Pat and Ruthie: Stories From Behind the Desk
The two security personnel spoke on their previous work experiences and what led them to work at Fordham
Across both the Lincoln Center and Rose Hill campuses, Fordham University has security members stationed outside entrances — as well as within residence halls and on-campus facilities — to monitor students and visitors as they enter and exit the premises. Pat Chisolm and Ruthie Swain, two members of the security team at the Fordham Lincoln Center (FLC) campus, explained how they ensure the safety of the university community and shared how their journeys led them to Fordham.  
Chisolm was born in the Bronx and grew up in rural South Carolina before returning to the same borough in the early 1990s. She reminisced on her time as a "country girl," recalling the scenery of the woods, animals and trees. 
"I remember shaking pecan trees and bringing home pecans," she said. "One day I'll go back."
Prior to working at Fordham, Chisolm was a personal shopper for seven years and pursued a career in cross-accounting. She shared that she previously went to Katharine Gibbs College, a now-inoperative business school located in New York City, in 1993 and has experience with government taxation. Eventually, however, she "got sick of always doing numbers."
For nearly 10 years, Chisolm has been a member of Fordham's security team and is currently stationed at the Lowenstein Outdoor Plaza entrance from 7 a.m. to 3 p.m.
Chisolm added that her job as a personal shopper placed her in contact with a lot of clients who required security and protection of their own, which inspired her transition into working in security. 
"After talking with their security and getting this experience, I decided to go into the security field," she said.
For nearly 10 years, Chisolm has been a member of Fordham's security team and is currently stationed at the Lowenstein Outdoor Plaza entrance from 7 a.m. to 3 p.m. Known for her enthusiasm, she welcomes students Tuesday through Saturday and is known for her "Happy Friday" greeting at the conclusion of every work week. 
Chisolm shared that she hopes to help inspire and motivate the student body and staff alike through personal interactions. Along with her Friday greeting, she also includes a poster at her podium filled with encouraging messages. She explained that some people may have had a bad morning and she wants "to start the day off positive."
"I've learned over the years that the students are my gift; I don't need anything under a tree." Pat Chisolm, member of the security team
Chisolm said she takes pride in her job, especially through her exchanges with professors, students and staff, because she remembers their names and they remember hers. She also enjoys welcoming visitors of the university's campus to New York City, especially those embarking on self-guided tours, and wants to ensure that they feel at home by encouraging them to "see everything we have to offer."
She also emphasized the joy her interactions with students have given her.  
"I've learned over the years that the students are my gift; I don't need anything under a tree," she said. "They stop to say goodbye at the end of the day; they open their hearts to me."
During her free time, Chisolm said that she likes to spend time at scenic spots around New York, such as the Edge, an observation deck in Hudson Yards, because they allow her to reflect on her life and be close to the water. She particularly enjoys taking boat trips along the Hudson River.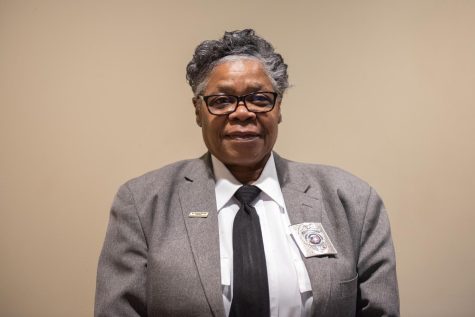 "I love stopping to enjoy the sunlight," she said. "Sunlight will always be free. The most valuable things will always be free. All of this will disappear one day. We have to enjoy these times. We must enjoy it while we can."
She also noted that her favorite time of the academic year is the spring semester because she enjoys seeing students "relaxing and rewarding themselves for doing well in class" and described the birds and the flowers surrounding the atmosphere as "a plus."
Working across the Outdoor Plaza from Chisolm on the second floor of the 140 West Building is Swain, another member of the security team at FLC. She can be found working from Monday to Friday between 7 a.m. and 3 p.m. Swain said that she enjoys the Outdoor Plaza's view as well as the Manhattan skyline and Central Park's proximity to FLC. 
Born and raised in Brooklyn, Swain earned a bachelor's of science in criminal justice from John Jay College of Criminal Justice in 2018, which is located just one block south of FLC. She previously served in the U.S. Army and was also an airport security agent at John F. Kennedy (JFK) International Airport in Jamaica, Queens, from December 1998 to October 2019. In that role, she was responsible for inspecting vehicles that transport imports from aircrafts. 
Swain recalled the high-stress experience of working at the JFK airport and compared it to her current responsibilities as a security guard at Fordham, noting how the two were drastically different from one another. She specifically cited working the morning of the Sept. 11, 2001, attack on the World Trade Center and the moments leading up to her hearing a noise and needing to evacuate from her desk. 
She added that coming to Fordham allowed her to spend more time with her family and introduced her to a quieter and slower-paced working environment.  
"I had to get out in the cold; I spent 21 years outside in inclement weather," she said. "The environment coming into Fordham allowed me now to pick up my 5-year-old grandson, Bop."
Swain arrived at the university in January 2020 and mentioned that she is constantly excited to interact with visitors at her desk as they come and go. She also reflected on the level of professionalism and expertise that both the students and staff demonstrate toward the security staff as well as the greater Fordham community. 
Both Chisolm and Swain spoke on their duties to protect members of the Fordham community and noted their appreciation of the student body. Swain highlighted that the goal of security personnel on campus is to both "care about the students and staff" and ensure the safety of the campuses' members.
Andrew Dressner contributed additional reporting to the story.