A Festive Feast of Faith and Food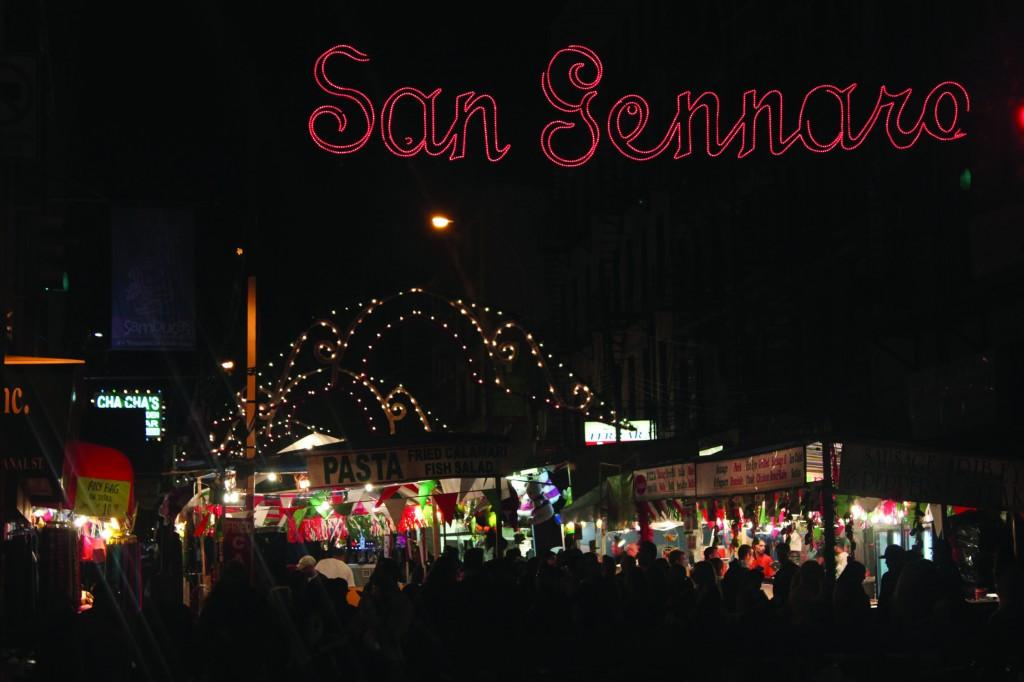 Is watching "Jersey Shore" the extent of your knowledge of Italian culture? Or do you just want to have a great time? If the answer to one or more of these questions is 'yes,' then the Feast of San Gennaro is just for you.
The Feast of San Gennaro is a cultural festival held every year in Little Italy that goes from Sept. 16 to Sept. 25. This is its 85th anniversary, and consists of a week and a half of ceremonies, festivities and fun. This festival runs primarily north to south on Mulberry Street and east to west on Grand Street with an authentic Italian vibe. While walking down the street, one can see a number of places to eat, carnival stands and inflatable rides and vendors. Figli di San Gennaro (Children of San Gennaro) has sponsored the Feast since 1996. Over $1,600,000 of their earnings have gone to neighborhood schools, parishes and other charities.
The festival itself has roots dating back to its founding in 1926. The ceremonies that go on throughout the week are sacred and held with upmost importance, the first of which being the "Blessing of the Stands." In this ritual a parish priest from the Most Precious Blood Church walks down the streets blessing all of the stands and vendors in hopes for another successful feast. Following him is a mini brass band composed of six senior members of the Italian community. "I've been coming here ever since I was a kid," one of the players of the band said. "The feast is very important to me, as both an Italian and a Christian. I am honored every year to play the trumpet with my boys for the festival. It's something that holds a special place in my heart."
San Gennaro is a fantastic festival for all ages, couples and friends. The Italian vibe here is impressive and the people running the festival contribute greatly to its Italian authenticity. From the older Italians speaking the language with accompanying hand gestures to the younger generations talking with heavy accents and colorful swears, walking down the streets of the festival makes one feel like they're part of the culture.
While the feast has been around for more than 80 years, there are still newcomers. A carnival game attendant said that this was only his "first year doin' this" and that he came here primarily to "meet some beautiful, young Italian girls." However, it is the food that draws people here the most. There are dozens of different sit-in areas to dine in, all selling "authentic" and "original" Italian food. There are also dozens of stands selling piña coladas, gelato, cannoli, fried Oreos, sea food, pizza and all kinds of meats cooked in the traditional Italian style.
Be ready to spend a few dollars though. The prices for just about anything are jacked up considerably. A plate of spaghetti costs $13 while a bottle of Coke is $3. A steak and cheese sandwich can be anywhere from $6 to $8, and cotton candy costs $4 a bag. Haggling doesn't seem to work as well as at independent vendors across the city, but it can't hurt. Just be friendly and act as if you were a true New Yorker (if you are not already, of course). Although it can get pricy, the food is totally worth it.
The Feast of San Gennaro is a perfect place for anyone looking for a great time with great food. There are plenty of places to buy souvenirs and prizes, but more importantly, you won't find a better Italian feast in the city.
IF YOU GO
Feast of San Gennaro
When: Sept. 16 to Sept. 25
Where: Little Italy, Mulberry Street and Grand Street

View San Gennaro in a larger map