Fordham Community Responds to Russia's Invasion of Ukraine
Students, faculty and staff find different ways to provide aid, including planning a protest and hosting fundraisers
The ongoing Russian invasion of Ukraine has resulted in death, destruction and upheaval. Russia's war on Ukraine began on Feb. 24, and has resulted in at least 1,417 civilian casualties, according to the United Nations. The Russia-Ukraine war has also led to the displacement of over 10 million people. Many throughout New York City, which is home to over 150,000 Ukrainians, have displayed an outpouring of support for Ukraine.
According to Olena Nikolayenko, professor of political science at Fordham Rose Hill, Russia's war on Ukraine has been long-expected and serves to substantiate Russian President Vladimir Putin's political standing. 
"This year marks the centennial of the establishment of the Soviet Union," she said. "President Putin, I think, has a dream to be known in history, and Russian history in particular, as a politician who reunited all the former Soviet republics." 
Nikolayenko believes the Russian government still views the world in a black and white way, as it did during the Cold War, a time when the United States and the Soviet Union were two major global powers. 
Putin's recent actions have led many to draw comparisons between him and other dictators that emerged prior to World War II. 
"I think in many ways Putin can be compared to Hitler," Nikolayenko said. "Some European countries assumed that they could be safe and they could appease Hitler by allowing him to take over some states in Central Eastern Europe, but then of course they didn't, and they paid a very heavy price." 
Nikolayenko added that the Russian invasion of Georgia in 2008 did not lead to harsh sanctions against Russia, which set a precedent for future Russian aggression. 
"Russia has done the same thing to Georgia in the past." Elene Jishkariani, FCLC '25 and an international student from Georgia
Students Rally for Ukraine
Compelled by Russia's invasion of Georgia in 2008, Elene Jishkariani, Fordham College at Lincoln Center (FCLC) '25 and an international student from Georgia, helped organize a rally in support of Ukrainians two days after Russia first invaded. The rally took place on Feb. 26, beginning on the plaza at Fordham Lincoln Center and later joining a protest at Times Square.
"Russia has done the same thing to Georgia in the past," Jishkariani said. "Us and Ukrainians have been through the same struggle, so we decided to organize something to express our support for our Ukrainian peers."
Jishkariani is not the only Fordham student protesting the Russia-Ukraine war. Julia Kadar, FCLC '25 and a New York native of Ukrainian heritage, has been working to provide aid to those affected by the war. 
"I am kind of living a double life: One that cares about helping people who are suffering right now, and the other part of me is like 'Oh, I have to study; I have to get good grades, so I can have a good future,'" Kadar said. "But, on the other hand, other people's futures are being taken away from them."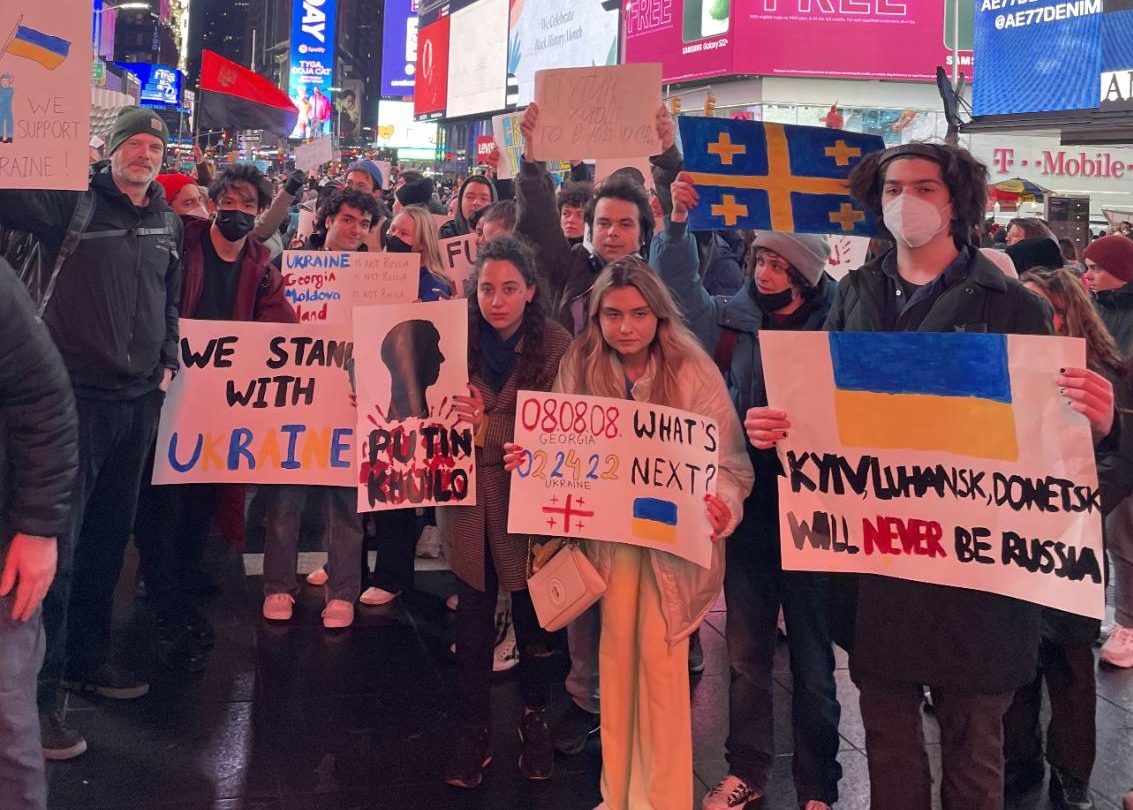 Kadar added that she is grateful she is in America right now but also feels guilty having a warm bed to sleep in and only having to really worry about getting good grades. 
She also donated her own winter coats to Ukrainians in need. "Why don't others care as much as I do?" Kadar asked. "At this point, I'm just exasperated and frustrated." 
When organizing the rally, Jishkariani and other students had reached out via email to the Office of the President; Jenifer Campbell, dean of students at Fordham Lincoln Center; and Chris Rodgers, dean of students at Fordham Rose Hill, to request materials but received no response. 
"We did email them about giving us resources to print out posters and things like that, and they didn't even answer," Jishkariani said.
"It just upsets me so much that we are carrying on with our normal lives, but there are people who can't." Julia Kadar, FCLC '25 and a New York native of Ukrainian heritage
Jishkariani and Kadar have received varying responses from the Fordham community. During the on-campus rally organized by Jishkariani and other students that rallied in Times Square, two professors joined the 30 community members in the march.
"It was really nice to see them supporting us. One of them even bought us cough drops after we were shouting, which was really sweet," Jishkariani said. 
The same level of enthusiasm wasn't present during a donation tabling Kadar arranged on the plaza level entrance of the Leon Lowenstein Center. At the tabling, Kadar offered Insomnia Cookies to those who donated but said that students remained uninterested. Some students walked past the table or asked to have a cookie without thinking of contributing any money to the cause. 
"It just upsets me so much that we are carrying on with our normal lives, but there are people who can't. There are people who are literally running from death and that breaks my heart," Kadar said.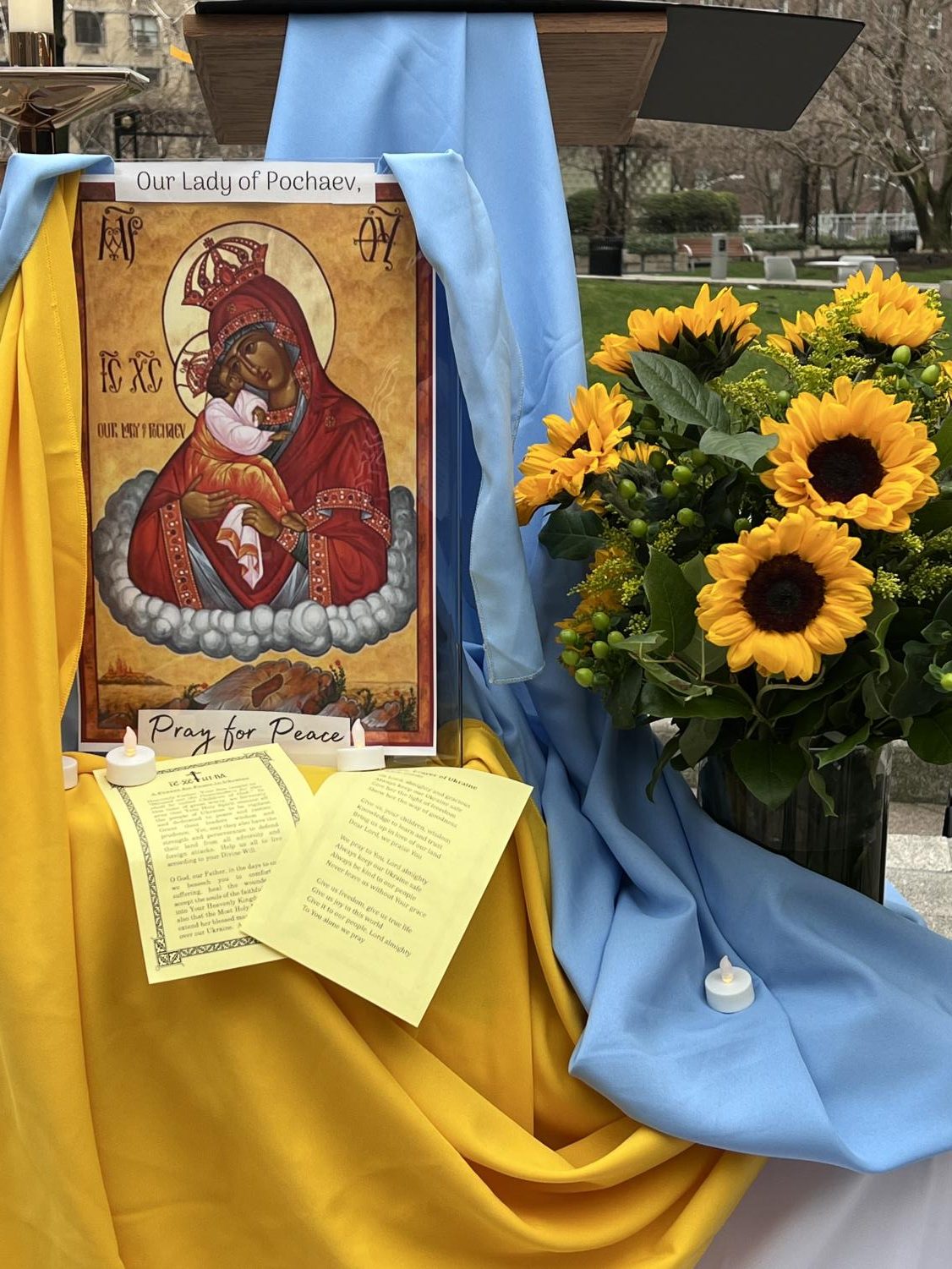 Nikolayenko said that in the West some perceive Ukrainians and Russians as belonging to the same cultural identity.
"Many people in the West did not really see a big difference between Ukrainians and Russians," Nikolayenko said. "The president of Russia and Russian propaganda, including RT (Russia Today), propagated the idea that there is no nation of Ukrainians, that they don't exist, that there is just one nation: Russians." 
Aside from being its own sovereign nation, Ukraine has a distinct culture separate from Russia. In an NPR interview, Yale professor Timothy Snyder depicted how Ukrainian culture echoes European culture and followed the path of Renaissance, Reformation and Enlightenment. 
"Ukraine has its own language, but also a distinct tradition in poetry and literature, which is rather beautiful," Snyder said.
Critiques of Administration's Response
An official statement from the Rev. Joseph M. McShane, S.J., was sent out to the Fordham community via email on Feb. 25. The email quoted Pope Francis' call for the examination of God as a God of peace and not a God of war, and asked for prayers to be sent to those in Ukraine. It also stated that the university would reach out to students with Ukrainian and Russian backgrounds to offer the university's support. 
Kadar's resident director did reach out to her a few days after the email was sent out, however, Kadar felt that alone was not enough action on the part of the university. 
"Fordham kind of doesn't want to be so involved, and I understand it's a political thing and we have Russian students as well, but other universities are standing in solidarity with what's occurring, and it was kind of disheartening to say the least," Kadar said. 
"The people who need money are the ones who are trying to cross the border from a war zone to somewhere safe." Julia Kadar
Both Kadar and Jishkariani expressed dissatisfaction with the actions of Fordham University officials and the administration. Kadar noted that other institutions expressed their solidarity with the people of Ukraine and Ukrainian students in a faster and more declarative way. New York University held a vigil for the people in Ukraine and Ukrainian students on Feb. 28, with over 400 students in attendance. In comparison, Fordham did not hold a prayer service until March 10, which had less than 20 people in attendance. 
Kadar also expressed frustration with Fordham's insistence on contributing to Giving Day, a fundraiser dedicated to donating money to different programs and parts of Fordham University. $1,540,483 was the total amount raised, with the athletics department rev largest amount, $395,829, being directed to the athletics department.
 "They (the departments) were posting these memes on Instagram. Sure they were funny, but it aggravated me because you don't need money right now," Kadar said. "The people who need money are the ones who are trying to cross the border from a war zone to somewhere safe." 
Jishkariani hopes that when addressing the war in the future, the university is "more open about it and they voice their opinion more clearly to show us what position they're in and that they are supporting us through these hard times." 
"It's really hard right now to focus on something else, but basketball is helping." Rostyslav Novitskyi, Fordham College at Rose Hill '24
Fordham Basketball Stands With Teammate
Rostyslav Novitskyi, Fordham College at Rose Hill '24 and player for the men's basketball team, was born in Kyiv, Ukraine. Novitskiy wore the Ukrainian flag on his basketball jersey in a game against the University of Massachusetts (UMass) on Feb. 28 and scored a career-high of 10 points. 
"It's really hard right now to focus on something else, but basketball is helping," Novitskyi told the New York Post following Fordham's victory against UMass. 
Basketball has acted as a distraction for Novitskiy and the Fordham men's basketball team has been doing everything they can to comfort their teammate, according to the New York Post. The men's basketball team wore the Ukrainian flag on their jerseys and the flag of Ukraine draped over the Rams' bench as well.
"I'm very glad my team and my school supports me," Novistskyi told the New York Post. 
The Fordham rugby team held a fundraiser called "Chorizo for Ukraine" on April 3 to help raise money. The cost for entry was $25 for players and alumni and there is a link on the Fordham rugby Instagram account for those who were unable to attend the fundraiser but would still like to donate.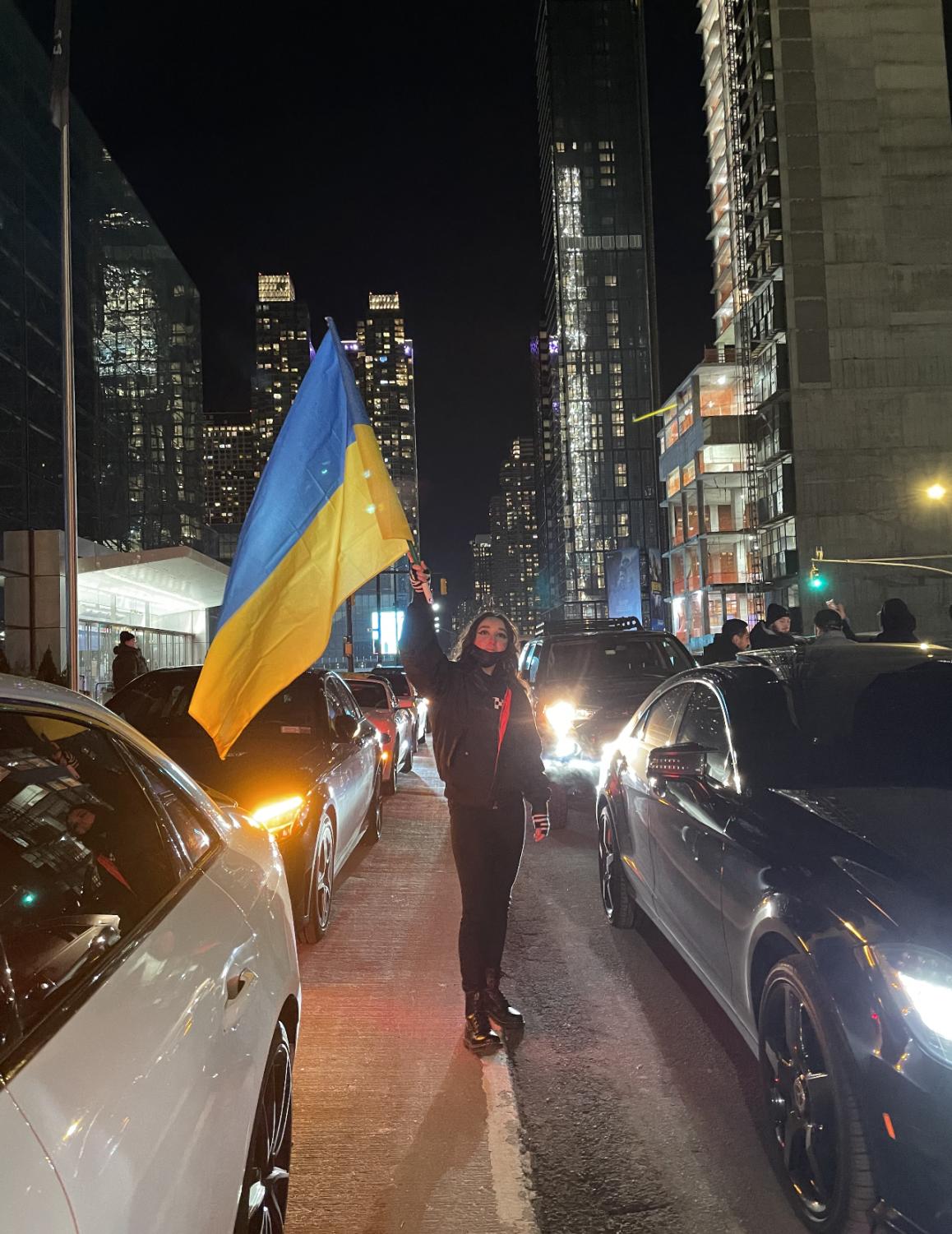 Fordham Departments Promote Resources
Departments within Fordham, such as the Center for Jewish Studies and the English department, have displayed their support for Ukraine. The English department promoted a talk held over Zoom, where Ukrainian writer Kateryna Babkina shared her story and her experience escaping the bombs from the invasion.
In collaboration with the American Academy for Jewish Research (AAJR) and the New York Public Library (NYPL), the Center for Jewish Studies is inviting Ukrainian scholars affected by Russia's war on Ukraine to apply for fellowships. The fellowships are prioritized for scholars of Jewish studies and consist of a $5,000 stipend, access to library resources at both Fordham and the NYPL and the ability to network with faculty members within the AAJR and the university. The fellowship intends to aid those affected by the war by providing support and remote access to resources. 
The political science and international studies departments also held a roundtable discussion on March 10 with professors from the political science department to discuss the implications of Russia's war on Ukraine and the capabilities of a response from the international community.
Laura Auricchio, dean of FCLC, began including the Ukrainian flag emoticon alongside events related to the Russia-Ukraine war in the "FCLC Updates and Resources" emails sent out to FCLC students starting March 9. The most recent email sent on March 31 promoted an event from the Russia-Ukraine War: Scholars of War Lecture Series held over Zoom on April 1 that discussed existing structures of power and hierarchies in culture and academia and their relation to Ukraine. 
The university recently launched the Fordham Ukraine Crisis Student Support Fund, which has raised $2,000 so far. The donations will be used to assist Ukrainian and Russian students who now face uncharted financial difficulties. 
Money raised from the fundraiser will go toward housing, food, traveling and other necessities needed by Ukrainian and Russian students. Trustee Fellow Kim Bepler has promised to match every donation up to $50,000.