Big Fun: 'Heathers' in London
This off-West End revival of the 'Heathers' musical does the beloved show justice
As soon as I touched down in London for my semester abroad, I began hunting for theater to see. Given the circumstances of the past two years, I have seen much less theater than I would have liked, and I am determined to make up for it now in a city known for its lively and diverse theater scene. 
When my roommates suggested we see "Heathers," the musical based on the movie of the same name, I was intrigued. I had seen the movie but didn't know much about the stage production (beyond the requisite theater kid knowledge of "Candy Store").
To situate "Heathers" among the sprawling category that is musical theater, it is a poppy, raunchy, fast-paced show well-loved by fans of shows like "Mean Girls" and "Waitress." 
The Queen did not make an appearance at this showing, as far as I know.
Following an opening in 2013 and subsequent successful runs off-Broadway and on the West End, "Heathers" is currently playing off-West End at The Other Palace, a beautiful little theater located strikingly close to Buckingham Palace. The Queen did not make an appearance at this showing, as far as I know.
"Heathers" follows Veronica, a teenager navigating the pressures of high school who suddenly falls in with the most popular girls at Westerburg High — three girls all named Heather. 
Along with the appearance of the enigmatic J.D., Veronica enters a new lifestyle of partying and spite, set among the campiest approximation of America in the 1980s that I have ever seen. The last part may have been exacerbated by the fact that we're in England, so the show had to work overtime to sustain the illusion that we were in Ohio, but I think it only added to the charm.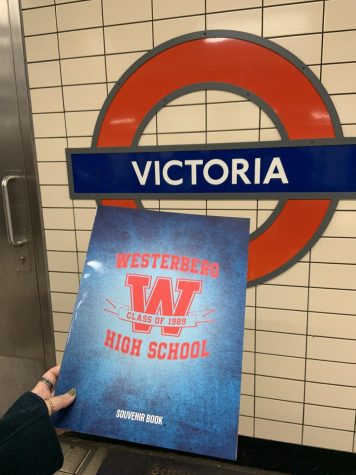 My first impression, beyond my sheer elation at being in a theater, was that there was an almost alarming amount of smoke filling the space, which was either a COVID-19 safety measure or ambient foreshadowing — or perhaps both. The pre-show '80s rock nicely unified the crowd, particularly when "Come On Eileen" elicited some pub-like smacks on the armrests. 
The show's playbill was adorably designed like a high school yearbook, but as I am discovering, playbills in London can set you back as much as 10 pounds (around $13), so I settled for squinting at the pages of the couple's playbill in front of me.
Throughout the introductory song "Beautiful," the first thing I noticed — after the fact that I could feel the orchestra's bass in my ribcage — was that the costumes were excellent. The Heathers were vibrant, stylish and cohesive, and background high schoolers stayed in their respective lanes but didn't fall into stereotypes. 
However, as each new character appeared, I was soon distracted by how the stage was two sizes too small for the 17-person cast, making simple ensemble staging seem ambitious. Dance numbers looked as if they were being marked simply because there wasn't enough room for the actors to risk going all out. At times, the staging gave the impression that you as an audience member were watching a performance, as opposed to being part of the proposed reality.
The blocking of "Heathers" productions often relies heavily on tableaus, where more (or often all of the) actors freeze in a position while Veronica narrates directly to the audience. These freezes were a charming way to introduce each character, but the compact space meant that tableaus were about the only thing the cast had room to execute while all on stage, and the tactic quickly wore thin. 
Actors repeatedly arranged themselves in the same formations and personality poses and were often forced to direct their big notes out to the audience to avoid appearing unnatural or screaming in a castmate's face, which gave a high school diva "let me have my moment" feel that was a bit off-putting.
The blocking issues made the show feel a bit slow and stilted at the start, but the action picked up with the introduction of J.D., especially as his song "Freeze Your Brain" began. Admittedly, this moment might have stuck out to me because I was just excited to see the 7-Eleven logo again. 
There was an atmospheric reaction in the theater to "Meant to Be Yours."
J.D. seemed to invigorate everyone around him, and the show started to move at such a captivating pace that I was barely ruffled by the sometimes-dubious American accents. J.D.'s voice was so outstanding that it caused me to periodically and involuntarily grab my roommate's arm to confirm that we were hearing the same thing.
The stage's small size did come in handy during house party scenes, replicating the increasingly suffocating feeling of being surrounded by reeling, apprehensive peers as "Big Fun" reiterated its pounding chorus. It also worked well for smaller scenes with fewer characters involved, including moments in J.D.'s bedroom and Veronica's bathroom. 
Speaking of which — there was an atmospheric reaction in the theater to "Meant to Be Yours," an impossibly catchy song currently undergoing the TikTok revival treatment. 
Both famous and lesser-known tracks from "Heathers" were equally satisfying. Once Martha, Veronica's unpopular best friend, was finally allowed to have a full-fledged thought, she tore the house down with "Kindergarten Boyfriend," showcasing a stunning belt that made me wish she had had more opportunities to sing. 
Since 2018, three songs have been added to the show. "Blue," an unnecessarily vulgar song from the original off-Broadway production exclusively about date rape, has become "You're Welcome," a more complex and melodically interesting song that better situates Veronica and the jocks in their social context, heightening the stakes of the assault. 
"Never Shut Up Again," Heather Duke's seize of power to a disco beat, and "I Say No," a power ballad for Veronica, also worked well. In fact, "I Say No" clocks in as the most listened-to song on the "Heathers" West End soundtrack on Spotify.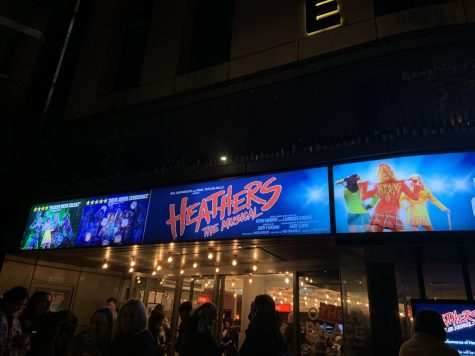 A common criticism of "Heathers" is that its peppy tracks and irreverent dialogue ignore the real severity of the subjects it covers, like sexual assault, homicide and suicide. Even looking at just the titles of songs, like "My Dead Gay Son," it's easy to see how viewers might arrive at this conclusion. 
But I think the dark themes of "Heathers" are elevated, rather than obscured, by this approach. The gratingly upbeat gospel choruses of "Shine a Light," the guidance counselor's misguided attempt at suicide prevention, expertly reflects how adults often fail to make meaningful connections with teenagers about sensitive topics like mental health and suicide. 
By considering the buoyant music of "Heathers" as a purposeful contrast to its bleak material, there is a poignant message to be found about how we fail to address those issues as a culture.
The free-wheeling exuberance of some songs is skillfully offset by heartfelt ballads like "Seventeen" and (my personal favorite) "Our Love Is God," which had "We can start and finish wars / We're what killed the dinosaurs / We're the asteroid that's overdue" ringing in my ears long after I had gone home. 
There are light, silly moments nestled within hard times, which doesn't make the times any easier or the joy any less real.
Rather than glossing over heavy subjects, this juxtaposition realistically captures what it's like to live through challenging periods like high school — none of it is all bad or all good. There are light, silly moments nestled within hard times, which doesn't make the times any easier or the joy any less real.
Through my experiences of theater in London so far, I am gathering that there is more of a cultural tendency here to respond verbally and enthusiastically to action onstage — so much so that actors often had to improvise responses to catcalls or whistles, though they took it in stride. 
The audience-actor interactions even went so far as the guidance counselor singling out a specific man in the audience and addressing him personally. The laughter this elicited from the audience was reflected in several actors breaking character, but I'm willing to let it slide for the sake of how joyful it all was. 
And that really encapsulates my overall review of this production: Was it technically or creatively groundbreaking? Maybe not. But was it enjoyable, enough to make me remember what I had missed so much about theater throughout the pandemic? Absolutely.