Sonia Burke, Fordham Women's Basketball Coach, Dies at 53
Remembered for the love she brought to the court and inspiring generations of young women, Burke taught her team to 'put Faith before Fear'
Women's basketball assistant coach Sonia Burke passed away on Friday, July 16, after a yearlong battle with stomach cancer. Burke coached at Fordham for four seasons, leading the team to a conference title in 2019 and recruiting many of the players on the roster today. She was 53.
Earlier this year, the women's basketball team raised $36,713 to fund Burke's treatment, which involved multiple rounds of chemotherapy and surgery. News of her improving health in the spring gave many program members hope, but her health rapidly declined thereafter and news of her passing was sudden. 
Following a team meeting on the night of Friday, July 16, all practices were canceled for the next week in order to give players and staff members time to process and mourn their loss. A memorial ceremony was held on Tuesday, July 20, in the McGinley Ballroom to honor her life.
"I just feel that she's in Heaven with my mom, and we've got two angels looking over us." Stephanie Gaitley, women's basketball head coach
For Head Coach Stephanie Gaitley, the pain of Burke's passing was compounded by the death of her mother, Martha Vanderslice, on July 6 at the age of 95. In a video posted to Twitter on July 18, Gaitley talked about her time of mourning and described Burke's impact as a coach and friend.
"You could say loyal; you could say compassionate. I think of love. I think of somebody that made me smile; now she's making me cry. But I just feel that she's in Heaven with my mom, and we've got two angels looking over us," Gaitley said.
For nearly 25 years, Burke's life was dedicated to college basketball as a player and coach. In 1999, after two seasons playing at Okaloosa-Walton Community College, she transferred to Spring Hill College in Mobile, Alabama, and quickly became a consistent contributor for the Badgers.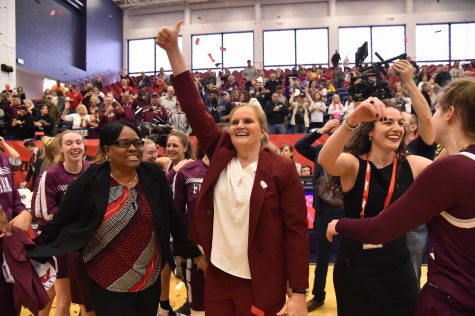 In her first season with the team, Spring Hill compiled a 23-10 record and won the 2000 Gulf Coast Athletic Conference Championship. Despite being a new member on a championship-winning roster, Burke still managed to lead the team with a 54% shooting percentage while recording 98 assists. Later that year, Burke won another title as the captain of the Barbadian national women's basketball team at the 2000 Caribbean Basketball Championships.
Shortly after Burke graduated in 2001, she turned to coaching as a profession, working for several teams in brief stints before settling into a position with the Manhattan College Jaspers in 2003. For the next 13 years, she worked in various roles for the Manhattan program and became an associate coach in 2010. In 2017, she joined the staff at Fordham as an assistant coach.
Within a very short time, Burke became a highly respected figure within the Rams' program. Fellow Assistant Coach Candice Green described her as the leader of the assistant coaches, someone who could make demands and get the most out of her players. According to Green, a love for basketball cut through much of Burke's conversation, but she could just as easily chat about music and dancing. She was a friend as well as a colleague to many staff members.
"I think what I admire most about her was her ability to build meaningful and lasting relationships with people and groups." Candice Green, women's basketball assistant coach
"She really was one of the best people I ever worked with," Green said. "She was such a complete person. I think what I admire most about her was her ability to build meaningful and lasting relationships with people and groups."
As the Rams' recruiting coordinator and forwards coach for four seasons, Burke guided Kaitlyn Downey, Fordham College at Rose Hill '22, through every step of her college basketball journey. As Downey prepares for her senior year, she gives Burke an immense amount of credit for helping her excel at the collegiate level.
"She took me in freshman year. She just continued to work with me every day and was always available and willing to help me," Downey said. "Whatever it might be, she was always ready to contribute in any way possible, and I feel like that has been the reason I've had success on this team."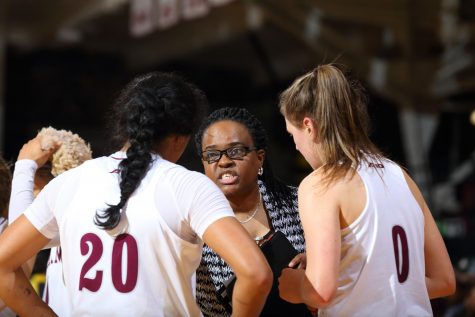 As team captain, Downey was at the forefront of the fundraising effort for Burke in February 2021 and expressed hope at the time that Burke would someday return to lead the team in the Rose Hill Gymnasium. That wish was fulfilled in part, as the assistant coach came back for offseason practices at the end of the academic year. Though bittersweet now, her brief return had a profound impact on every member of the program.
"When she was there, it was just nice seeing her back on the court like normal, how it was a season ago," Downey said. "We really wanted to celebrate those good times, not fully understanding how limited those moments were."
While her absence on the sidelines will be noticed by players for some time, Downey believes that her coach's words will remain with them. Burke managed to make an impression on players with her presence alone, but even after she was forced to step away last season, several choice adages stuck with players and inspired them to play through the pandemic and other challenges.
"Living in the moment is going to be the theme for us this season." Kaitlyn Downey, FCRH '22
Most memorably for Downey, Burke regularly told players to "be where their feet are," or to focus on the present and experience each moment. She lived her life by those words and cared deeply for her partner, Sherlon Quarless, as well as her family, friends, colleagues and players at every turn. 
Her life tragically cut short was not a life unfulfilled, as Burke's impact on generations of women for two decades is one of countless incalculably grand contributions that she made to the world while she could. She made the most of every moment without ever losing sight of where she stood.
As the 2021-22 season approaches and new first-year players join the women's basketball roster, the team will now have to carry on without one of its brightest leaders. New players won't be familiar with Burke or her tutelage, but returning players will ensure that her legacy lives on in the Rose Hill Gymnasium for years to come.
"Living in the moment is going to be the theme for us this season. We never know when our time's up, so we're going to maximize every minute we're on the court, every practice and every drill that we're a part of," Downey said.
---
To honor Burke, Stephanie Gaitley wrote a poem in which she states that her friend and colleague will live on through the kind actions and words of those who knew her. This poem was provided by Women's Basketball Director of Administration Elizabeth Brown and is included in full below.
SONIA
When we remember Sonia, we all know there is love in the air
You see it in her 19-year partnership with Sherlon… you see it everywhere
Her love for her step-sons Stephen, Justin and Donte was second to none
She adored her grandson Stephen Jr. and of course her beautiful niece Tamya is a special one
Sonia certainly loved the game of basketball
She was captain of the Barbados National Team and helped them win it all
It was her coaching days at Manhattan when we met
The Battle of Bronx games were ones we can never forget
She started coming to our practices and we became friends
But that's where it starts not where it ends
A spot on our staff opened and I knew she was the right fit
Super kind, great heart, basketball junkie… I knew she was it
Sonia was intense– soft spoken and gave everything she had to everyone she knew
To say she challenged the players but challenged herself more would be very true
We put it all together in 2019 to win the "ship"
I think we would agree that was an incredible trip
She taught us all through her actions … and her words were so wise each and every day
She would encourage us to "be present" … "be where your feet are" … these are just some things she would say.
She would say "God has a plan and to see the silver lining even when its hard"
She worked with the bigs, even though she was a super star guard
She would tell them to "EAT" … Which meant ENERGY, ATTITUDE and TOUGHNESS to them
But When she used that hitting pad, they didn't think she was such a gem
She would say… "Just because there's a goalie doesn't mean you can't shoot"
But when she got fired up and gave her chest bumps it was certainly a hoot
Sonia taught us so much in this last year
She taught us all to put Faith before Fear
She taught us to bring it every day and brought something to everyone she touched
To do something for others was never asking too much
Sonia's legacy will live on in each and every one of us
She's probably pissed right now because we are making such a big fuss
Let's all honor Sonia by being kind to everyone we meet
It could be a little one learning the game or someone on the street
She was Ram Tough, and we will make her proud
There's no question her and my mom will be the angels in the crowd