Lincoln Center Senior's Music Site Starts to Spread Its Roots
Alex Mitchell's Hypetree, "The Democratic Music Site," Looks to Evolve Even More With the Opening Weeks of the Fall Semester
You can usually see senior Alex Mitchell, Fordham College Lincoln Center (FCLC) '12, standing outside the doors of McMahon, cigarette in hand, friends in tow.  From the outside looking in, he looks like any run of the mill college student, but what most don't know is that he could probably give Charlie Daniels a run for his money.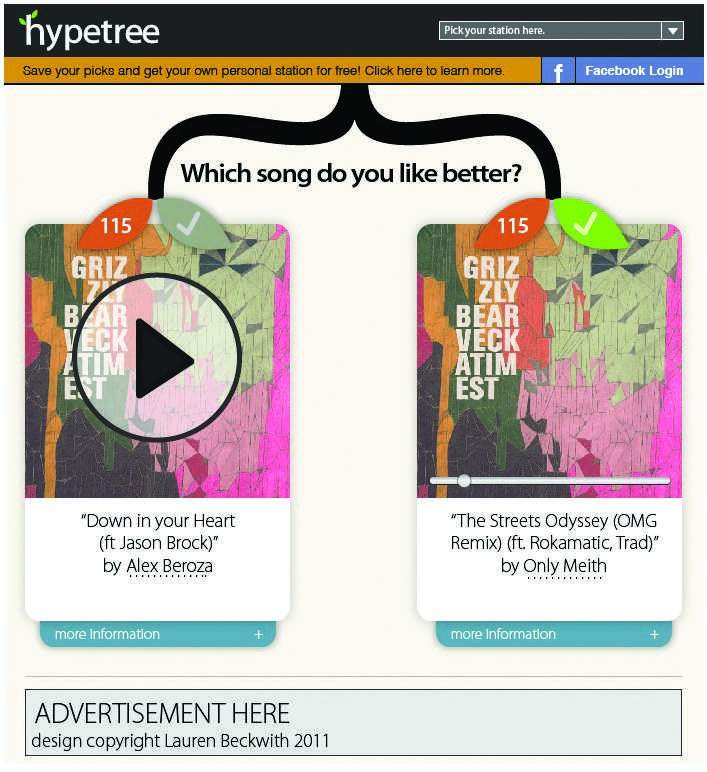 A violin virtuoso since he was young, Mitchell has played everywhere, from a room of nine people to the extravagance that is Carnegie Hall. However, it was his time playing in local bands throughout the venues of New York City where he noticed the life of a college musician wasn't exactly all glitz and glam.
"I feel like there's a problem out there," Mitchell said. "The artist has been made illegitimate. No one takes the artist seriously. It's hard. It's sad because it's hard just selling music these days."
Since September 2009, Mitchell has been working and researching to reverse this growing trend, through a music service he developed himself called Hypetree.
Similar to the concept of "The Mash Up" in the movie "The Social Network," a visitor to Hypetree is faced with two songs. Once done listening, the individual can choose which song he or she liked better, eventually leading them to the musicians profile with a wider range of songs. Originally intended for artists looking to get their music out on the Internet, visitors can listen and rate the song based on a scale, giving the artist feedback on what songs worked and which ones didn't.
"The major thing that you are going to see that you're not going to see anywhere else is a ton of indie music all in one place being delivered to you in a very easy and fun format," said Mitchell. "I think the major difference between us and anyone out there right now is our content."
Mitchell and his team already have a patent pending for the site, with a number of indie music labels interested. Trevor Collins, who attends City College and is partners with Mitchell, is excited about the contacts being made and the ones that are soon to come.
"We're getting contacted by a lot of actual big artists. I think we'll be able to get some really cool music on there," Collins said.
Michelle Panzironi, FCLC '12, who is charge of marketing analytics and data for the site, is another partner within Hypetree who feels the site can garner some reputable acclaim down the road.
"It's really getting off the ground. I feel that it's a really stable company and that it can be a big player in music if we can make the right connections with people," Panzironi said.
Mictchell notes, "There is no other open platform like this that delivers personalized music, and that music comes from any artist, not just the ones who can afford to be on Pandora."
Unlike Spotify or Pandora, who feature signed label artists combined with large ad space, Hypetree allows anyone to create a free account and start posting music on the site.
"We don't really care how many fans you have on Facebook or if you have a record deal. Anyone can sign up for an account and put it on Hypetree. The song or the band might get a bad score or it might get a good score—it's open. So as the music lover, you get unique content that you're not going to find anywhere else," Mitchell said.
Posting songs on the site is free but only up to a specific limit. After the limit has been reached, the artist must pay 50 cents for each song they want to post.
Mitchell said it works like a marketing tool for the artist; while they pay a very small amount for posting their songs on the site, they are receiving exposure as well as feedback. Hypetree also gains profit from small ads.
But for Mitchell and his team, it's not about being the next Mark Zuckerberg, with Justin Timberlake telling you how to spend your next dollar. Mitchell said that Fordham's philosophy has a significant influence on the overall mission of Hypetree.
"There are a lot of smart and passionate kids here,"he said. "A lot of people are doing work on this project without pay. I think that's the idea that Fordham has instilled in us. Fordham's 'for others' mentality is imbibed in Hypetree where we are creating this to help other people. We could be charging more and putting up more ads, but we're not looking to be rich."
Despite his belief that statistically the site may fail, Mitchell is staying optimistic, hoping that his project stays on a steady, lucrative course for as long as possible.
"Just in the job I'm in now, I see a lot of start-ups, and so I see what they're doing right and wrong and there's a lot of luck and sweat involved," Mitchell said. "Do I see this happening long term? I certainly hope so. Statistically we're going to fail but statistically I shouldn't have a college education either. It's one of those things where we're going to try as long as we can."