Lincoln Center Turns Into The GREEN for the Summer Season
Restart Stages program premiered with the opening of this temporary public park on May 10
Lincoln Center is trading in its concrete for green space this summer as part of its Restart Stages program. 
The Josie Robertson Plaza's 14,000 square feet have transformed into "The GREEN" as of May 10 and will remain through September. This temporary public park also offers a pop-up free library in partnership with the New York Public Library (NYPL) for the Performing Arts and a snack bar in the northeast corner with empanadas sold by Nuchas, an American-owned handheld food company based in New York City. The space is open to the public seven days a week from 9 a.m. to midnight. 
Lincoln Center recruited Mimi Lien, who is a set designer, MacArthur Genius grantee and Tony Award winner, to design the space. A number of her set designs have been on display at Lincoln Center itself. From start to finish, the idea turned into reality in just three months and took only two weeks to construct. 
"We've been working with designer Mimi Lien for a while now as part of a new performing arts R&D lab, bringing together artists and thinkers to tackle big questions at the intersections of art, technology, and social justice, and we had a brainstorming session to help us think through different ways to reimagine Josie Robertson Plaza. This idea of hers came out of that brainstorm," Lincoln Center's Chief Strategy & Innovation Officer Clive Chang said. 
Rather than merely being a place to travel through, Lien hoped to transform it into an area to spend time in. "When invited to consider how the physical space of Josie Robertson Plaza could be re-envisioned to be a more inclusive and inviting environment, I immediately thought that by changing the ground surface from hard paving stones with no seating to a material like grass, suddenly anyone would be able to sit anywhere," she said in a press release.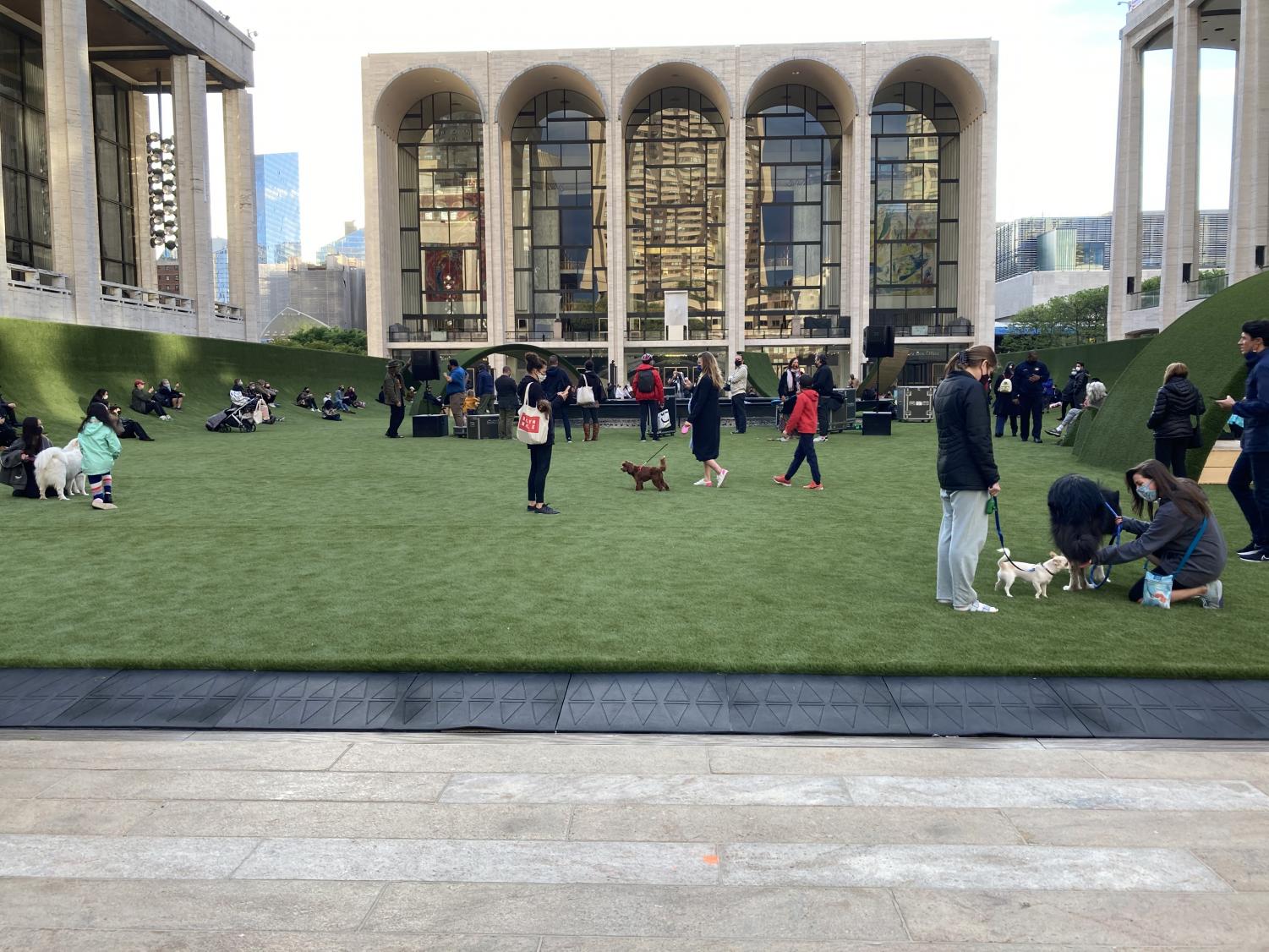 Instead of planting grass in this temporary public space, the green area is composed of a material called SYNLawn, a recyclable, biobased soy material that is entirely sourced from U.S. farmers. After "The GREEN" closes in September, SYNLawn New York will upcycle the material to use on playgrounds for at-risk youth in upstate New York.
The synthetic grass material spreads across the plaza and surrounds the fountain in the center, and the construction team built ramps covered in the material on either side to create a "curved grass surface" that echoes the arches of the Metropolitan Opera House.
"I hope that this curved grass surface will feel like an embrace and an expanse at the same time, and will reimagine the Plaza as a site of social infrastructure, like a town green – a place to gather, a common ground," Lien said.
As soon as the park opened at 9 a.m. on May 10, citygoers gathered to walk across the turf and take photos. Dogs were already romping around in the artificial grass, and by the evening, the crowd had vastly grown. By then, children had discovered the adventure of climbing up the sides of the grass and sliding down before security reprimanded them, and the fountain was propelling its water high into the sky. Kids standing near the perimeter were testing the boundaries of getting soaked underneath the downfall. 
What was once a full pop-up free library sponsored by NYPL that morning was almost empty. In the morning, people strolled through the space, but by that night, groups planted themselves in the grassy chairs or on the ground to socialize or have a picnic.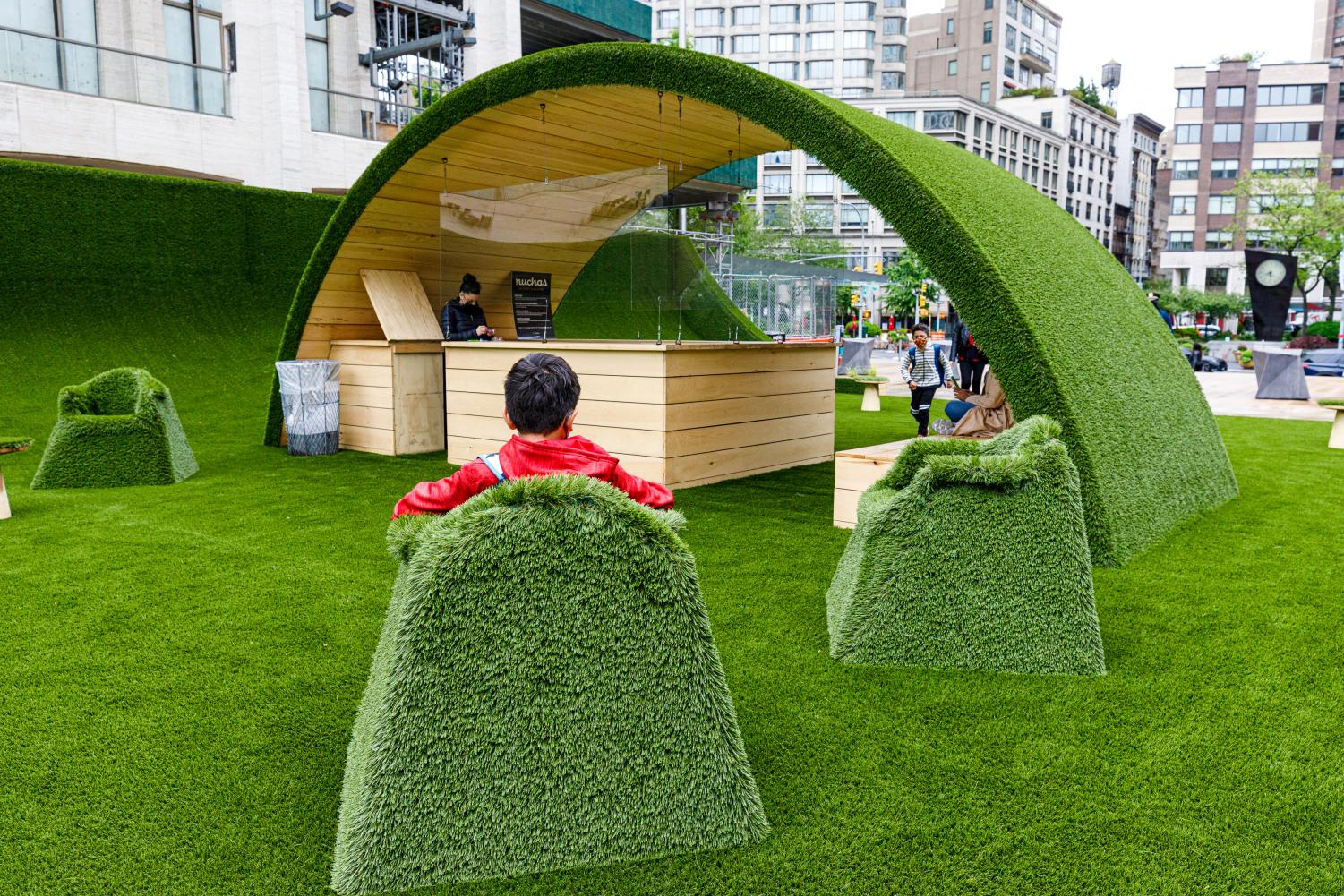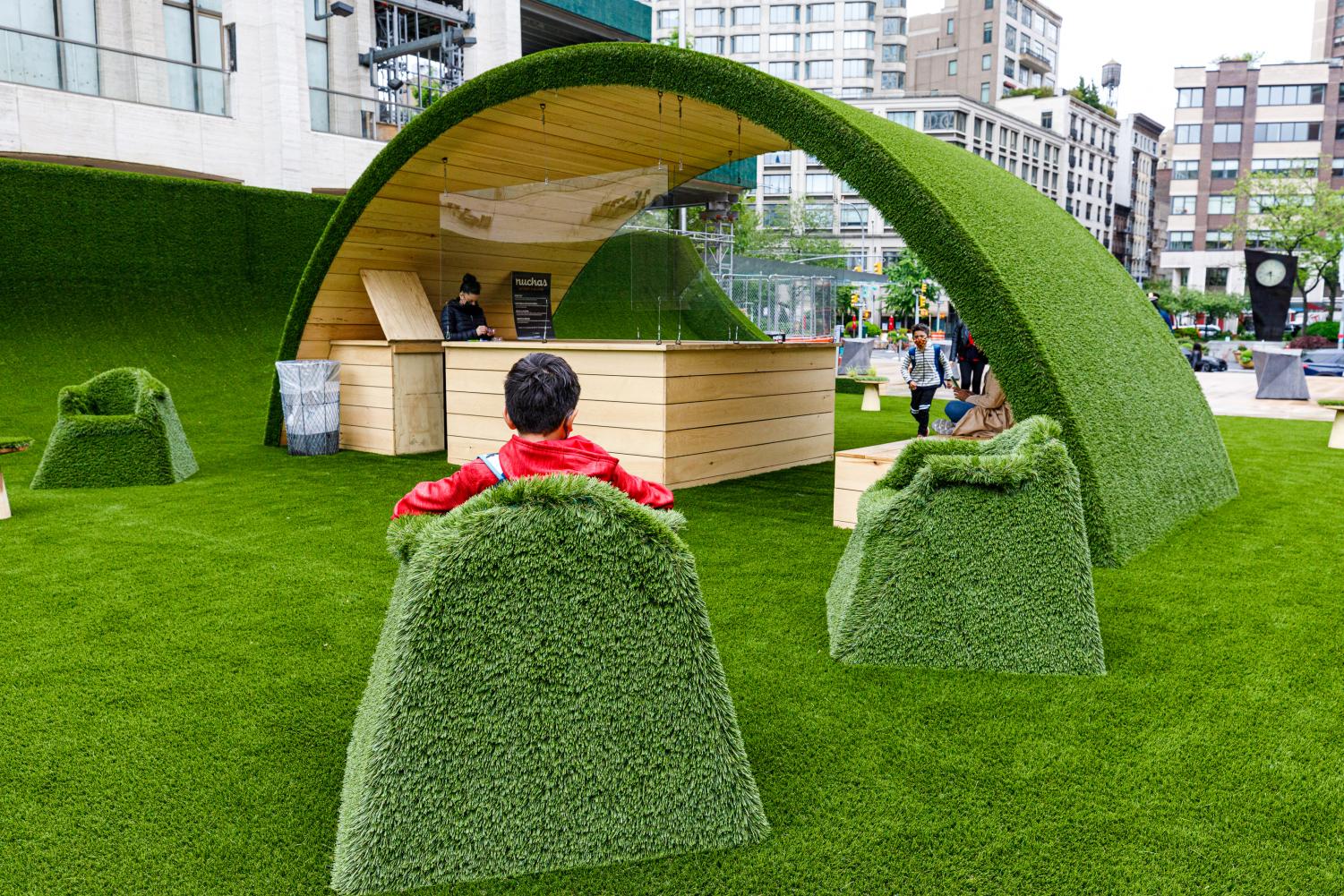 An old woman remarked as soon as she stepped onto the turf how she hadn't been around this many people in so long. There was a tangible excitement in the air as New Yorkers tried to hide their smiles underneath their masks. 
Fordham students have already begun to venture out and explore the area. "I thought it was really fun. It was a nice spot to eat lunch, enjoy the beautiful weather and dog watch. It's definitely got an interesting design to it, but I think that is what makes it such an interesting space to sit and people watch," Claire Hay, Fordham College at Lincoln Center (FCLC) '23, said. 
"I really wasn't impressed when I saw the design, but now I wanna go. I guess the chairs are enticing. I didn't know it was only a temporary thing initially, which kind of colored my opinion of it," Anna Nowalk, FCLC '23, said.
"The GREEN" is part of the Restart Stages initiative, a Lincoln Center program that is sponsoring performances throughout May to celebrate the return of live performances in a world slowly returning to pre-pandemic activities. "Throughout Restart Stages, passersby will see and experience surprise performances, events for children and families to enjoy, and much more," Chang said.
To kick off the summer programming, Chief Dwaine Perry of the Ramapough Lunaape began the opening event on May 10 at 7 p.m. with a land blessing ceremony to acknowledge the Indigenous communities that once populated the island of Manhattan.
Then, singer/songwriter Martha Redbone hosted the opening ceremony alongside violinist Charlie Burnham, bassist Fred Cash, her longtime collaborator and husband pianist Aaron Whitby who is a composer, songwriter and music director. The performance also featured special guest Soni Moreno from the Native American a cappella group Ulali.
SAG- and Tony-nominated star Norm Lewis followed Redbone at 8 p.m. at nearby Damrosch Park. Lewis reprised some of his most famous leading roles, performing a selection of songs from musicals such as "Les Misérables," "Porgy and Bess," "The Phantom of the Opera" and "Sweeney Todd."
New Yorkers who are interested in performances this summer do not have to pay for tickets, but they do have to enter a lottery for a chance to be able to attend.