Spring Strolls for Zoom-Exhausted Souls
A guide to the most scenic walk routes near campus
It took a lockdown for most to learn the joy of going on a walk. After a year of Zoom classes and endless screen time, taking tech-free breaks is more essential than ever. Going on a walk gets you up and moving, outside for some fresh air and away from your computer. It's also the perfect activity to hang out with friends — it's socially distanced, free and conducive for quality time to catch up. As springtime blooms in Manhattan and the sun comes out, here is a guide to four perfect walks. 
The Dock Walk
Riverside Park South from 59th Street to West 71st Street
Distance: Approx. 0.7 miles

Time: 25 – 35 minutes
If you just have a short break in between classes, The Dock Walk is for you. Two blocks away from campus is the entrance to Riverside Park South, a beautiful greenspace right along the Hudson that opened last October. There are paths to walk, trails to bike and plenty of docks and bridges to explore. The unobstructed path is always sunny with a breeze and has beautiful views of the river. At the north end of the park is Pier 1, a reconstructed 795-foot pier that stretches out into the Hudson and is a fantastic photo opportunity of the western Manhattan skyline. The park also has picnic tables, lounge chairs and seating throughout to lounge and bring a book or work on homework with free Wi-Fi hotspots at Pier 1 and from West 71st Street to West 78th Street. 

The Bethesda Promenade
Central Park from Tavern on the Green to Conservatory Water
Distance: Approx. 0.7 miles 

Time: Approx. 40 minutes – 50 minutes
The best backdrop for a walk is New York's backyard — Central Park. The Bethesda Promenade is a tour of my favorite and most scenic spots at the park. I recommend entering at the Tavern on the Green entrance at West 67th Street to avoid the Columbus Circle chaos of commuters. From there, head northeast, following the paths as you please until you pass the Cherry Hill Fountain and hit Bethesda Terrace. Take in the view of salsa dancers, musicians and children playing soccer. From Bethesda Fountain, I like to walk to the Lake and across Bow Bridge to watch couples in rowboats. 
If I want a longer walk, I'll head east toward the model sailing boat pond, Conservatory Water and the Alice in Wonderland statue. On the weekends, Monsieur Jacques — a musician who plays jazz on his trumpet — sits by the water and makes me feel like I'm walking along the Seine in Paris. This is a brisk 40-minute walk to-and-from campus or an hour or more at a leisurely pace. The Bethesda Promenade is perfect for a solo Sunday afternoon or a great sight-seeing activity to show tourist friends around Central Park.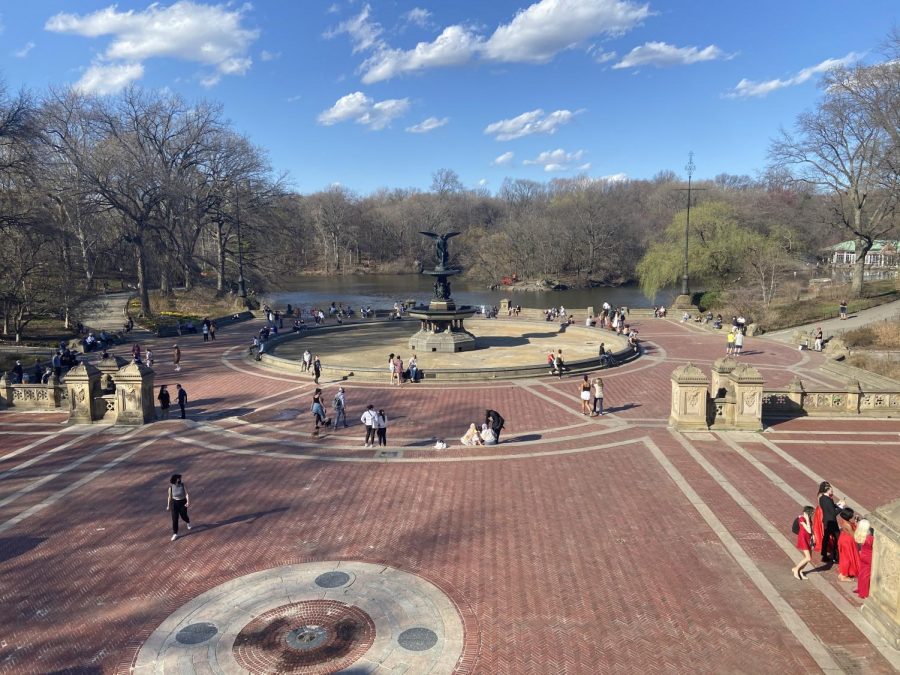 The Tour de Upper West Side
Columbus Avenue from 60th Street to 82nd Street 
Distance: 1.1 miles 

Time: 35 – 45 minutes
A straight shot up Columbus Avenue offers my all-time favorite window-shopping and pretend apartment-hunting experience. You start with gorgeous views of Lincoln Center where you can catch rainbows in the fountain on a sunny day. 
The 60s streets bring Magnolia Bakery and other lively and decorated eateries. The 70s streets' storefront displays look like they're straight from the wardrobes of Meghan Markle and Kate Middleton. My favorite block of brownstones are on West 74th Street and Central Park West — they're colorful and remind me of '90s romcom-era New York. The pièce de résistance of the walk is the breathtaking Victorian Gothic façades of the American Museum of Natural History. One block further on, my favorite house on West 82nd Street and Central Park West decorates their stoop for every holiday. 
The Fab 40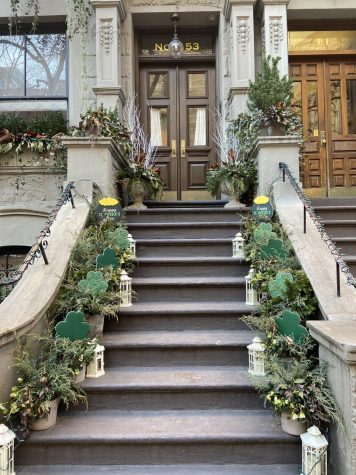 West End Avenue from 104th Street to 60th Street
Distance: 2.3 miles 

Time: 50 minutes – 1 hour
Named after a fabulous 40-block walk from 104th Street down West End Ave to campus, this walk is a great route to unwind after a stressful day. West End Ave is lined with beautiful, historic ivy-covered buildings and towering churches. The avenue is more residential and less crowded than Broadway, and it has more Upper West Side charm. I recommend going around 4 p.m., when the streets are full of residents taking their dogs on walks. From campus, you can take the 1 uptown to the 103rd Street station, do all of your uptown errands and walk back down to campus.
Bonus: The Greenwich Architectural Tour
10th Street from 7th Avenue to Broadway
Distance: Approx. 3 miles

Time: 20 – 25 minutes
The angular, gridless streets of Greenwich Village offer a dynamic scenic walk. From the 14th Street station, walk down Greenwich Avenue to West 10th Street. Your first stop is the Jefferson Market Library, a High Victorian Gothic-style courthouse with its towering spire that is now a branch of the New York Public Library. As you walk down West 10th, pay attention to the chic redbrick buildings with floor-to-ceiling windows and stoops decorated with plants. When West 10th turns into East 10th, look up at the Church of the Ascension, an ominous brownstone church built in the 1800s. The finale of the walk is Grace Church, or, as I have named it, Hogwarts in Manhattan — this national historic landmark has a courtyard that looks like a set from Harry Potter. The entire tour spans less than half a mile, but the views take you back to Victorian times.