Fordham Family Matters: Jack Harnisch Carries on Father's Legacy
Son of former major leaguer Pete Harnisch pursuing his own baseball dreams on his father's old team
Anyone with a passing interest in college baseball as it exists today would agree that the inner workings of the sport have changed radically over the years. Fans and insiders alike may note the shift with excitement or nostalgic sadness, but in the Information Age, it's undeniable that every facet of the game has become more sophisticated. 
Freshmen in high school are now committing their distant futures to universities before they even receive a report card. Everyone knows everyone; any high-level player from the ages of 15 to 25 can go online and analyze every member of their opponent's roster before a game and prepare accordingly.
A sport that was once wild and sporadic has become more calculated, but fans of America's pastime, as it once was, can take solace in the fact that some things remain the same. At Fordham University, the Harnisch family is living proof that the collegiate brand of baseball has not yet lost its heart. 
"He (Gallagher) is one of the main reasons, if not the main reason, that I had the career I had in professional baseball."
Pete Harnisch, former Fordham baseball player and MLB player
In 1987, former MLB pitcher Pete Harnisch played his third and final year for Fordham, and he described his teammates back in the day as great players and even better friends. Statistics and analysis may dominate the modern game, but brotherhood persists at Houlihan Park. More than three decades later, Pete's son, Jack Harnisch, Gabelli School of Business '22, is blazing a trail of his own in the Bronx alongside teammates that he already considers friends for life.
By the time Jack stepped on the field at Fordham in 2018, the Harnisch name had become synonymous with the school's baseball program, thanks in large part to his father and the head coach who crafted him into a major leaguer. In 1984, Head Coach Dan "Skip" Gallagher took over the team at Rose Hill with the intention of bringing one of the oldest baseball programs in the country back into the spotlight.
By 1985, Gallagher's second season, his recruiting prowess was already making an impact, as the team that year was mainly led by freshmen. Harnisch was one of Gallagher's strongest recruits that year and immediately made an impact as one of the team's top pitchers. The new head coach continued to develop his players, and even though Harnisch entered with raw talent, he began to see vast improvement in his own performance.
"He (Gallagher) is one of the main reasons, if not the main reason, that I had the career I had in professional baseball," Harnisch said.
The former ace admitted that playing under Gallagher wasn't always easy, but he repeatedly stressed that he and his teammates became superior versions of themselves on and off the field with his help. Many of them joined the team at the same time, which Harnisch said helped him make solid friendships early on.
"It's as good a group of people as I've ever been around," Harnisch said. "When I pitched freshman year, there were eight freshmen on the field at a time, so we grew up together."
By 1987, Gallagher and his inexperienced team had been together for two years, gradually turning into a menacing force in the Metro Atlantic Athletic Conference (MAAC). After compiling a 27-11 regular season record, the team won its first conference championship in the 1987 MAAC Tournament. To continue their dream run, the Rams followed up their first conference championship by taking the Eastern College Athletic Conference (ECAC) Championship to advance to NCAA Regionals.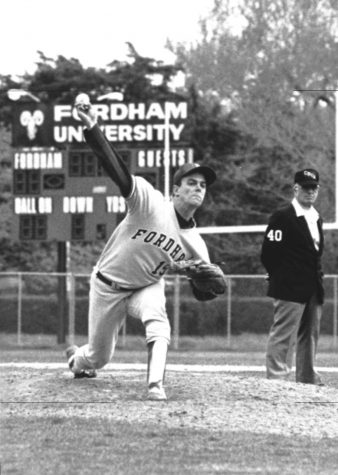 In just three years, Fordham baseball had gone from an obscure program in the Northeast to a national contender, and Harnisch served as the team's ace pitcher. In the 1987 season, he compiled a 7-1 record and regularly overwhelmed local competitors. It was just beginning to dawn on him that he was a high-tier MLB prospect.
"Coach Gallagher told me in my junior year in the winter," Harnisch remembered. "He said, 'If you have a good year, you're gonna be a first-round pick,' and I had no idea at that time. I had absolutely no idea."
If Harnisch needed any more proof that he was one of the best college pitchers in the country at the time, his performance in the NCAA Northeast Regional Tournament was the fondest farewell he could have given. In the first round of the tournament in Atlanta, Fordham played the University of Georgia and its ace pitcher, Derek Lilliquist.
Shortly after the tournament, the Atlanta Braves selected Lilliquist with the sixth overall pick in the 1987 MLB draft. But in one of his final starts with the University of Georgia, he and Harnisch dueled on the mound in the sweltering Atlanta heat. With Fordham's future in the balance, Harnisch outlasted his foe, throwing a complete game and allowing three runs in a 5-3 victory for the Rams.
In the end, Fordham did not win the tournament that would have taken them to the College World Series. Following another victory against Dartmouth University, the team was crushed by Ryder University, and in a revenge game, Lilliquist and Georgia returned and eliminated the Rams from the tournament. 
Harnisch didn't pitch in the second game against Georgia because Gallagher didn't want to strain him on two days' rest. While some players on the team were facing the twilight of their playing careers, Harnisch was still in his formative days. There were bigger stages yet to come.
When discussing his professional baseball career, Harnisch took care not to go into great detail. He was intent to discuss his son, and avoided long descriptions of the 1987 MLB draft, in which he was selected 27th overall, as well as his 14 years of professional baseball with the Orioles, Astros, Mets, Brewers and Reds. He never mentioned his appearance in the 1991 MLB All-Star Game. Instead, he quickly summarized his lengthy career in one sentence.
"I wasn't a Hall of Famer and I didn't suck," Harnisch said.
Pete, who coached his son for much of his childhood, noted that Jack could have been a talented pitcher, but he never expressed disappointment about his son's choice.
In 2001, Harnisch retired from professional baseball, a year before Jack Harnisch was born. A timely retirement in Colts Neck, New Jersey, meant that Pete spent a significant amount of time with Jack during his childhood, in which Jack, his brother and his cousins were raised to love baseball.
Jack admitted that his development as an infielder was unexpected because he never seriously pursued a career in pitching. His brother, high school player Nick Harnisch, makes his presence known on the mound, but Jack always felt more comfortable as an infielder. 
Pete, who coached his son for much of his childhood, noted that his son could have been a talented pitcher, but he never expressed disappointment about his son's choice. It was one of many cases where Pete allowed Jack to develop into a baseball player on his own.
"He always tells me that pitching is boring," Pete reasoned. "He never really took to it, and that was fine, because I didn't want to push that because he wanted to hit and play defense, and that's what he loved."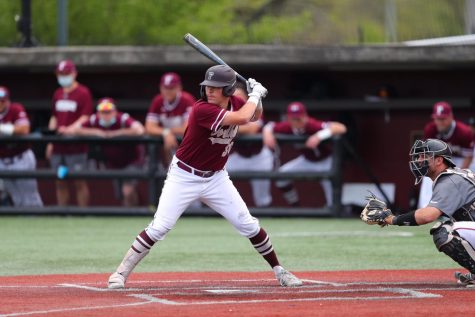 As Jack continued to progress in his baseball career, Pete began to take a hands-off approach and found work on the road as a roving pitching instructor for the Los Angeles Angels of Anaheim. At the Christian Brothers Academy in Lincroft, New Jersey, in 2014, Jack began his high school career much like his father; he hadn't yet developed fully and went unnoticed by many recruiters in the early stages. 
In his sophomore year, he finally began to receive some invitations to visit schools like Northeastern University and Seton Hall University. Before any of those vague offers came through, however, Jack remembered being in regular contact with Kevin Leighton, the head coach of the Fordham baseball team.
"I was always in contact with Coach Leighton, just because my dad played for them," Jack said. "That was always in the back of my head that, eventually, I might look at them and I knew they were always going to come to games."
"I actually called up Coach Leighton that same night when I got back home and told him that Fordham was the place for me." Jack Harnisch, GSB '22
At first, his talks with Leighton and other Fordham coaches were general, but as Jack continued his career at Christian Brothers, they became more serious. His stock rose significantly as he continued playing, and by his senior year, he was the captain of the varsity team and was selected to the All-State New Jersey team for the 2018 season.
In the summer before his senior year, Jack received an official offer from Fordham and visited a campus he had seen countless times in his childhood. His father used to drive him from New Jersey to watch Fordham athletic events, and he had grown somewhat familiar with Rose Hill and the surrounding area. When his prospects in college baseball seemed thin early on in high school, Leighton and the Fordham coaching staff were there to track his progress. After years of consideration, Jack's decision was immediate.
"I actually called up Coach Leighton that same night when I got back home and told him that Fordham was the place for me," Jack said.
Jack's decision to play college baseball for Fordham was his own; in fact, Pete said he made a concerted effort to allow his son to find his own way. But after years of support from Fordham coaches and an upbringing tinged by Fordham culture, the choice to become a Ram seemed clear. 
Now the starting second baseman, he is batting .265 and plays consistently well on a team of significant promise.
In Jack's freshman year, he only managed to play in 13 games on a team with a stacked infield led by future MLB draftee and shortstop Jake MacKenzie. That being said, Jack didn't complain when Fordham won its first conference championship, this time in the Atlantic 10 (A10), since Gallagher's last win in 1998.
"It was a very good year for me, even though I wasn't one of the everyday guys. I learned a lot from those guys, and it was obviously a big year being a part of the A10 Championship team," Jack said.
Among his brief highlights, Jack got his first career hit in his second at-bat in college against Texas A&M University, a powerhouse team in the South. At the end of the season, he pinch hit in the NCAA Nashville Super Regional and got on base again, this time in front of a national audience.
Following a sophomore season shortened by the COVID-19 pandemic, Jack returned strong in his junior year and has established himself as a leader on the team. Now the starting second baseman, he batted .269 in 2021 and played consistently well on a team of significant promise. On Friday, May 21, he hit his first career home run against St. Bonaventure University.
1st career HR for Jack Harnisch! 2-0 Fordham! #OppoTaco pic.twitter.com/icY2PKy3Gb

— Fordham Baseball (@FordhamBaseball) May 21, 2021
With two years of eligibility remaining, Jack has a variety of paths open to him in the future. Early in life, his father showed him the value of a career in sports management, and he expressed open interest in pursuing positions in scouting or coaching. His future as a player is not completely sealed either; while the chances of a selection in the MLB draft are still slim, Jack has always improved throughout his career and could very well find a spot somewhere with a few more good seasons. 
Regardless of what the future holds, though, Jack is intent on enjoying his time at Fordham while he has it. He sees the way his father interacts with his old teammates, and it feels overwhelmingly familiar to him now.
"When you go to school as a college athlete, you immediately have 20 to 25 brothers." Pete Harnisch
"They have a group chat, and my dad's always texting them and they're making jokes like they're still in college, just like the one we have," Jack said. "I'm starting to see that when you're on a college baseball team, baseball becomes like a job. You're there everyday and you get so close to everybody."
His father told him as much when his son first started out at Rose Hill.
"When you go to school as a college athlete, you immediately have 20 to 25 brothers," Pete said. "I told him to treat everyone he met with respect, because you might end up working for them or with them at some point."
The game of baseball has changed in so many ways since Pete stopped donning the maroon and white that his son now wears. But at its core, college baseball consists of nine young men taking the field with one another everyday and improving themselves. They help one another and sometimes compete with one another, but they become a team in the name of improvement. So long as this element of brotherhood lives on at Coffey Field, baseball will always maintain its timeless quality.