Hell's Kitchen Free Store Is Priceless
This community hub is the new water cooler: Bring some knickknacks and meet your neighbors
They say nothing in life is free, but clearly, they have never been to Hell's Kitchen Free Store.
Nestled in a vacant storefront on 45th Street and Ninth Avenue lies the Free Store. Playful designs announce the store's presence and brighten the storefront's weather-worn exterior. Filled to the brim with books, household appliances and craft supplies, you never know what you might find. And, yes, everything is free.
Longtime Hell's Kitchen resident Chana Widawski teamed up with Bailey Sperling, a senior at the Fashion Institute of Technology, to create this free community store. The pair met through the Midtown West Buy Nothing Facebook group and banded together to bring sustainable solutions to their community.
Widawski's involvement with her community began in a very New York fashion. "I started getting involved when I was just hanging out, sitting on my stoop and there was a guy sitting on the stoop next to me," Widawski said. "I had this vision that we should organize a live production of West Side Story on our street so that started my community involvement."
For Sperling, her journey in sustainability started when she discovered thrifting. She incorporated this ecofriendly mindset into other aspects of her life after learning about the negative environmental impact involved in many manufacturing processes. "I started looking into other ways to buy things more ethically and secondhand is the best way to do that," Sperling said.
That's where the Free Store comes in. It offers neighbors the chance to participate in a circular economy. "This came about both through the idea of landfill diversion, of mutual aid, and the other big piece was looking at our vacant spaces plaguing our neighborhoods," Widawski said.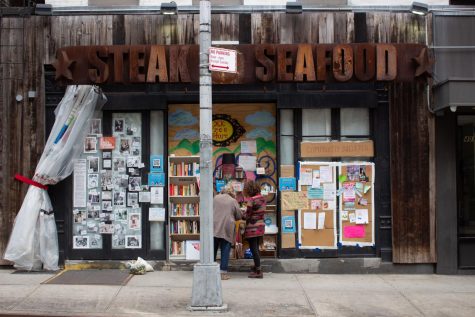 Their favorite donations are practical household items that help neighbors in need. This includes basic necessities such as toiletries and menstrual products. If you're lucky, you might come across a rare find like a yogurt maker, record player or microspikes for winter hiking. However, you're guaranteed to find new reads on the book shelf. "I am very impressed with what Hell's Kitchen is reading and how much they're reading in paper," Widawski said.
The Free Store is more than just a store. It's a communal space for gathering, connecting and exchanging ideas. The support of neighbors makes it possible to keep the store open 24/7. When there's a problem such as the need for weather protection, there's no shortage of volunteers stepping up to create a solution. After a year of isolation, the collaboration and company of neighbors is a welcome change of pace.
"It's really fun to stand outside at the store and talk to people," Sperling said. "Hell's Kitchen is a very diverse crowd of different types of people, different ages. So we really get to talk to our neighbors and meet them, talk about them and everybody's so excited about the idea of the Free Store."
"This free store goes to show the ripple effect of goodness when you seek out positive alternatives." Lydia Hallett, FCLC '21
Lydia Hallett, Fordham College at Lincoln Center '21, visited the store on a Sunday afternoon and chatted with a volunteer who checks in on the space daily. "A space like this can make donating goods easy and can inspire people to donate their items rather than throw them away," Hallett said. "This free store goes to show the ripple effect of goodness when you seek out positive alternatives."
Since opening in March, the store has expanded to include a community bulletin board and a photo gallery curated by Hell's Kitchen Heritage Project. This month's board focuses on photographs of Mathews-Palmer Playground, located on West 45th Street between Ninth Avenue and 10th Avenue, from the 1930s to the 1980s.
Hell's Kitchen Free Store joins the long-standing tradition of neighbors helping neighbors. They hope to expand the number of community resources available in the neighborhood with the help of more volunteers. As the end of the semester quickly approaches, the Free Store is the perfect place to donate those tchotchkes which don't quite fit in your suitcase. Remember, think "random, artsy, cool, kitsch and bric-a-brac."