One Step Closer: Fordham Community Members Get Vaccinated
Over the past few weeks, students and staff at the university have utilized on and off campus vaccination sites to get their doses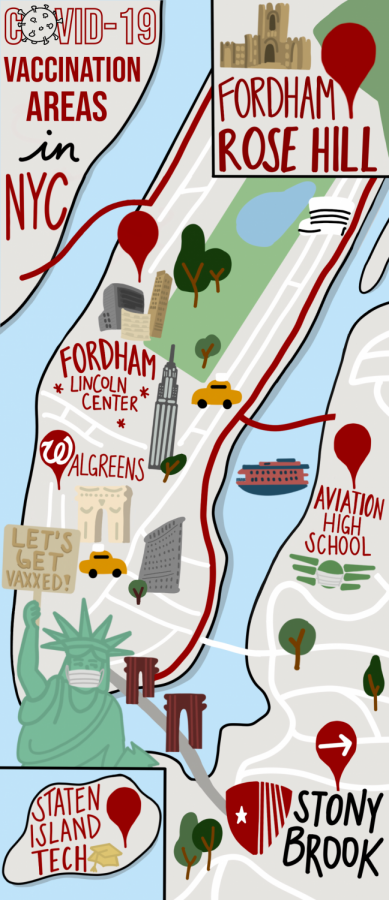 As Fordham's COVID-19 vaccine rollout continues, many of the university's students, faculty and staff have been vaccinated. Following an announcement made by Fordham Public Safety on April 4, the university began administering the Moderna vaccine to faculty and students at both the Lincoln Center and Rose Hill campuses.
Regine Anastacio, Fordham College at Lincoln Center (FCLC) '21, received the vaccine from the Lincoln Center site.
"I got my vaccine done at Fordham and the process was so smooth," Anastacio said. She added that seeing other Fordham students get the vaccine made her feel "hopeful for the future and the end of the pandemic."
Aside from the vaccines provided on campus, members of the Fordham community have received their doses at various off-campus clinics.
Prior to having vaccines on-site, the university informed students that they were able to make appointments at Doctor Urgent Medical Care on East Fordham Road in the Bronx.
Students Vaccinated Off-Campus
Kreena Vora, FCLC '23, received her vaccine at Doctor Urgent Medical Care and said she rushed uptown upon hearing that walk-ins were welcome. 
"The day I got the vaccine, a friend texted me that the clinic in the Bronx was taking walk-ins. I immediately left class and took the subway up to Rose Hill," Vora said. "I was 10th in line and had to wait an hour to get in, but the process was smooth and the people were kind."
Senior teaching fellow Cathal Pratt also received the vaccine off-campus. Pratt was vaccinated earlier this year while volunteering with the Medical Reserves Corps (MRC). 
"I got my first dose back in January, and was fully vaccinated in February. I got it because the MRC requested us to if we were to continue serving–we used the left-overs from Moderna vials after our Vaccine POD (point of dispensing) closed for the day," Pratt said. "I was more proud of New York's roll out than I was relieved–after all we're still supposed to wear masks."  
A shared sentiment among vaccinated students has been that receiving the vaccine was worth any inconveniences experienced while doing so. 
"Even if it was out of the way, I'm glad I made the trip." Ritamarie Pepe, FCLC '22
Ritamarie Pepe, FCLC '22, said she traveled back to Staten Island to receive her vaccine and was glad she did so, despite the commute.
"Even if it was out of the way, I'm glad I made the trip," Pepe said, adding that the nurse who vaccinated her was also a graduate from her high school.  
"We were able to connect on how weird it was to be in our old high school cafeteria while doing our part to fight this pandemic," she said. 
Faith Nix, FCLC '21, recalled an unusual experience getting her vaccine, as the National Guard's presence on-site stood out to her. 
"Driving up to the vaccination site seemed dystopian because of the National Guard directing traffic, but aside from that I had a positive experience and the whole process took less than ten minutes," Nix said.
The Importance of the Vaccine
United Student Government (USG) president-elect Joseph VanGostein, Gabelli School of Business at Lincoln Center '22, and other student leaders on campus have spoken about their vaccine experience and used their platforms to encourage other students to get vaccinated as well.
"I was lucky enough to get both of my Pfizer doses at the Walgreens by campus, and the experience couldn't have been smoother," VanGostein said. "I was a little sore after the first dose, but absolutely fine after the second. These vaccines are definitely our best shot to returning to all the human interactions we love and miss so I encourage all of you to sit for your shot when you can!" 
"Please do your part in keeping yourself and everyone around you safe by getting vaccinated." Loreen Ruiz, FCLC '21
Current USG president Loreen Ruiz, FCLC '21, also received her vaccine recently and said that despite the side effects she experienced, she urged Fordham faculty and students to do their part in protecting others. 
"For me, the side effects I experienced—soreness and a week-long migraine—are totally worth the price of someday being able to hug my friends again and travel freely," Ruiz said. "Please do your part in keeping yourself and everyone around you safe by getting vaccinated."
Maureen Keown, director of University Health Services (UHS), said vaccination is the best way to mitigate the effects of COVID-19. 
"The Covid 19 virus has caused world wide problems that will take years to overcome. Many people got sick and many people lost their lives," Keown wrote. "Studies have shown that the vaccines help prevent severe illness, hospitalizations and death."
UHS has also remained adamant that members of the Fordham community continue to get vaccinated as they become eligible, especially in light of Fordham's announcement that all students are required to be fully vaccinated for the fall semester. 
Leave a Comment
About the Contributors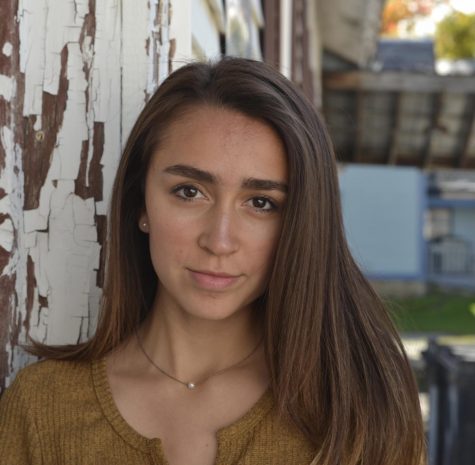 MARIN HOWELL, Staff Writer
Marin Howell, FCLC '22, is a staff writer for The Observer's news section. She is a current journalism major and hopes to work as a politics writer after her time at Fordham. Outside of writing for The Observer, Marin enjoys reading, running and watching "One Tree Hill."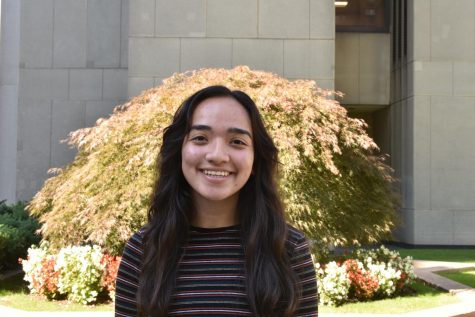 ALEXA STEGMULLER, Former Creative Director
Alexa Stegmuller (she/her), FCLC '24, is the former creative director at The Observer. She is majoring in communications and double-minoring in fashion studies and marketing. When she's not being an iPad kid in Adobe Suite, you can find her romanticizing the streets of SoHo while listening to Taylor Swift, specifically, "Red (Taylor's Version)."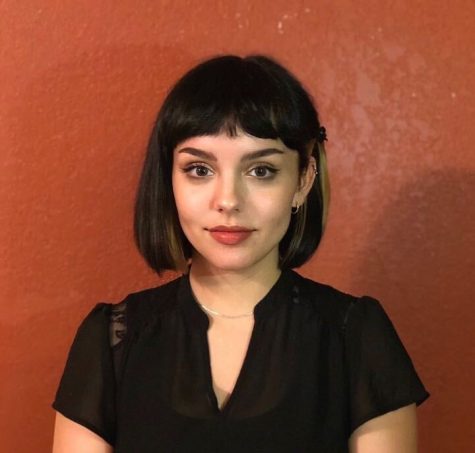 STEVIE CORTEZ, Assistant Opinions Editor
Stevie Cortez, Fordham College at Lincoln Center '21, is majoring in political science and minoring in philosophy and journalism. She writes for opinions and features, focusing on international politics and the perspective of the American working class. Stevie hopes to one day work as a foreign correspondent.