Life on the Job as a Fordham EMT
Shadowing a student volunteer saving lives with Fordham's Emergency Medical Services
A medical emergency occurs on Fordham's campus and an ambulance quickly arrives on scene. Uniformed emergency medical technicians (EMTs) rush out of it and immediately begin to treat the afflicted person. While this may sound like any medical crisis, it is unlike an emergency in the heart of New York City or in the scenes you may have seen in your favorite medical drama — these EMTs are college students in their 20s. 
Among the many diverse student groups and extracurricular activities on campus, Fordham University Emergency Medical Services (FUEMS) is the only one where students can gain hands-on experience providing emergency care to anyone on campus, including students, parents, staff members and faculty. 
The Observer spoke with one FUEMS EMT during her shift on call and got a look into the ups and downs of providing emergency medical support to the Fordham community.
"Doing volunteer EMS work is very hands-on, so you know when someone calls you they really need help. They can depend on you in those vulnerable states." Li Ying Wei, FCRH '21
Li Ying Wei, Fordham College at Rose Hill '21, has volunteered at FUEMS since her first year at Fordham. Wei started training to become an EMT her senior year of high school and was excited to discover Fordham's student-run emergency medical services (EMS). 
"I was like, 'Oh, that's great, I can keep volunteering through FUEMS when I come to college,'" Wei said. 
All students, regardless of prior EMS experience, are welcome to join and receive training. The students who volunteer at FUEMS then receive free training and a New York state EMS certification before they can start serving the Fordham community.
Made up entirely of volunteers, they employ ambulances fully stocked for any medical emergency they may be summoned to and have an active role in ensuring the safety of Fordham's community. 
The onset of the COVID-19 pandemic saw FUEMS deployed to on-campus testing centers, providing community members with free coronavirus tests. Acting as medical personnel, FUEMS staff qualify as essential workers and have had access to vaccines since December 2020, and most, Wei included, have been inoculated.
On Call
A typical shift begins with Wei and her fellow volunteers running inventory on the FUEMS ambulance's medical supplies to ensure that nothing is expired and the ambulance is fully stocked. If Public Safety reports an incident, the EMTs have to be prepared to move quickly.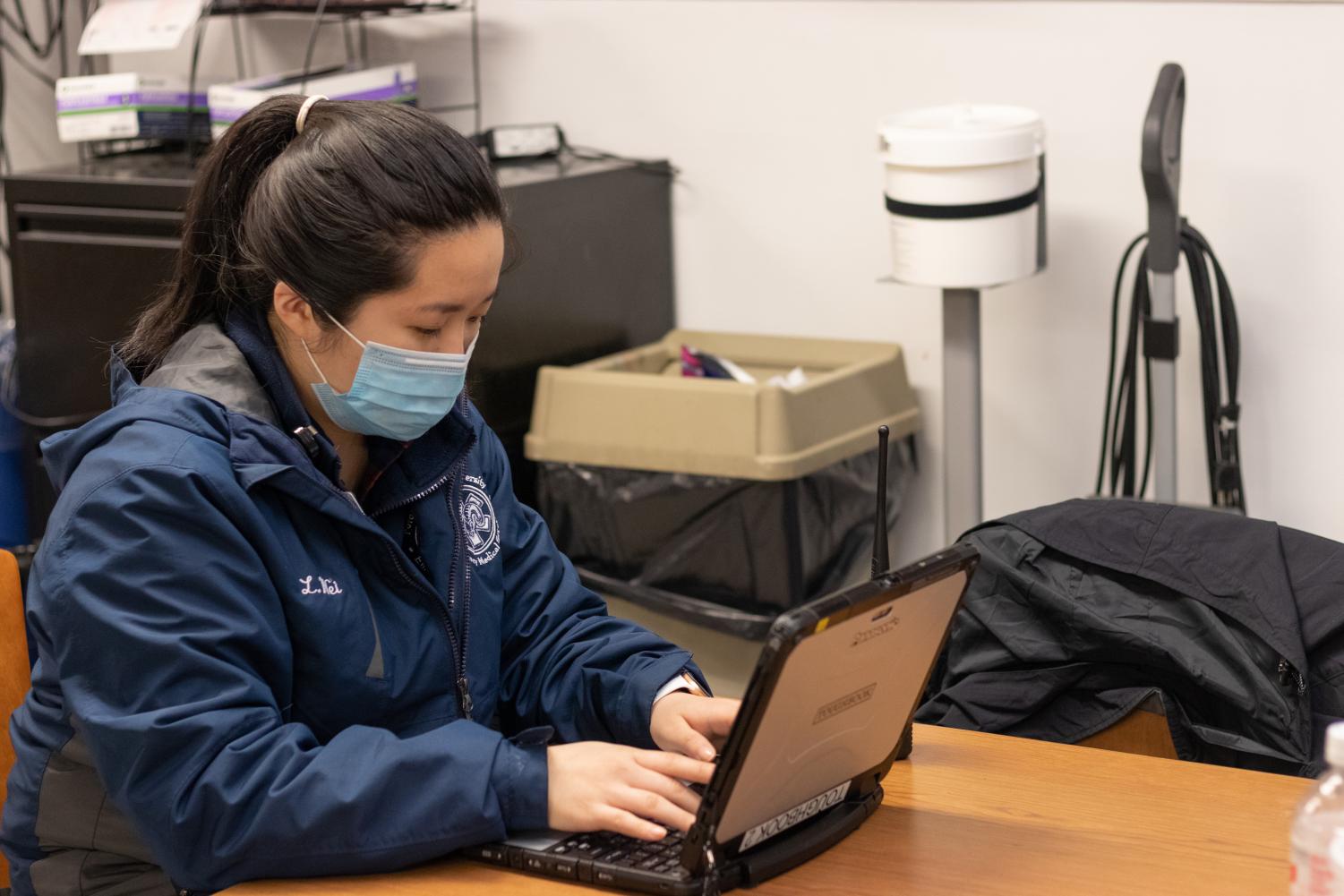 Being an emergency medical technician is no light task; aspiring EMTs in New York state have to pass a variety of physical and mental screenings before certification. EMTs must not only be prepared to deal with any sort of medical emergency but also must have the ability to keep a cool head in fast-paced emergency situations.
"Doing volunteer EMS work is very hands-on, so you know when someone calls you they really need help," Wei said. "They can depend on you in those vulnerable states." 
Wei said the type of emergency situations can vary. "You can't really predict what call you're gonna get," she said. Often, she's called in for respiratory emergencies like asthma attacks or allergic reactions, but she has had to respond to gastrointestinal emergencies as well. 
At any moment, FUEMS members can be roused by a simple message transmitted to their radios: "Base to FUEMS," followed by a brief description of the emergency. Upon receiving the location, EMTs immediately board the ambulance and check one last time that their equipment is in order. Depending on the severity of the situation, the driver may utilize the ambulance's lights and sirens.
Upon arriving at the scene, the EMTs quickly access the situation and address the individual who needs care. The EMTs then safely board the individual into the ambulance to deliver them to the hospital.
This is Wei's favorite part of the job — driving the ambulance with lights and sirens loudly blazing away. "You get to have everything going off and cars move out of the way for you," said Wei. Delivering a vulnerable person in the rig is no light task, and the driver must pay excellent attention to the traffic on the road while the EMTs in the back continue their assessment, treatment and documentation. 
"We can't control the calls that we receive, and there are some calls that really stay with you that are hard to deal with." Li Ying Wei
Supporting Fellow Students
For Wei, the most rewarding experience at FUEMS is getting to share her knowledge with new members. "Seeing other people being as excited as I am about FUEMS is very rewarding," Wei said. When not on a call, Wei spends a lot of her time walking recent recruits through mock-scenarios and hands-on practice. FUEMS staff spend a lot of time together on shifts, providing a ripe environment for deep friendships to form.
This sense of community can be essential for FUEMS members, Wei said, particularly after dealing with a traumatic call. "We can't control the calls that we receive, and there are some calls that really stay with you that are hard to deal with," Wei said. FUEMS members sometimes partake in debriefings after particularly distressing shifts. She described the "good peer-support system" within the organization.
As a senior majoring in biology, Wei hopes to eventually attend medical school and become a doctor. Until then, she is more than happy to put her EMS skills to use, saying, "I see myself continuing to volunteer." The greatest boon from her years at FUEMS has been the many colleagues-turned-friends she's made along the way. "We're always reaching out to one another," Wei said.