The Aces Perform at First Hybrid Winterfest Concert
A virtual show and in-person viewing bring students together through music
In 2012, the Campus Activities Board (CAB) planned the first Winterfest concert at Lincoln Center where band Hellogoodbye headlined. 
This year, Melissa Gazal, current assistant director for programming, coordinator of alcohol and other drug education, and Fordham College at Lincoln Center (FCLC) '14, served as the faculty advisor for the first hybrid Winterfest concert. When Gazal was a student, she helped plan the first Winterfest as a member of CAB.
Winterfest began as a counterpart to Rose Hill's Spring Weekend in an effort to bring more school spirit to Lincoln Center. "There was this perception that everyone always had to go up to Rose Hill for these big events. We wanted that same feel here at Lincoln Center," Gazal said, reflecting on her first Winterfest. 
This year's Winterfest committee was chaired by Zuzanna Smurzynska, FCLC '22. Last year's concert — headlined by Social House — had been one of her first events as CAB's treasurer, and she was eager to take on the challenges of planning an event in a hybrid world.
"We heard that the Aces were great as a virtual band — that they were doing a lot of things during quarantine and really loving it." Zuzanna Smurzynska, FCLC '22
"I think the biggest challenge has been figuring out how to translate things to virtual without compromising the event," Smurzynska said. Planning with Gazal began in July 2020, and the committee regularly met beginning that October. 
"At the beginning of planning, it was about what artists were available to do virtual concerts, not knowing where we would be in January or February, so not knowing if we should be planning virtual or in person or some kind of hybrid," Smurzynska said.
Like typical years, the student body voted on the Winterfest artist via a survey — and The Aces were chosen.
The Aces are an all-girl indie pop band from Utah made of lead vocalist Cristal Ramirez, her sister Alisa Ramirez on the drums, guitarist Katie Henderson and bassist McKenna Petty. In 2017, the group opened for band 5 Seconds of Summer on their Meet You There Tour. They released their second album, "Under My Influence," last year.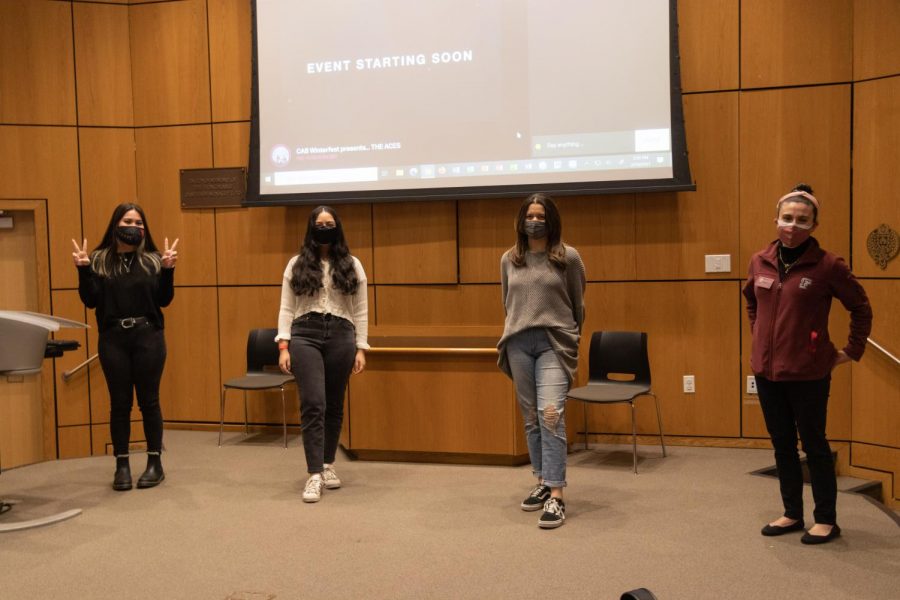 "We heard that the Aces were great as a virtual band — that they were doing a lot of things during quarantine and really loving it. So they are one of our top picks on our list," Smurzuynska said.
Along with the difference of a virtual headliner, another major change was not having the traditional Fordham opening act. Fordham-favorite musicians like Chesca Mac, the Inoculated Canaries, Tigerlily and Chris Parkin have all opened for Winterfests past.
The committee discussed having opening acts livestream from campus but did not want to exclude artists who could not come in person. 
"We thought about maybe having people submit a video, but at the same time that was kind of stepping on the toes of Fordham's Got Talent, which is another CAB event," Smurzynska said. "We encourage everyone who might have applied for the opening act to apply for that." 
The next step of the planning process was getting The Aces to the viewers. "Just watching a video of an artist singing doesn't feel the same," Smurzynska said. 
The committee eventually chose the "virtual venue" Looped, a livestreaming platform that allows for live virtual audience participation, Q&As and meet and greets. 
"We liked Looped because it's different — so it's not just another Zoom call that you're signing onto, so it'll look a little different with some cool features on there like the live Q&A," Smurzynska said. 
In addition to the Looped stream, hybrid Winterfest included an in-person viewing session in McNally Amphitheatre. 
"We just approach our artistry less inhibited now. We've pulled inspiration from so many places — movies, other artists, fashion. We're in a really mood board place." Cristal Ramirez, The Aces
"We really wanted to push, when we realized that it would be all virtual, to have some kind of in-person component to bring people, even if it's just two people together. It would be worth it, so that they could experience it together," Smurzynska said.
The in-person tickets had not been open to Rose Hill students and were unaffected by Rose Hill's campus closure. The show began at 8 p.m., and students sat social distanced throughout the room with the Looped stream on the projector. 
Smurzynska opened the show with a welcome message and introduced The Aces. They performed from a gray studio with funky lighting. The stream cut from different camera angles as they performed songs from "Under My Influence" and their debut album, "When My Heart Felt Volcanic." 
The biggest success of Winterfest 2021 was the chat feature. The concert was a true hybrid event because the virtual viewers' comments were projected alongside the concert stream and in-person viewers could participate in the chat from their phones.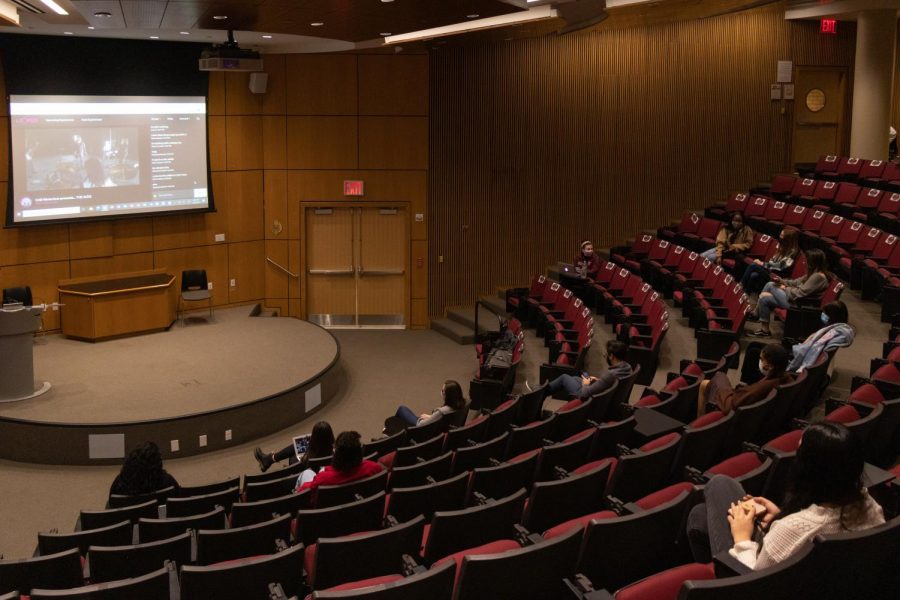 The chat had high engagement during the entire hour-long concert. Both virtual and in-person viewers interacted in the chat, dropping Instagram handles and LinkedIn profiles. After the 45-minute setlist and a short break, The Aces sat down for a Q&A.
The band answered advice on how to find success in the music industry by "starting locally" like they did in their home state of Utah. 
"Play every day, make it a part of your routine, like how you brush your teeth," Alisa Ramirez said. 
When asked about how quarantine affected their music, Cristal Ramirez said, "We just approach our artistry less inhibited now. We've pulled inspiration from so many places — movies, other artists, fashion. We're in a really mood board place."
They addressed the excitement in the chat when they performed their song "Volcanic Love": "'Volcanic Love' is The Aces. It's The Aces in their truest form."

The Aces also answered a question about being openly queer musicians. "We have a very welcoming communication. It's amazing to be a musician during a time where you can be your full self," Alisa Ramirez said.
The audience clapped at the end of the show despite The Aces not being able to hear them. Isabella Gonzalez, FCLC '23, who watched virtually, said, "Despite being virtual, I thought the Q&A at the end offered a nice intimate touch." 
Bea Mendoza, FCLC '22 and Winterfest committee member, said, "I think that the event went incredibly well. I was a little worried the virtual concert would have glitches or pauses but nothing terrible happened. The whole thing actually felt more intimate somehow, with chat popping off and the Q&A after." 
Smurzynska, who planned the entire event remotely, was very happy with how the concert ran. "One of our biggest goals this year was to branch out in the artist we had for Winterfest, and I'm so pleased that we decided on an all-female band; The Aces were phenomenal and put on such a good show. Seeing all the excited comments and all the people enjoying themselves made all the work and planning infinitely worth it."