COIN and CAB: Winterfest at Lincoln Center
A $55 ticket plus tax and fees and a bus commute to Irving Plaza or a $5 ticket and an escalator ride down to Pope Auditorium? These are your options if you want to catch COIN live in New York City this winter. Every year the Campus Activities Board sponsors Winterfest, a concert right at Fordham Lincoln Center that students can attend for the price of an Argo Teapuccino.
This year's Winterfest will take place on Friday Jan. 25 at 5:45 p.m., but the concert's student-run planning committee has been working on the event since September. Winterfest is truly an event produced by and for Lincoln Center. The main act, COIN was chosen via voting poll from the Fordham community. COIN, an indie pop band from Nashville, Tenn., known for their single, "Talk Too Much," will begin their North American concert tour after Winterfest. While you could catch COIN when they come to New York City in February, Committee Chairperson Daniela Silva, Fordham College at Lincoln Center (FCLC) '20, said, "Winterfest is even better because the crowd is full of Fordham students who want to have a fun time."
Winterfest presents appeal even if you're not interested in the main act. "Most important to me are the opening acts, which are sourced from the Fordham community," said committee member Dan Nasta, FCLC '19. Everyone in the community was invited to submit an audition tape, and the final opening acts were chosen by the committee and announced at their Artist Release Party back in December. This year's opening acts are Chesca Mac, FCLC '21, and rock band The Inoculated Canaries with lead singer Michael Rubin, FCLC '20. "The openers are incredible this year and I wouldn't want anyone to miss them," Silva said.
A well-known artist group performing on campus and student musicians opening for them is a buzzworthy event, but Winterfest is much more than just a concert.
Fordham University has its token big events to foster school spirit that students from both campuses are invited to like President's Ball, Homecoming Day and Spring Weekend. However, all take place at Rose Hill. "Winterfest is all about having a big event at Fordham University Lincoln Center," Nasta said, "It's our main pillar of culture during the spring semester. That's why it's also marketed towards Rose Hill students."
Winterfest was originally designed to be Spring Weekend's Lincoln Center counterpart and is a chance to show some Lincoln Center pride. "I think it's just fun to come together and enjoy something as a school. Especially down at Lincoln Center, where we're not really into sports or things like that, it's fun to have events like this that are catered specifically to us and showcase some awesome talent at our own school," committee member Sharika Koul, Gabelli School of Business '19 said.
If you want to attend this celebration of music and inter-campus school spirit, tickets are being sold from 1 p.m. to 5 p.m. on Tuesdays, Wednesdays and Fridays and 12 p.m. to 2 p.m., and 5 p.m. to 7 p.m. on Thursdays in the Indoor Plaza for $5. For the first time, Winterfest is offering a digital ticketing system available via Fordham's ticketing website (fordham.universitytickets.com) in hopes to reduce paper waste. The online option includes a 50 cent processing fee. Undergraduate students can purchase tickets for themselves and up to two guests.
To those who have been before or want to put Winterfest off until next year, Silva said, "The concert experience is different every year so if anyone is hesitant about going, I'd suggest just going and having fun."
To seniors who have yet to attend and don't know what they're missing, "Winterfest is an opportunity to bring together the whole Fordham community, both Lincoln Center and Rose Hill, together to have a fun time," Silva said. If Rose Hill-relations and campus culture mean nothing to you, Janel Fitzgerald, FCLC '20, said, "It's a five dollar concert, how can you pass that up?"
Tips from the Winterfest Committee:
Book your Ram Van tickets early

Arrive by 6 p.m. to catch the Opening Acts

Hydrate! Concerts are hot and there will be free water.

Avoid crazy long lines by not bringing a bag and skipping bag check
Meet this year's opening acts: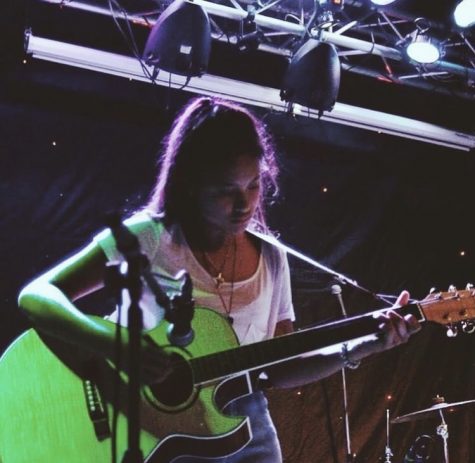 Franchesca Macalintal, FCLC '21, is an anthropology major on the pre-health track, and can now add Winterfest 2019 Opening Act to her portfolio. Hailing from a family of musicians, her first memories of being onstage are of holding the microphone for her older brother and sister when they would sing. At the age of nine, she began singing at events around her hometown in New Jersey like benefit concerts, weddings and coffeehouse gigs.
Although she grew up around performers, Macalintal said, "It wasn't until high school that I really got rid of my stage fright." Now releasing music under "Chesca Mac," she has gained gained a following on YouTube and Soundcloud by posting covers and original songs. In Nov. 2018, Macalintal released an entirely self-produced single, "After All." "It's compilation of everything anyone's ever told me about love," she said about her romantic single.
Last year's Winterfest piqued her urge to perform, and although juggling finals when auditions rolled around for this year, she said, "You either do it or you don't, what's the harm in trying?" During her 30-minute set, concert-goers can expect covers and a few originals. With experience performing at Songwriting Club's open mic nights, Pope Auditorium will be her biggest stage yet, Macalintal said, "I'm a little more nervous than I would be, but I'm definitely excited to try something new and share it with everybody.
Inoculated Canaries
Called "Fordham's rock band," The Inoculated Canaries are returning to Winterfest stage after opening for The Mowgli's in 2017. Mike Rubin, FCLC '20, the vocalist and guitarist, gained an interest in music by playing Guitar Hero before trading in the video game version for the real instrument. Rubin and his band are seasoned musicians, releasing their first EP, "The Blue Laws," (2013) when Rubin was only 13 years old. Their full-length album, "Trying Times" was released last year.
The band performs all over New York City, but Winterfest is one of Rubin's favorite shows, "It's awesome because it's the big stage at Pope and you look out and it's all Fordham people and everyone's really stoked about it. The crowd is huge, and you have all your friends out there." The Inoculated Canaries will perform their new, unreleased song, "Sneakers" in their 45-minute set. Having shot the music video recently, Rubin said the song is about the "bumps in the road" in a relationship. More worried about gear and equipment malfunctions than actually performing, Rubin is excited to take the Pope Auditorium stage again, "Last time we played it was great. Plus we have a couple of new songs this year, I'm really excited about that. It's a really good show, and it's a huge crowd, what else do you need?"