Ruiz Reflects on First Half of Academic Year
USG president discusses her midterm review and plans for the upcoming semester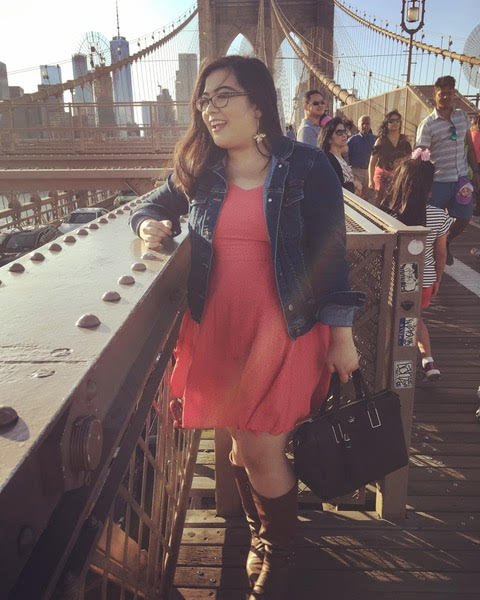 United Student Government (USG) President Loreen Ruiz, Fordham College at Lincoln Center (FCLC) '21, released her midterm review on Feb. 6, in which she listed her original campaign initiatives and summarized the progress made on each of them. 
Ruiz is the first USG president to release a midterm review, and she committed to doing so during the USG presidential debate this past April. The goal of the review was to revisit and update students on Ruiz's other campaign promises. 
Among Ruiz's initiatives was instating a two-business-day email policy — a practice USG has successfully implemented. Ruiz said she is most proud of this policy as it prioritizes students. 
"I came up with this policy because not only is it professional, it also shows students that we care about their concerns and work to get them resolved in a timely manner," said Ruiz.  
During her term, Ruiz has focused on inclusivity at Fordham, particularly when it comes to working with student organizations. One of Ruiz's ongoing initiatives is to spotlight a multicultural club at FLC in an event addressing stereotypes. 
Co-hosted by USG, this event would highlight a student organization and address a topic specific to that club's interest. The plans for this event are still in the works, as Ruiz said she wants the event to be driven by student input.
"In terms of the subject or content matter of the event, that would depend on who we collaborate with," Ruiz said. "I want to make sure we're doing an event on a topic they (student organizations) are interested in."
"Even further, her voice and efforts have given us a healthy environment to work in to make a difference." Aaron Silva, FCLC '21
USG has worked toward supporting student organizations in other ways this past semester. 
One way of doing so was by offering accommodations to clubs impacted by the pandemic, an initiative that Ruiz credits to the USG Chair of Operations, Rachana Komatireddy, FCLC '22. 
These accommodations allow for clubs to have partial membership. Ruiz said that with distanced learning making it difficult for club members to stay active, partial membership offers grace to student organizations. 
"That sort of intermediary status means that clubs won't immediately go inactive. We give them extra time to find club leaders if there have been resignations, and we've also given some extensions on deadlines for clubs to submit their budget," Ruiz said.
During her time in office, Ruiz also spearheaded Fordham's first-ever anti-discrimination policy for student organizations. The policy is called "Start With Us," and it is a voluntary initiative consisting of seven foundational tenets. By signing onto the policy, clubs commit themselves to inclusive practices and agree to be held accountable for any identity-based discrimination that takes place under their jurisdiction. 
At the start of this academic year, 15 student organizations and three other organizations at Fordham Lincoln Center (FLC) were signed onto the Start With Us policy. 
Filipinos of LC Offering Welcome (FLOW) was one of the student organizations to sign onto this new policy. FLOW's Secretary, Aaron Silva, FCLC '21, said that the Start With Us policy embodies FLOW's values and cultivates a positive environment on campus. 
"I hope that even when my time at Fordham ends, clubs will continue to think about how they can be inclusive in their leadership programming." Loreen Ruiz, FCLC '21
"Loreen's goals, reflected in the Start With Us policy, aligned with FLOW's commitments to the greater community we interact with daily," Silva said. "Loreen has not only influenced the initiatives we've done and will continue to do. Even further, her voice and efforts have given us a healthy environment to work in to make a difference. Our signing of said policy elucidates that fact."
Ruiz said USG hopes to have more student organizations sign onto the Start With Us policy at USG's Networking Dinner on Feb. 18. 
USG Vice President Robert Sundstrom, FCLC '22, also reflected on the past semester, celebrating the work that USG members were able to accomplish despite challenges posed by the pandemic. 
"I would just like to commend the current USG Senate on their commitment and dedication during this pandemic, last semester was one of the most productive for USG that I have experienced and I am extremely hopeful that the coming semesters with the current representatives will be equally if not more fruitful," Sundstrom said. 
Looking ahead, Ruiz plans to dedicate the spring semester in part to divestment from Aramark. While doing so has proven difficult due to a lack of planning and alternative dining services, Fordham students remain adamant that more inclusive and higher quality dining options be offered on campus. 
Ongoing initiatives also center around supporting students at FLC, specifically Burmese students after the military coup that took place in Myanmar earlier this month. 
"I would like to continue providing support and advocacy for Burmese students and to the Burmese community worldwide," Ruiz said. "I want to make sure that we continue supporting Burmese students, whether that means sharing ways to help on social media or helping organize a team support session if there's interest." 
As a senior, Ruiz is beginning to think about what kind of legacy she hopes to leave behind at Fordham. Ruiz hopes that future leaders of USG continue to prioritize inclusivity on campus. 
"I hope that even when my time at Fordham ends, clubs will continue to think about how they can be inclusive in their leadership programming," said Ruiz. "I think that Start with Us is a policy that can stick around for years to come." 
As for her personal legacy, Ruiz said she wants to be remembered for the work she has done for students at FLC and beyond. 
"I want to be remembered as someone who used their energy for change at Fordham and in the world at large," said Ruiz. "We all have a finite amount of energy in our days, and I choose to put mine toward listening to students and advocating for them."