Fordham Clubs Join Forces With USG to Pledge Anti-Discrimination Action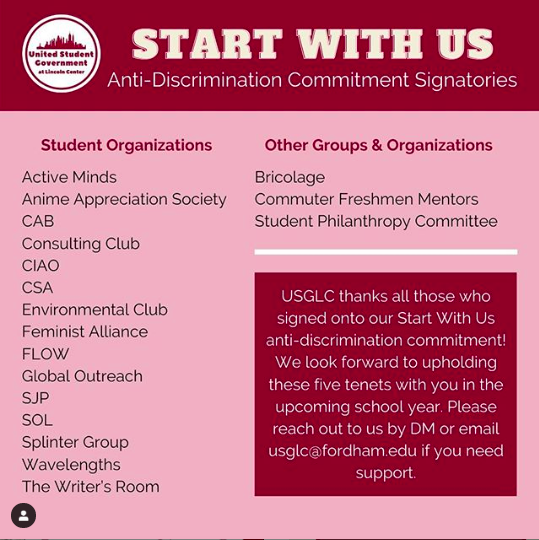 Correction: In a previous version of this article, the comments provided on behalf of Wavelengths radio station were incorrectly attributed to a member of the team. This section of the article has now been amended to represent the entire Wavelengths staff.
As the United States navigates a period of great change with the coronavirus and widespread conversation sparked by Black Lives Matter protests, student leaders are looking internally to create change. 
Fordham clubs and organizations have been reimagining and reforming their established practices in response to a collective call for the inclusion and execution of anti-discrimination and anti-racism on campus. 
On July 18, the United Student Government (USG) at Lincoln Center released a statement and anti-discrimination pledge on Instagram called "Start With Us" encouraging student leaders to sign the pledge and formalize their commitment to diversity and inclusion. 
USG cited the "traumatizing, uncomfortable, and valid experiences" students have shared on the Instagram accounts @letstalkaboutitfordham and @blackatfordham about discriminatory treatment within various Fordham departments as the basis for their pledge.
The pledge details five points which USG promises to maintain as they continue to hold themselves accountable; USG stresses the rejection and fight against hateful actions such as perpetuating stereotypes, minimizing and comparing oppression and traumas, making disparaging comments against organizations associated with minorities, performing hate crimes or other displays of discrimination and promoting any individuals who violate these mandates. 
USG representatives also listed pursuing divestment from Aramark, creating a bias concern form, constructing meaningful anti-racist programming and looking into incident reporting systems as simultaneous goals. 
"As student leaders of USGLC, we wanted to demonstrate our leadership by proactively stepping up against all forms of discrimination on campus, and encouraging others to do the same," Loreen Ruiz, Fordham College at Lincoln Center (FCLC) '21 and president of USG, said. 
"Students ought to know that we are allies for all students, and that our allyship is reflected not only in our written speech, but also our actions and mentality."
A list of Fordham clubs and organizations that signed the pledge was released in an Instagram post on Aug. 10. As of Aug. 16, 24 out of the 60 groups on the Lincoln Center campus have committed themselves to these five tenets. A few of these groups include Commuting Students Association (CSA), FLOW, the Filipino Club at Lincoln Center and Wavelengths, a student-run radio station.
CSA, an organization that represents and advocates for undergraduate commuters at Lincoln Center, has shifted its focus to anti-racist and anti-discrimination efforts and amplifying the voices of groups on campus such as the Black Student Alliance at Lincoln Center or ASILI at Rose Hill.
"The ultimate goal is not only being consistent with our progress within this academic year, but to take this pledge that we swore to to heart and allow the anti-discrimination work to become a part of our yearly work instead of a temporary accessory," said Hannah Kang, FCLC '22 and president of CSA.
Kang also mentioned that CSA recently joined an inter-campus coalition called Fordham Initiative for Race Equity (F.I.R.E.), which combines the "Big 4" of Lincoln Center, including USG, CSA, Residence Hall Association (RHA) and Campus Activity Board (CAB), and the corresponding Rose Hill organizations. The main goal of this coalition is to be actively pro-Black and support ASILI in having all of its anti-racist demands met.
"The ultimate goal is not only being consistent with our progress within this academic year, but to take this pledge that we swore to to heart and allow the anti-discrimination work to become a part of our yearly work instead of a temporary accessory."
Hannah Kang, FCLC '22
Individually, CSA plans to host more dinner and recreational outings outside of Manhattan to engage with and support local businesses, purchase catering and other programming items from Black and non-Black People of Color-owned New York City businesses and host fundraiser events to support neighboring boroughs and communities. CSA is also dedicated to using their growing platform to amplify and promote events on campus hosted by Lincoln Center's cultural clubs.
"We are committed to being there for all identities within our organization and outside of our organization. In the classrooms, in communal spaces, in work spaces, in study spaces, and in the dining halls, we are going to be there for them 100% of the way," Kang said.
For Regine Anastacio, FCLC '21 and president of FLOW, publicly committing to anti-racism was important seeing as the Filipino Club already serves as a space for inclusion, safety and support for Filipinos and Filipino allies. She emphasized the need to extend the love and support within the FLOW group to the entire Fordham community.
During the month of October, Filipino American History Month, FLOW will be paying homage to the Black Lives Matter movement through an online panel. Anastacio stated that the histories of the Black and Filipino communities were intertwined during the civil rights movement and the Philippine-American War, binding the struggles and liberations of the two groups. FLOW will also be hosting a talk discussing the influence of Black artists on popular music genres. 
Wavelengths, an entirely student-run radio station, aims to amplify the voices of Black, Indigenous, People of Color (BIPOC) through the medium of music. To diversify the content of their radio station, the staff of Wavelengths plans to host a series of live sets featuring music exclusively created by BIPOC artists. 
In a statement to The Observer, the Wavelengths staff stated that "music has long been an outlet for the oppressed to raise awareness of their personal experiences and to allow listeners to show solidarity with the artists they listen to. We want to encourage all our DJ's to use their platform and music choices to advocate for social changes they believe in."
A year from now, Wavelengths aims to be one of the most diverse groups on Lincoln Center's campus, despite Lincoln Center's historically majority-white student body. 
Given the initial positive reaction and growing number of signees, Ruiz said she is feeling optimistic about working towards and creating a more equitable campus.
"We believe that clubs will take a common sense approach to upholding the five tenets of the pledge, and we hope that they are a tool for them to center their thinking and planning as we move towards the beginning of a new year."