Established New Coach + Talented Young Team = Bright New Era?
After one of the worst seasons in school history, the Fordham University Mens Basketball Team hope new leadership can help turn things around. Former Hofstra head coach, Tom Pecora, is taking over the team this season, in an attempt to guide a youth-filled team to a winning season.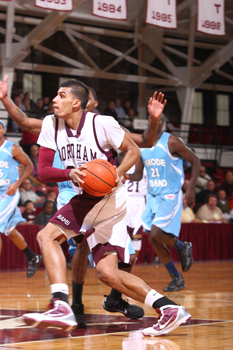 The Rams finished the 2009-2010 regular season with a dismal 2-26 overall record and a 0-16 Atlantic-10 (A-10) conference record. The 0-16 conference record made the Rams the first A-10 team in 17 years to lose every conference game.
The team began the year in turmoil after losing four of its five games. In an attempt to right the ship, head coach Dereck Whittenburg was fired. However, the team did not fare any better under interim head coach Jared Grasso, as the Rams went 1-22 under the new coach, losing their last 21 games.
The Rams averaged a mere 62.7 points per game, while giving up 78.1 points per game. This -15.4 scoring margin combined with a -3.7 rebounding margin and a -3.1 turnover margin was a recipe for disaster.
Pecora keyed in on these points when asked what the team needed to improve. "Last year we were at the bottom of the conference in defense, rebounding and assist-to-turnover ratio," Pecora said. "Those are the three keys we've worked on."
One of the few bright spots for the team was a win over an eventual NIT Tournament participant, the Stony Brook Seawolves. For this season to be considered a success, the program will need many more of these flagship wins.
Leading the charge this year will be redshirt senior guard Brenton Butler, Fordham College at Rose Hill (FCRH) '11, and sophomore forward Chris Gaston, FCRH '13. Gaston and Butler are coming off strong individual seasons in which they finished as the only two Rams to average double-digit points, with 17.9 points per game (ppg) and 16.0 ppg respectively. Gaston also finished as the only Ram to average over four rebounds per game (rpg) with 11.1 rebounds per game.
For the team to be successful this season, Pecora feels that Gaston and Butler will have to play vital roles. "We have fifth-year senior Brenton Butler as our captain and Chris Gaston is the reigning A-10 rookie of the year," Pecora said. "It begins with those two as our cornerstones.  We added some new bodies and I think the talent level is a little higher. It makes for a strong team."
The new head coach also believes the team is responding well to the new leadership. "The response has been pretty good," Pecora said. "I think there's been a positive influence. The team's done everything we've asked of them. It's a new system with new responsibilities."
Pecora's system is one that led his Hofstra Teams to an overall record of 155-126. After 10 seasons at Hofstra, Pecora said the transition to Fordham has been "tremendous." "It's been wonderful and everything I thought it would be," Pecora said. "Everyone's been great from Father McShane on down."
The Rams open their season on Nov. 12 against Brown University. The team will attempt to start this season on the right foot in order to avoid last season's debacle.
While Pecora did not state how he expects the team to perform in the win-loss column, he did elaborate on what he expects from his players from game to game. "I expect the team to come prepared to win, to play harder than the other team and to perform to the highest level capable," Pecora said. "It's year one; it's difficult to place an expectation level. You don't know how some guys are going to perform until the lights go on."