The Show Must Go On
Fordham hosts its third annual ode to drag culture with an online ball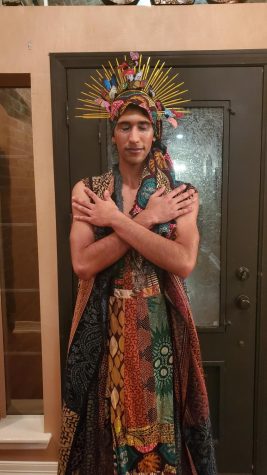 The act of drag has a long history, and though it has evolved from a simple theater term to a pop culture necessity, its purpose has always remained the same — to give people the chance to play around with gender and performance in a world that otherwise demands they stick to the rigid rules of the binary. 
The History of Drag
"Paris Is Burning" is a documentary that captures ball and drag culture in New York. Filmed in the mid-1980s, the documentary is a time capsule of the culture that bloomed in that era. Now, in queer communities, the film is considered historic and provides an extensive background of queer and transgender history. 
Drag emerged out of a want for luxury and access. People of all genders would act as though they were part of a glamorous lifestyle that was realistically out of reach. It is important to note that drag culture emerged out of the need for safe spaces for Black and brown queer and trans people.
The purpose of the ballroom community for the people in "Paris Is Burning" was to provide everyone with an opportunity to display themselves in their own fantasy. Ballroom emerged as a place where the community could come together and support each other regardless of their race, class, gender or sexuality. 
Traditionally, a drag ball or show had various categories, many of which were meant to allow folks to feel the "realness" of cisnormativity in a queer space.
Not every category entailed playing around with gender: Some envisioned a world without the barriers of class and race. For Black gay men, for example, having access to an executive corporate space is not common. By participating in a category like executive realness, where one would dress in corporate masculine attire, they could create a fantasy that felt real even if it was just for one night. 
"In real life, you can't get a job as an executive unless you have the educational background and the opportunity. Now, the fact that you are not an executive is merely because of the social standings of life — Black people have a hard time getting anywhere and those that do are usually straight," Dorian Corey, a historic trans woman and ball star featured in the documentary, said.
It was not going to be on my watch that we were going to break our streak of having a drag show, even if it's not going to be able to live up to previous years. Katz Fantulin, Rainbow Alliance secretary
Fordham's Rainbow Alliance actively seeks to foster this same community, ensuring that everyone feels comfortable to perform despite now being virtual. 
Elements of a Drag Show
For the students at Fordham, the same magic art of inclusion occurs during the annual drag show. As Katz Fantulin, Fordham College at Lincoln Center (FCLC) '22 and secretary of Rainbow Alliance, described, the performance of drag is the act of creating a fantasy in reality. For students, that could mean becoming their favorite artists or embodying a totally different persona. 
Rainbow Alliance hosted its third annual drag show on Nov. 20, which also happened to be Trans Remembrance Day. "It's the third drag show in a row that we've had, it was not going to be on my watch that we were going to break our streak of having a drag show, even if it's not going to be able to live up to previous years — we have to have it, we have to keep that community going," Fantulin said. 
Though the Fordham Drag Show doesn't have traditional categories like a typical ball does, it creates a space for anyone to perform how they see fit. This year there were lip-syncs, instrumental performances, performances of original music and lots of dancing. The sense of community within the drag show performers is what brought Wayne Babineaux, FCLC '20, back to perform once again.  
Fordham's Drag Community 
"I've been proud to call this community home for the past three years," Babineaux stated. "I've grown a lot as a person since last year. I remember stressing out about every detail of my performance … this year, my piece was all about accepting who you are and where you are in this present moment."
Babineaux performed two songs, "Authors of Forever" by Alicia Keys and an original piece that he is currently writing called "Dust." These two songs allowed him to share the main reason why he chooses to perform drag — tapping into different parts of his identity and accepting himself as he is. 
I wanted to bring comfort, strength, and healing to the Drag Show community this year, because I know from personal experience how hard this year has been. Wayne Babineaux, FCLC '20
From his house in New Jersey, Bradley James, Fordham College at Rose Hill (FCRH) '23, performed a lip-sync to Ariana Grande's "34+35." The virtual performance was a collective effort between him and his friends from home, who also got to participate despite not being Fordham students.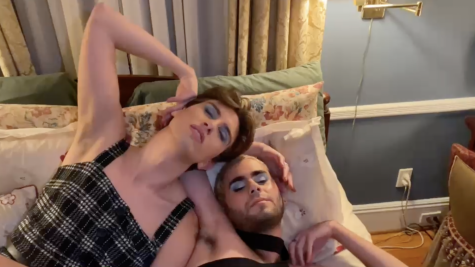 James utilized the space that he had in his home to make the performance more interesting and interactive. Compared to being on a stage last year, he found more ways that he could get creative with his space. "I wanted to make it feel like a music video, so I had a friend film different shots of us around the house," he said. "I love dancing and lip-syncing. I used to do it at parties and random events for fun, so doing it this year for the drag show was really special."
Fantulin performed a lip-sync of the song "Never Wanted to Dance" by Mindless Self Indulgence. "When I drag, the emotion I am trying to channel is some dude on stage with a band singing a song, so I try to emulate stage movements rather than a dance routine," they said. 
Fantulin described the stark differences of performing drag online versus in person, emphasizing that access to materials became much harder while socially distanced. They used what their McMahon room had to offer — a whisk and their roommate to film the performance. "On one hand, it sucks to not have the equipment, but improvising and using a DIY angle is fun in and of itself."
James also expressed that he didn't have the full resources to do a full drag transformation, but that didn't stop him or Fantulin from creatively tapping into their drag personas. 
The drag community has found a way to foster a space where people can work through their differences through art. Babineaux seconded this with his belief in the healing powers of drag within the Fordham community. "I wanted to bring comfort, strength, and healing to the Drag Show community this year, because I know from personal experience how hard this year has been, especially for young artists like us," he said.
Being virtual has only allowed for the community to grow stronger while farther apart; the Zoom chat was full of words of encouragement from friends and family. Rainbow Alliance has now created a community where alumni like Babineaux can come back and still maintain a close presence with club members and Fordham as a whole. Even though traditional balls are no longer taking place, the Fordham body and larger NYC area continue to find ways to express themselves freely.