Trans Awareness Week: Taking Action Past the Week of Remembrance
Trigger warning: violence against trans people, trans murder
The year 2020 has been the deadliest one on record for transgender people in the United States. We have already lost 44 trans siblings and most mainstream news outlets have not covered this epidemic. Today, Nov. 20, and every day, we honor the beautiful trans lives that have been taken from us too soon. 
Just two days ago, on Nov. 18, Yuni Carey was stabbed 36 times. She was well known for being an active member of her community as an entertainer. She was found unresponsive in Miami, Florida, and the suspect has not yet been identified.  
During Trans Awareness Week, and all weeks in the future, it is imperative that we center the trans community so that their needs can be heard and represented. 
Understanding the intersection of race, class and gender when talking about these issues is important, as Black trans women constitute the majority of people who are victims of transphobic violence. They are victims of violence from cisgendered people, heterosexual people and even queer people. 
According to a study conducted by the Inter-American Commission of Human Rights, Black trans women in the United States have a life expectancy of 35 years. Thirty-five. Many of the victims of transphobic violence didn't even reach the age of 20.
It is simply not enough to be saddened by these statistics — we must push ourselves as a community to do better.
It is news like this that emphasizes the absolute necessity of protecting and uplifting trans lives. It is simply not enough to be saddened by these statistics — we must push ourselves as a community to do better. Doing better means holding ourselves accountable, it means making mistakes and it means taking action moving forward. 
Here in New York, a group of Black trans women, led by Qween Jean and Joel Rivera, have come together to organize a protest that happens every Thursday at the Stonewall Inn. These women carry on the legacy of the Stonewall riots and have protested for 23 weeks straight for Black liberation. 
Rivera is just 19 years old and started this movement on June 18. Through going to Stonewall protests, I learned that Rivera and many other Black trans women did not see other Black Lives Matter marches screaming the names of the Black trans people we have lost this year. 
The media outlets aren't including trans Black people either doing it either. We all know George Floyd and Breonna Taylor's stories, as we should, but do we know the stories behind Angel Haynes or Brooklyn Deshuna? Do we know about their lives? 
Angel Haynes was a beautiful Black woman who was fatally shot in the head in Memphis, Tennessee, on Oct 25. She worked as a cosmetologist and was a friend and loved one to many. 
Brooklyn Deshuna was a 20-year-old Black trans woman who was killed in Shreveport, Louisiana, on Oct 7. She was a student at Bossier Parish Community College studying to become a cosmetologist.
When we see a trans person in a situation where they are in danger, we must stand up for them. We must fight back for them.
This Trans Awareness Week, we must acknowledge the lives that have been lost in Puerto Rico, a United States territory that seems to gain little-to-no coverage in the U.S. media outlets. Six of the trans people who died in 2020 were from Puerto Rico, and many were trans people of color.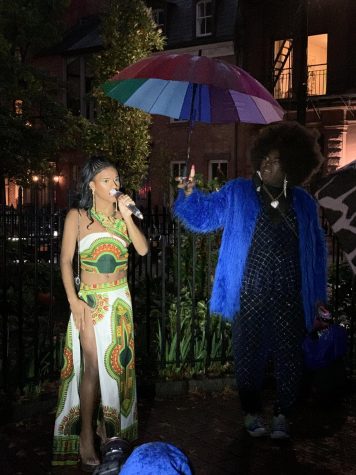 How can we, as a community, do better?
We can listen to and not assume the needs of others. We can get educated, and we can educate our friends and families. Especially for cisgendered people, now is the time to educate yourself so that even after this week has ended, the work that needs to be done can continue.
Start looking up the names of these beautiful lives that have been taken due to transphobic violence. Learn their stories and say their names.
When we see a trans person in a situation where they are in danger, we must stand up for them. We must fight back for them. It is our duty as a community to make sure that our trans family gets to their places of living at the end of the night. That their needs are met. That they get to indulge in some of the luxuries that many of us take for granted, like going out to a nice dinner.
For many trans people, their place of living is not a home, nor is it safe or comforting. Many trans folks go back to their spaces of living and are met with the same transphobic violence that they experience on the streets. That is why it is so important for us to be donating to organizations that house trans folks.
Organizations like For the Gworls are actively helping pay the rent and medical bills of Black trans people. Another organization, Gays and Lesbians Living In A Transgender Society (G.L.I.T.S), recently purchased a housing complex for the trans community in Queens. Donating to these two organizations alone will help trans people live their truth in comfort. 
Everything that I mentioned above is a product of the hard work of Black trans organizers, especially the ones at the Stonewall protests. Listening to them has equipped me to stand in solidarity with my Black trans family. 
Understanding our own identities and how they give us privilege or hinder us is the key component to educating ourselves. If we can't address our own privileges and use them for others, what are we really doing for trans lives?