Long Live the Queen
The Drag Queen Scene Brought to You by the Most Famous "Big Titted, Honky Soul Momma" in NYC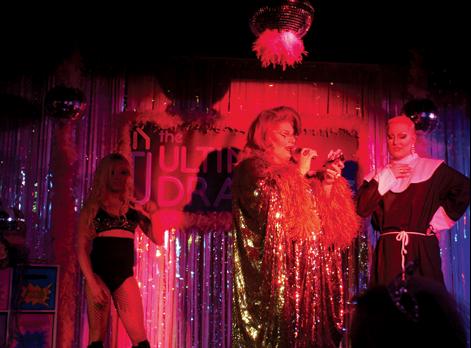 Published: April 13, 2011
I hadn't been in Sweetie's closet of a dressing room for more than two minutes and she was already the drag queen aunt I'd never had.
Sweetie just finished hosting the Ultimate Drag Off. Backstage, she bustles in circles until she regains some sort of composure. Standing in the corner with nowhere to go, she stares at me with mystifying eyes framed by a strawberry-blonde mane of hair. Except for the buzz of the fluorescent lights above and the occasional blast of a taxi horn on 42nd Street, all is quiet.
Sweetie reaches into her bag and pulls out a Magnum condom in all its golden foiled glory. With the sincerest touch, she gently placed the Magnum in the front pocket of my sweater, smiled and said to me sensually, "He looks like he needs it." I'm in love.
Sweetie calls herself New York City's "big titted, honky soul momma," a title that is clearly undisputed in her profession where she holds an insurmountable sway among all of the city's drag queens. Sweetie plays emcee for the Ultimate Drag Off, an Off Broadway comedy bombshell, inspired by 1960s and 1970s game shows, in which three drag queens participate in three rounds of fabulous, fun-filled challenges with categories like "Flash 'Em," "Clean Undies" and "Boobs and Balls." At the end of the night, the audience chooses the best drag queen who lets it all hang out on stage… figuratively speaking, of course.
When the lights come up, Sweetie is in her element. She fires away faster than you can say Joan Crawford three times fast and she doesn't miss a beat. Her lip-synching is impeccable, her facial features unforgettable, and her sincerity monumental, even amidst the synthetic, glued-on wig and three pounds of make-up applied to her face. At the end of the night, everyone is a winner, especially Sweetie—and she knows it.
Alex Perez, the creator and director of the Ultimate Drag Off, started the show in 2005, hoping to restore the art of performance to the drag revue. Perez recalled attending a similar drag show years ago, except it wasn't really a show—he called it more of a "sloppy mess."
And Sweetie takes hold of it all, clutching on with her multi-colored fingernails and refusing to let go. The audience has no other choice but to thrive off her energy. While performing, she is the Virgin Mary, the matron saint, if you will, of drag queens everywhere.
But before her current life of glitz, sequins and a pair of size 13 pumps, Sweetie was not all that well off.
Arriving in the East Village in the early 1990s, Sweetie described herself as "really poor," until a visit to a drag night at the Pyramid Club with her roommate changed her life for the better. "I came home and I was like, 'We could so do that.' We both had strong theatre backgrounds. We kind of laughed it off, but then we went in a couple more times and found out you get paid $150 for performing," Sweetie said.
After performing for 11 minutes of what was supposed to be a three-minute routine, with sparklers, confetti and Sweetie's infamous cartwheel in high heels, history was made and Sweetie was soon called to do TV appearances on "Project Runway" and movies, including "To Wong Foo" and Jane Campion's "In the Cut," in which she called co-star Meg Ryan a "rotten bitch."
But amidst her 100-miles-per hour alternative lifestyle, Sweetie wants to get one thing straight.
"I am a drag queen. I'm not a transvestite or a transsexual," she said. "I've had great sex in drag. I had sex with guys who I would've never had sex with if I was wearing a pair of jeans. There's something about being in drag and the fantasy of the overblown-ness."
Sweetie appreciates beauty, wants to smell and dress nicely and loves "the glamour of [drag]" and celebrating her masculine and feminine sides, she said. "But I've never desired to be a woman. I have a healthy relationship with who I am as a person."
That person is an artist. Drag performance has evolved into an art form that is much more a part of mainstream culture today than the smut of earlier decades housed behind the doors of raunchy gay clubs. "As queens, we're able to taste, touch and feel things that we would never be afforded if we were trying to make our living beating the sidewalk auditioning for things. We're self-created [and] self-motivated," Sweetie said. "Because of drag and because of [my stage persona], I've been afforded this really charmed life."
With the night's show over, Sweetie is looking forward to getting home. I ask how long it takes to remove all the make-up and get into street clothes. Seven minutes, she said. "I've been doing drag for the last couple of days so this is the end of a long work week for me. I'll get to go home tonight, take a shower, put on really comfortable cotton pajamas, watch TV and order some Chinese." She gets ready to leave; I thank her, and put my pen back in my pocket, safely resting beside my Magnum condom.