Tong Sues Fordham Claiming His Right to Free Speech is Under Attack
After facing disciplinary actions for an Instagram post holding a gun, the student has garnered national attention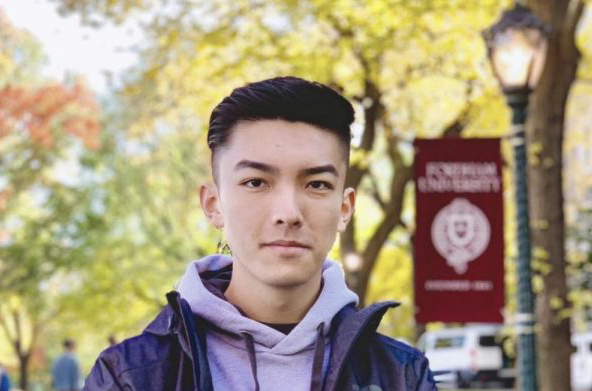 Since Austin Tong, Gabelli School of Business at Lincoln Center '21, first declared he would fight the university's disciplinary actions, his story has garnered national attention and received an outpour of support for his right to freedom of speech and to bear arms. 
The university found Tong's two Instagram posts were in violation of the university regulations related to bias and hate crimes and were threatening or intimidating behavior. Tong maintains that these claims are an attack on his free speech as an American and officially filed a lawsuit in the New York County Supreme Court on July 23. 
Beth Fagin, Fordham's legal associate counsel, did not respond to The Observer's request for comment or to confirm the lawsuit. 
To support his legal fees, Tong created a GoFundMe page. As of July 28, he has raised $77,190 from over 2,000 donors. Because his case has received so much attention, Tong has also become a National Rifle Association (NRA) member. Although a member benefit is described as "24/7 defense of your gun rights," according to the NRA website, it is unclear if the organization will financially support Tong. The Observer reached out to the NRA for comment but did not receive a response. 
The NRA did show their support by posting a video about Tong to its Instagram account with more than 1.7 million followers. In the video, Tong says, "Fordham University, see you in court, I am not backing down," while holding an AR-15. The video also included a runner with a number to text to support the Second Amendment.  
On July 22, Tong appeared on Fox News' The Ingraham Angle with conservative television host Laura Ingraham to share his story. 
"Well, you know, supposedly we have the First Amendment here and we have the Constitution, but that's not what Fordham University thinks, that's not what the bad people think," Tong told Ingraham. 
Ingraham referenced others associated with the Fordham community, specifically Christina Greer, associate department chair of political science, who has publicly shared her political views without repercussion from the university. Fox highlighted one interview in which Greer claimed that Donald Trump was "abysmal for American democracy," and suggested that professors can say what they want but Fordham students are not extended the same privilege. 
"They want to silence any voice they do not like, and they silenced me because they don't like what I said, and I will not back down to that," Tong explained. 
Although Tong has appeared on many large-scale media outlets, attention has only been given to one of the two Instagram posts in question. 
Tong first posted an image of David Dorn, a Black police officer who was killed in the protests, with the caption "Y'all a bunch of hypocrites." Posted on June 3 at the peak of the Black Lives Matter movement in the U.S., the post received immediate backlash and criticism claiming that it was tone-deaf in the socio-political context. 
Tong posted the picture holding the semi-automatic weapon the following day with the caption "Don't tread on me #198964," which he says was to commemorate the Tiananmen Square massacre in China. 
Ingraham did not ask about the post of Dorn in the Fox News interview and if the two images were related. 
Dean of Students Keith Eldredge and Assistant Vice President for Communications Bob Howe did not respond to The Observer's request for more information regarding why the punishments were justified. 
FIRE, an organization dedicated to defending free speech on college campuses in the U.S., contacted University President Rev. Joseph M. McShane, S.J., on behalf of Tong. Lindsie Rank, program officer of the Individual Rights Defense Program, authored a letter urging the university to reverse the disciplinary actions. 
"Fordham has acted more like the Chinese government than an American university, placing severe sanction on a student solely because of off-campus political speech. In banning Tong from campus, placing him on disciplinary probation with threat of suspension, and issuing other sanctions, Fordham has betrayed not only Tong, but also its own ideals," she wrote.  
Tong, however, continues to receive support from around the country and world. On July 21, New York's Young Republicans Club announced that Tong was awarded an honorary membership. President Gavin Mario Wax commended Tong for his "brave stand against Marxist administrators at Fordham University" in his tweet.
Campus Reform, the self-described "conservative watchdog to the nation's higher education system," also offered Tong a New York correspondent position. Editor-in-Chief and conservative political activist Cabot Phillips interviewed Tong for Campus Reform. 
Tong has also been interviewed by other outlets including NBC News, The Daily Ledger and One America News about his case and his plans. When The Observer reached out to Tong for an interview, he denied the request, stating, "My words and my meaning will not be skewed."