Tuition Increases by 3.33% Amid High Financial Tensions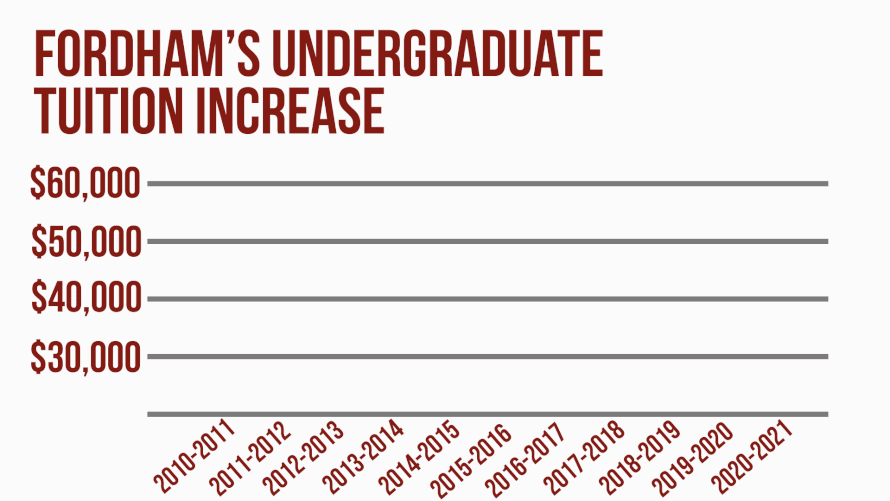 The cost of tuition and fees for undergraduates at Fordham University has increased by 43% over the past 10 years. Back in 2010, undergraduate students paid a maximum of $37,782 for tuition and fees for the academic year. As students enter a new year at Fordham University, the cost of tuition continues to go up.
On Saturday, June 6, the Rev. Joseph M. McShane, S.J, president of Fordham University, announced that full-time undergraduate tuition will be raised by 3.33% — $1,811 — for the 2020-21 school year, increasing tuition costs to $55,746, compared to $54,393 the previous year. 
The announcement came amid the high financial tensions of the coronavirus (COVID-19) pandemic and Fordham students' requests for partial tuition reimbursements via petitions after the university's closure.
According to McShane's email about the tuition raise, "Fordham puts significant resources into academic programs, teaching, and all of the other areas that support a quality education." 
Given the circumstances of COVID-19, McShane stated that Fordham plans to restructure its courses and curriculum into "hybrid classes" for the upcoming year and, consequently, will need to expend more of its resources to do this. 
With this form of hybrid learning, Fordham will be able to fulfill the resilient and challenging education it seeks to provide, while maintaining a sense of community whether students are on campus or not, according to McShane.
Tuition and fees make up 79.3% of Fordham's budget; this revenue is an important component in providing all of these resources, McShane said. 
Since 2010, Fordham's tuition has been increasing by an average of 3.9% each year. Bob Howe, assistant vice president for communications and special adviser to the president, explained that although the need for this year's increase is related to extra costs due to the coronavirus pandemic, that is only a small reason for the increase.
"Fordham, and the majority of colleges and universities in the U.S., must raise tuition every year by some small percentage to keep pace with the general cost of living and higher instructional costs," Howe said. 
Last year's increase was around the same percentage, 3.3%. The university had attributed the increase last year to inflation and rising expenses that comes with the New York City location. 
Fordham students reported that they are unhappy with this tuition raise because they feel that it ignores the financial hardships that students are experiencing at this time. In a petition created  on June 4 by Israt Ali, Gabelli School of Business at Lincoln Center '22, Fordham students are requesting that the university not increase tuition this year, given the economic impact of COVID-19.
As of June 16, 559 students have signed the petition. One of the petition signers, Rachel Newton, Fordham College at Lincoln Center '23, who is an Ailey BFA major, addressed the unique needs of dance students in her comment posted on the petition website.
"
Unfortunately, this year's notification came at a time of uncertainty about whether we will offer face-to-face classes in the fall, and amid a painful, prolonged (and in our view much needed) debate about race in America.
— Bob Howe
"Training in the studio for multiple hours is what we came here to do. Limiting our experience this vastly is devastating to our careers," Newton said.
Prior to the pandemic, she said that she was taking three to four dance classes a day. However, during the remote transition in the spring 2020 semester, dancers were taking only one dance course via Zoom.
She said that while Ailey's plans for the fall are still uncertain at the moment, department heads suggested that dancers will be able to take one in-person class at the Ailey studio and supplement it with two online Zoom dance classes.
"Considering the price of the program, missing so many valuable hours of studio time has many dancers questioning their return," Newton said.
The most recent 3.33% increase is generally smaller than tuition has been raised in the past, but is coming at a time of heightened by a 13.3% unemployment rate in the U.S. and uncertainty about face-to-face classes in the fall.
"Fordham tries to inform students and families about tuition increases as far in advance of the next semester as possible," Howe said. "Unfortunately, this year's notification came at a time of uncertainty about whether we will offer face-to-face classes in the fall, and amid a painful, prolonged (and in our view much needed) debate about race in America."
Newton mentioned the uncertainty and lack of communication about fall plans for classes as being the most troubling part of accepting a higher financial commitment. 
"Yes, Fordham may be struggling financially right now but so are its students. Increasing an already high tuition increases our chances of deferring, especially when we are getting a subpar 'hybrid' education," she said.
To accommodate students that may be surprised by the increase in tuition, Fordham sets aside $150 million in financial aid to undergraduate students each year. Additionally, McShane wrote that Fordham plans to increase the amount of money set aside for financial aid so that students will be able to continue their education at Fordham. 
"The University and its Board of Trustees are concerned about the cost of a college education and do what we can to rein in the cost without affecting the academic experience at Fordham," Howe said, which was the same language used in the notification for the tuition increase last year as well. 
Approximately 81% of the undergraduate student body at Fordham receives financial aid in the form of grants and scholarships, and the average amount of money in grants that these students receive is $26,175. 
However, of the students who applied for and received financial aid, only 27.7% of them had their financial needs fully met. 
Some steps the university has taken thus far to assist students in managing the financial commitment include continuous fundraising to off-set the increase in tuition costs and providing students with a tuition payment plan through Tuition Management Systems, which can be found on the website.