Fordham STEM Students Past and Present Reflect on COVID-19 and Health Care Careers
The future of health care providers is in jeopardy due to the coronavirus
As millions of doctors nationwide work to treat the novel coronavirus (COVID-19), reports of senior medical students being rushed out of classes and into the hospitals that need the most help have been increasing. But for many first-year medical students and graduating college seniors working towards a career in healthcare, those futures are in jeopardy.
Some students, like Stephen Howard, Fordham College at Lincoln Center (FCLC) '20, have been working in hospitals during the pandemic while juggling academics and Medical College Admission Test (MCAT) preparation. Howard has been working as a medical scribe at Mount Sinai Urgent Care in Union Square, the Upper West Side and Brooklyn Heights since June 2019, which requires him to perform physician clerical duties that optimize patient care. The Union Square facility became a testing center in mid-March that saw persons under investigation (PUI) for the coronavirus.
"All employees are required to wear masks while in the facility and when seeing patients, they had to wear PPE (personal protective equipment) including N95 masks, face (masks), and protective (gowns)," Howard explained. "My job was to allow the physician to more efficiently treat the patient as scribes document the charts of the patients so that the physician can focus on patient needs."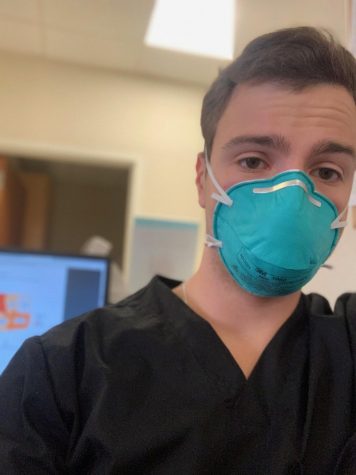 Brett Taylor, FCLC '18, has also found himself working on the frontlines of the coronavirus pandemic. Taylor, a neuroscience major, used his gap year to apply to medical schools and worked with the Translational Genomic Research Institute (TGEN) on glioblastoma treatment research in Phoenix, Arizona. However, with the rapid spread of the coronavirus, he transferred to the TGEN North coronavirus testing site in Flagstaff to help process the FDA-approved polymerase chain reaction (PCR) tests.
"TGEN North is helping with overflow testing for Arizona … especially in northern Arizona, where there's a lot of rural communities, there's reservations and different jails that need testing," Taylor explained. 
Taylor's main duties are to work on what he refers to as a "PCR assembly line." After the rural clinical testing sites perform a nasopharyngeal swab on a PUI, the samples are transported to TGEN North. The RNA from the sample is converted to DNA to test for viral primers associated with the virus.
"We're doing the extractions, we're doing the lab techniques behind (the coronavirus testing)," Taylor said.
The coronavirus pandemic has also affected first-year medical school students like John Venticinque and Catherine Imossi, both FCLC '19. Imossi studies at the Hackensack Meridian School of Medicine at Seton Hall, and Venticinque attends the Albert Einstein College of Medicine in the Bronx. 
While the shift to online-only classes has been jarring for many undergraduate students, Venticinque explained that the structure of his current classes has allowed for an easier transition into digital learning.
"You don't have to attend physically, but all the classes are normally streamed and recorded so you didn't have to, so in that respect those classes haven't really changed too much since we could watch them online anyways," Venticinque explained.
Imossi noted that in accordance with the Association of American Medical Colleges, which "strongly suggests that medical students not be involved in any direct patient care activities" wherever personal protective equipment stockpiles are low, hospital rotations for students have been suspended. As a result, the impact of the virus has been greater on upperclassmen, whose curricula typically include clerkship lessons of hands-on learning in hospitals, as well as didactic lectures. 
"The clinical parts of the curriculum have been adapted. For instance, our clinical skills courses are now focusing on tele-health. I just had a clinical exam during which I had to take a patient's history and counsel her over Zoom," Imossi said. 
She and Venticinque noted that both of their schools have placed a higher emphasis on community outreach during this time.
"While the COVID(-19) epidemic has presented some challenges, all in all, I think it has really given me an opportunity to work on being adaptable," Imossi said. "Flexibility is an integral part of the medical profession, so I'm grateful for the ways in which these curriculum changes have strengthened my ability to adapt to new circumstances."
Venticinque did acknowledge that not all are able to go out into the field — some make bigger differences staying home. While his peers have taken up volunteer and medical outreach opportunities available to them with Einstein, Venticinque returned home to Long Island and is now responsible for making sure his younger sister with Down syndrome adapts to remote learning, in addition to completing his own studies.
"My sister has special needs and is in a program that lets her attend high school at 21," he explained. "I'm responsible for being a live-in tutor essentially, since my mom has to work and my dad has to worry about the house."
Both also acknowledged the potential impact that distance learning may have later in their careers. Imossi is unable to shadow local doctors in different specialties to get a sense of what medical field she fits best in, and Venticinque said that depending on the health circumstances, research opportunities that are key for securing a spot in strong residency programs may or may not happen.
"My school has been connecting us with physician advisors we can talk to about future career goals. Unfortunately, nothing replaces shadowing in the clinic, but I think under the current circumstances, getting the chance to speak with physicians is a great compromise," Imossi said. "Hearing about their sacrifices strengthens my conviction that medicine was the right career for me." 
One concern Taylor has about attending medical school in the coming months is how to make the most informed decision he can. His "second looks" have all been made digital, meaning that he cannot be on campus with other accepted students and current faculty members to mingle and to determine if the school is the right fit for him, or check out the labs and research opportunities available to him at the institution. 
"It's a really big decision, especially as an MD/PhD student," he said. "The average time to graduation is eight years, so I'm kind of choosing where I'm going to live for almost the next decade of my life."
As he gears up for his own MCAT exam, Howard noted that many students in his position are in limbo and unsure of how the coronavirus will impact their medical school applications and long-term career goals.
"Since it is a year long process to get into medical school, many students were planning to take the MCAT during the spring so that they would get accepted for the fall of 2021," Howard said. "Because of COVID(-19) and the long process to apply to medical school, adjustments need to be made to the application process."
Brielle Intorcia, FCLC '20, planned to take a two-year gap between finishing her undergraduate degree and starting medical school. She initially planned to use this spring for separate research projects at Fordham and Montefiore Medical Center, both of which have been suspended due to health concerns. She does, however, plan to move forward with the post-grad position she secured with Weill Cornell Medicine/New York Presbyterian.
"My start date has been delayed indefinitely (I was supposed to start training in May), but I'm not bitter — training new employees is expensive, and all resources should be going to the patients right now. I can wait," she said.
Howard, on the other hand, plans to return to work at the end of April after taking a brief break this month. He will be commuting from Connecticut and is preparing to take the extra sanitizing measures to keep the rest of his family safe if it means that he can get back to helping those in coronavirus-stricken communities.
"They say 'scribes save doctors while doctors save patients,'" Howard explained. "Being there for the doctors really opened my eyes to how much they are needed. COVID-19 patients are losing their lives due to this terrible virus and these doctors are able to provide exceptional care to help these patients."
Intorcia, who coincidentally decided to specialize in infectious disease before the pandemic, has been following coronavirus developments since it was a "mysterious respiratory illness" in December 2019. She hopes that during her career, she can make a difference far beyond the healthcare system.
"Something else I've learned during my time in Fordham is that medicine is not an isolated field," she said. "Like the virus itself, the consequences of the pandemic infect us all. So absolutely, COVID-19 has reaffirmed my motivation to specialize in infectious disease because it's more than a study of medicine — it's a field that forces us to re-evaluate our community and improve its shortcomings."